While other NBA teams scrap and scramble for ways to land one of this summer's marquee free agents, the Washington Wizards have held something of a simpler priority: Bring back starting stalwarts Marcin Gortat and Trevor Ariza.
Consider Phase 1 complete:
Marcin Gortat has agreed to a five year, $60 million contract extension with Washington, league source tells Yahoo Sports.

— Adrian Wojnarowski (@WojYahooNBA) July 2, 2014
I'm proud to say Washington will be my home.

— Marcin Gortat (@MGortat) July 2, 2014
With their principal paint protector officially secured, the Wizards turn to getting Trevor Ariza to follow suit, which could prove the more difficult gambit:
Got my man @MGortat back now waitin for my bro @TrevorAriza...Come on !!

— John Wall (@John_Wall) July 2, 2014
Fortunately for Washington, the Gortat signing—exorbitance aside—could prove to be the ultimate boon on that front:
Details on pitch meeting w/Trevor Ariza and Wizards could lock up him up sooner than expected http://t.co/RJ7mcrtVvi #WizardsTalk #NBA

— J. Michael (@JMichaelCSN) July 2, 2014
The terms of Gortat's contract—both the dollars and the duration—are bound to raise some eyebrows around the league, especially considering that Chris Bosh could be making as little as $11 million next season, according to The Oregonian's John Canzano (although that was later refuted by NBA.com's David Aldridge).
Still, while Gortat may be on the wrong side of 30, the fact that he didn't begin logging heavy NBA minutes until four years ago should give Wizards fans at least some hope that the Polish big man can remain productive through the contract.
Gortat gives me the impression of a center who, barring injury, will age with his skills largely intact.

— Pro Hoops History (@ProHoopsHistory) July 2, 2014
The skills won't be as sharp, obviously, but they'll be there.

— Pro Hoops History (@ProHoopsHistory) July 2, 2014
Consider this: Marcin Gortat is 10.5 months older than LeBron, but Gortat has played only 31.8% of LeBron's minutes (22,676 less).

— Kyle Weidie (@Truth_About_It) July 2, 2014
As for Ariza, there may be no more sought after dual-skill set than "three-and-D," making him one of the more intriguing free agents to hit this summer's market.
With so much talent at the small forward position, having someone like Ariza—capable of checking the likes of LeBron James and Kevin Durant while holding his own against smaller, quicker players—has become paramount.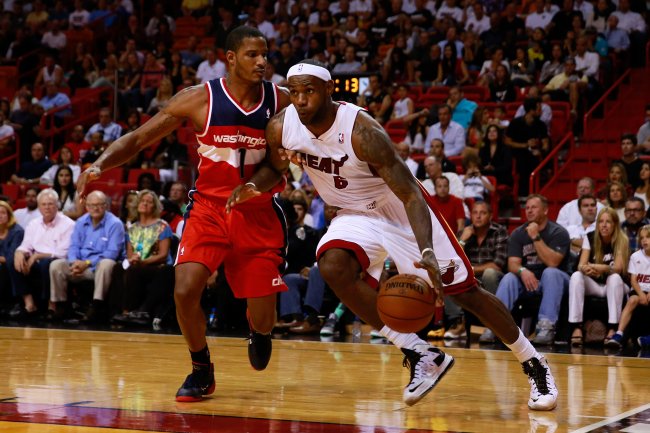 Chris Trotman/Getty Images
Ariza knows this, and he will likely leverage whatever he can out of Washington by playing them against his rival suitors, a list that includes the Los Angeles Lakers, Los Angeles Clippers, Houston Rockets, Detroit Pistons, Dallas Mavericks and Phoenix Suns, according to ESPN's Ramona Shelburne.
That some of these same teams have been linked to James and Anthony, per Yahoo Sports' Adrian Wojnarowski, should come as no surprise: In the event these teams fail to reel in the big fish, there's a good chance they'll go hard after the second-tier facsimiles—Ariza, Chandler Parsons and the like.
With so many callers on the docket, the Wizards were wise to state their case to Ariza as early as possible:
Wizards met in California today with free agent Trevor Ariza. Meeting went well but Ariza did not yet commit to returning to D.C.

— David Aldridge (@daldridgetnt) July 2, 2014
Teams awash in cap space—the Suns, Mavericks and Lakers being three notable examples—would most certainly be able to offer Ariza, who made $7.7 million last season, a better long-term deal.
However, per the NBA's collective bargaining agreement, the Wizards can offer Ariza full Bird rights, which allows teams the ability to exceed the salary cap in signing their own player.
After the Gortat deal becomes official, the Wizards will have close to $58 million in committed salaries (assuming Kevin Seraphin is renounced), giving them about $5 million to spend before brushing against the salary cap.
If Washington is desperate to retain Ariza, they could extend an offer that blows everyone else out of the water—something along the lines of the four-year, $48 million the Golden State Warriors gave Andre Iguodala last summer.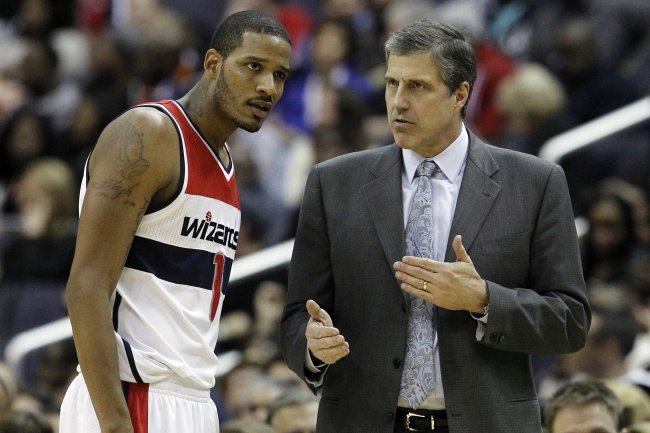 Alex Brandon/Associated Press
Ariza's no Iguodala, of course, but if his skill set means that much to the Wizards, they may have to consider trending up toward luxury-tax territory. Especially when you consider the team's other small forward, Martell Webster, could be sidelined for the first month of the regular season while he recovers from surgery to repair a herniated disk, per Michael Lee of the Washington Post.
Ironically, the man tasked with deciding whether or not to offer Ariza a Godfather deal may be the process' biggest impediment: Wizards' owner Ted Leonsis.
During the 2011 lockout, Leonsis emerged as one of the biggest proponents for a hard salary cap. And while his opinion might well have changed in the interceding two years, it's worth noting the Wizards have yet to exceed the league's salary cap in Leonsis' four years at the helm.
At the same time, Washington—led by youthful duo John Wall and Bradley Beal—is nothing if not a team on the rise. If signing Ariza to a slightly bloated contract means putting the Wizards that much closer to Eastern Conference contention (not to mention beaucoup playoff dollars), Leonsis would have to have a pretty good reason for passing that up.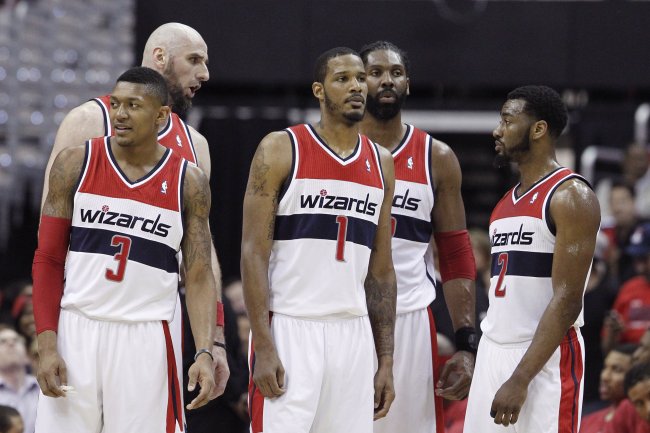 Alex Brandon/Associated Press
For his part, Ariza wasn't exactly effusive in his desire to stay in the nation's capital when he sat down for an interview with Lee back in May:
"I don't know. It would be nice to come back here, but again, who knows what's going to happen," Ariza said. "That's not . . . I don't have to [return]. Wherever I'm wanted. Whoever wants me on their team, I guess."
Lots of teams want him; we've established that. Now we find out whether Washington's position as the financial front-runner—assuming Leonsis exercises it in full—is enough to convince Ariza to let it ride on youth and upside.
Judging by the above-mentioned developments, it looks as though the Wizards are, for the moment, squarely in the driver's seat.
Giving Ariza borderline-All-Star money might not make a whole lot of sense on its face. Ditto Gortat. But if it means a more seamless on-court continuity, the potential payoff could be more than worth it.