With the NBA free-agency period underway, some big names have already been snapped up.
Yahoo Sports' Adrian Wojnarowski reported that Marcin Gortat signed a five-year, $60 million deal to stay with the Washington Wizards. Cleveland Cavaliers owner Dan Gilbert revealed that Kyrie Irving signed the five-year maximum extension.
Of course, plenty of big names remain available.
The three players below aren't considered the elite of the class, but they're commanding a lot of attention from teams across the league.
Pau Gasol is coming off of two of the worst statistical seasons of his career.
Of course, in his defense, there were some extenuating circumstances. Two years ago, he struggled to mesh with Dwight Howard. Last season, he simply wasn't immune to the general malaise surrounding the Los Angeles Lakers.
Even at 33 years old, Gasol still has plenty of value. He remains one of the most skilled offensive big men in the league.
ESPNLosAngeles.com's Dave McMenamin reported that the Los Angeles Lakers are attempting to sway Gasol to stay with the team:
Lakers general manager Mitch Kupchak met with free agent forward Pau Gasol in person on Tuesday, according to a league source.

— Dave McMenamin (@mcten) July 2, 2014
The meeting today between Kupchak and Gasol took place at an L.A. office building and lasted "a few hours," according to a source.

— Dave McMenamin (@mcten) July 2, 2014
Wojnarowski reported the Miami Heat are opening discussions with the four-time All-Star:
Free agent Pau Gasol had a phone conversation with Miami president Pat Riley today, league source tells Yahoo Sports.

— Adrian Wojnarowski (@WojYahooNBA) July 2, 2014
This looks like a case of balancing money with success. The Lakers can offer Gasol a much better contract without the guarantee of a deep playoff run. The Heat, on the other hand, would likely need Gasol to take a pay cut, but could offer him a chance at an NBA title.
Either way, Gasol wins.
Vince Carter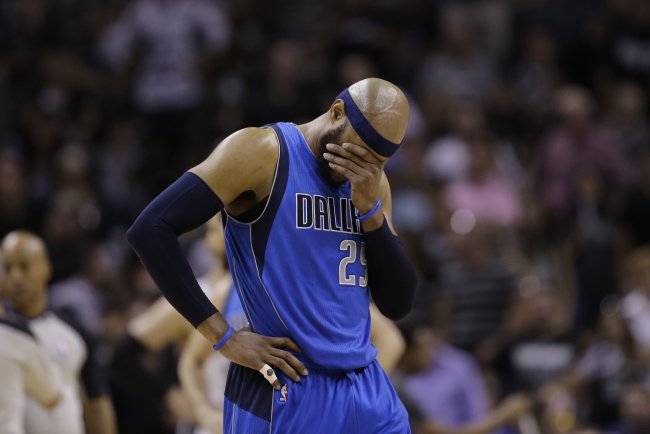 Eric Gay/Associated Press
Vince Carter may have one more nice payday left before his NBA career reaches its conclusion. The only question left is where the final stages of the 37-year-old's career rejuvenation will take him next.
Alex Kennedy of Basketball Insiders reported that the Mavericks are pushing hard to re-sign the veteran forward. However, they'll have some competition:
Mavericks badly want to re-sign Vince Carter, per source. Carter is receiving interest from a lot of teams though (MIA, POR, TOR, OKC, etc.)

— Alex Kennedy (@AlexKennedyNBA) July 1, 2014
The way in which Carter has transformed his game is nothing short of amazing. It was thought that he wouldn't age well at all and face a swift decline once he lost the incredible athleticism he possessed in his prime.
Instead, the former Toronto Raptor and New Jersey Net has become an important sixth man who can do the job defensively and knock down three-pointers.
You can understand why the Mavericks would love to keep him and why playoff contenders like the Heat, Oklahoma City Thunder and Portland Trail Blazers are lining up for his signature. That buzzer-beater against the Spurs is fresh in everbody's mind.
Isaiah Thomas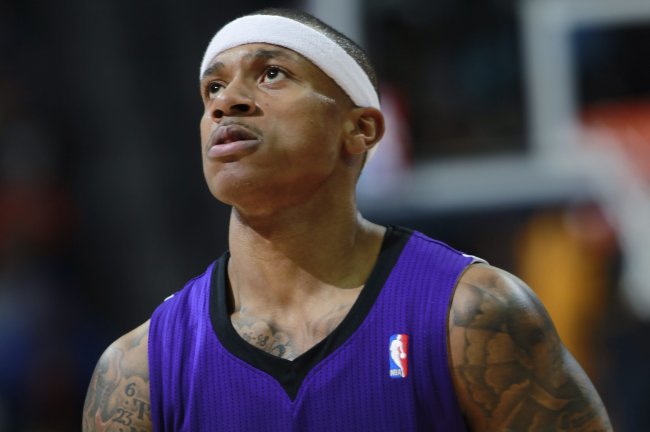 David Zalubowski/Associated Press
This year's free-agent market is flush with talented point guards, and as a result, some team might get Isaiah Thomas for a pretty reasonable price.
The 24-year-old has steadily improved over each of his three seasons in the league, but the leap from Year 2 to Year 3 was massive. He went from 13.9 points and four assists a game to 20.3 points and 6.3 assists a game.
According to NBA.com, the Detroit Pistons offered Thomas a three-year, $24 million deal, because they lacked shooters last year:
#Pistons have reportedly offered Isaiah Thomas a 3 contract worth $24 million #FreeAgentFever http://t.co/r6bjppzM2O pic.twitter.com/ONX1MOClIP

— NBA.com (@NBAcom) July 1, 2014
Kennedy reported that the Boston Celtics are now interested in adding the young point guard, despite having Rajon Rondo and Marcus Smart on their roster already:
The Boston Celtics were first team to call restricted free agent Isaiah Thomas when free agency started, per source. Danny Ainge called.

— Alex Kennedy (@AlexKennedyNBA) July 1, 2014
ESPN.com's Brian Windhorst intimated that signing Thomas could mean the end of Rondo in Boston:
The Celtics reached out to Isaiah Thomas tonight. Interesting, the Kings and Celtics had recently been in talks on Rajon Rondo deal.

— Brian Windhorst (@WindhorstESPN) July 1, 2014
Whatever happens, some team is going to get a big steal this offseason. Even if Thomas' numbers dip a little bit, he can be an invaluable offensive point guard without the price tag of an invaluable offensive point guard.