One man may have played his final World Cup game, and boy, did he go out in style. Another made his first World Cup showing and made his country believe when all seemed lost.
The United States may have fallen to Belgium, 2-1, in extra time, but both Tim Howard and Julian Green gave Americans something to remember in defeat.
For much of the 90 minutes, Belgium controlled possession and created far more dangerous chances. But for those 90 minutes, they simply couldn't solve Howard. And you better believe folks on Twitter noticed.
Mark Schlereth of ESPN put it simply:

Tim Howard is a super hero.

— mark schlereth (@markschlereth) July 1, 2014
Michael David Smith of Pro Football Talk was a little more creative:
Superman wears Tim Howard pajamas.

— Michael David Smith (@MichaelDavSmith) July 1, 2014
Matteo Bonetti of beIN Sport caught this shot of Howard in action:
HD photo of Tim Howard against Belgium pic.twitter.com/28exJ3ybpo

— Matteo Bonetti (@TheCalcioGuy) July 1, 2014
That's about right. Meanwhile, the Comedy Central Indecision Twitter account sees a bright future in politics for Mr. Howard:
Looking forward to seeing Tim Howard accept the Republican and Democratic presidential nominations in 2016.

— CC:Indecision (@indecision) July 1, 2014
And Will Brinson of CBS.... Well, you just have to read this tweet; it's too perfect to ruin with a preface:
Tim Howard is a bald eagle with a shotgun riding an F-15.

— Will Brinson (@WillBrinson) July 1, 2014
Nailed it.
For what it's worth, there were about, oh, 1,235,739,493 amazing Howard tweets during the game, so the above is just a sampling. Twitter's game was almost as on-point as Howard's was.
For 90 minutes, Belgium threw everything at Howard and just couldn't connect. Then in the span of 15 minutes, they beat him twice. The man who came on and made all the difference was Romelu Lukaku, who made two excellent runs to set up the first goal and score the second.
But if anyone was unsurprised by the impact Lukaku made, it was likely Howard, as Jeremy Schaap of ESPN noted:

Talked to Tim Howard the other day about Lukaku, his teammate. He's a beast, Howard said.

— Jeremy Schaap (@JeremySchaap) July 1, 2014
Still, it will be remembered as a disappointment for Howard and this team. John McClain of the Houston Chronicle tweeted what many Americans were probably feeling in the wake of this loss:
Tim Howard deserves a better fate. His teammates have let him down. Pathetic!

— John McClain (@McClain_on_NFL) July 1, 2014
Pathetic might be a bit strong, but there's no doubt Howard deserved better than what his teammates were able to offer. That's soccer, folks.
But just how good was Howard? Well, he was good enough to be the Man of the Match in defeat, per Ives Galarcep of Soccer by Ives:
Howard named FIFA Man of the Match in defeat. Couldn't be anyone else today really. Lukaku changed the game for Belgium, DeBruyne great too

— Ives Galarcep (@SoccerByIves) July 1, 2014
And he was historically good, per Paul Carr of ESPN:
Tim Howard made 16 saves, most by any keeper in a #WorldCup game in the last 50 years. #USA

— Paul Carr (@PCarrESPN) July 1, 2014
This performance won't be forgotten. It was truly one of the greatest showings from a USMNT player in World Cup history. Perhaps the greatest.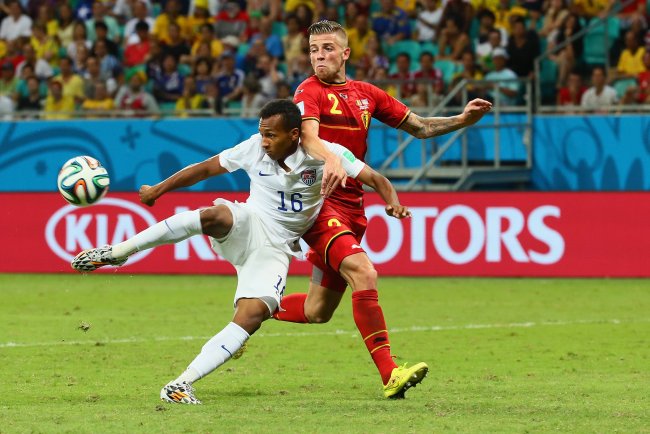 Kevin C. Cox/Getty Images
While this could be Howard's last World Cup, we're going to see plenty more from Green. The young star-in-the-making had yet to appear in this World Cup after being one of the more controversial additions, but with the U.S. trailing 2-0 at the start of the second extra-time session, late substitute Green got the United States right back into the game with a wonder goal.
Watch and enjoy, courtesy of ESPN FC:
Here's Julian Green's stunning goal. WATCH » http://t.co/KRDbkB0CD5

— ESPN FC (@ESPNFC) July 1, 2014
What a pass from the much maligned Michael Bradley. And lordy, what a finish from Green.
That put Green is some lofty company, as Carr noted:
19-year-old Julian Green is the youngest World Cup goalscorer since Lionel Messi in 2006. #USA

— Paul Carr (@PCarrESPN) July 1, 2014
ESPN Stats & Info added:
Julian Green became #USA's youngest player at a #WorldCup and his goal in the 107th minute made him the youngest American to score at a WC.

— ESPN Stats & Info (@ESPNStatsInfo) July 1, 2014
That goal—and goodness, watch it again, what a great goal it was—didn't just represent an amazing moment for Green, or a last-moment spark for the United States. It was also some vindication for Jurgen Klinsmann, who took some heat for taking players like Green over Landon Donovan.
The always hilarious Men in Blazers were quickly on the Green bandwagon:
NOW DO YOU SEE? DO YOU SEE? JULIAN GREEN

— Men in Blazers (@MenInBlazers) July 1, 2014
Jason La Canfora of CBS Sports was a bit more pragmatic, perhaps, in his defense of Green's inclusion:
So I guess that's why Julian Green is on the roster. Oh. And he'll be on the next 3 World Cups too. By that time Landon will be 46.

— Jason La Canfora (@JasonLaCanfora) July 1, 2014
Green has all the makings of becoming a star if he can get continual play at the club level and continue to progress internationally. Without question, folks got a glimpse of what both Klinsmann and Bayern Munich have seen in him thus far.
And so one man's potential swan song is another man's coming-out party. It takes veterans and rookies to win at the World Cup. Today, the United States got big performances from both.
Unfortunately, it wasn't quite enough to defeat a superior Belgian side.