Day 20 of the 2014 World Cup wrapped up the round of 16 with two heart-stopping matches that took some extra time on the pitch to solve.
A 118th-minute winner from Angel di Maria sent Argentina through to the quarterfinals 1-0 over Switzerland in the day's first thrilling round-of-16 draw.
Lionel Messi and his Argentinian cohorts spent the majority of the day peppering the Swiss goal while also spraying plenty of shots well wide of the target. Di Maria was particularly wasteful, getting just three of his 12 shots on target in the match.
Switzerland had some chances of its own in the match, as Argentina had yet another shaky performance from the back line. Despite the efforts, neither team could net a goal after 90 minutes, so the game went to extra time.
Another round of penalty kicks looked certain in this one, but Messi conjured up some more late magic to set up di Maria for the winning goal. ESPN FC has the highlight:
#ARG were heading to penalty kicks. And then Messi and Di Maria performed a bit of magic. WATCH » http://t.co/7cF4EDTROs

— ESPN FC (@ESPNFC) July 1, 2014
Belgium needed extra time to defeat the United States 2-1 and set up a quarterfinal match with Argentina.
The game was a nerve-wracking contest that provided drama right up until the final whistle.
United States goalkeeper Tim Howard was the biggest hero on the day. He made a number of brilliant saves to keep his team in the match against a Belgian side that was getting plenty of strong attacking play from the likes of Eden Hazard and Kevin De Bruyne.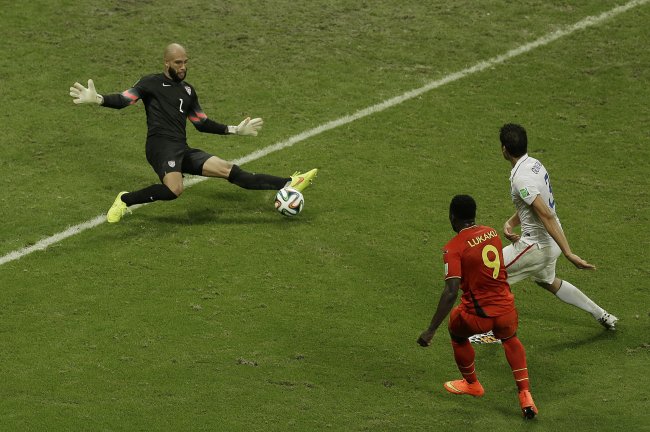 Themba Hadebe/Associated Press
The United States got a few chances of its own in the first 90 minutes, but the game was scoreless as it headed into extra time.
De Bruyne wasted little time giving his country a 1-0 lead, slotting a low shot past Howard that seemed to break the Stars and Stripes. Substitute Romelu Lukaku then doubled the Belgians' advantage with a strong run and finish, but the United States had a little bit of magic, as Julian Green hit a stunning volley to bring one back for his team in the 107th minute.
The USA pushed for a late equalizer, but the players couldn't get the moment they needed, as Belgian keeper Thibaut Courtois made an excellent late save to preserve the victory for his country.
Here is an updated bracket along with final scores and impact players from Day 20.
2014 World Cup—Day 20 Scores

| | | |
| --- | --- | --- |
| Team 1 | Team 2 | Final Score |
| Argentina | Switzerland | ARG 1-0 SUI (ET) |
| Belgium | United States | BEL 2-1 USA (ET) |
FIFA.com
Updated Bracket
An interactive, updated bracket can be found on FIFA.com.

Impact Players from Day 20
Lionel Messi, Argentina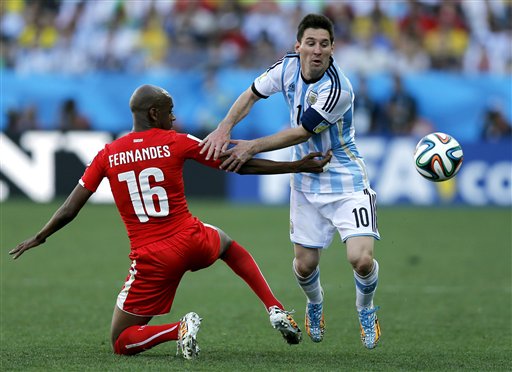 Victor R. Caivano/Associated Press
Messi tends to exhaust the roster of superlatives and plaudits with his day-in, day-out brilliance. He's an undeniable player at times.
He was all over the pitch against Switzerland, making darting runs, setting up his teammates with excellent passes and getting a chance or two of his own on goal.
And just when the whole world expected Messi to shoot the ball for an extra-time winner, he laid off the ball perfectly to set up Angel di Maria for the winning goal.
Comcast SportsNet's Ray Ratto didn't like the chances for the winner of the USA-Belgium match:
Belgium and US play in 85 minutes for the right to have their pants pulled down by Lionel Messi.

— Ray Ratto (@RattoCSN) July 1, 2014
That last assist was a beauty and was one of a staggering eight key passes Messi made on the day, as per WhoScored.com. In any other game, Messi gets a bundle of assists and possibly a goal of his own. He won't mind, though; all it took was one moment where everything clicked to take his country into the final eight.
Bleacher Report UK noted Messi was the best player on the pitch for the fourth game in a row:
Lionel Messi—4 games, 4 goals, 4 MOTM awards. Rubbish #WorldCup? Messi comment: http://t.co/dqOJSRr51J pic.twitter.com/mYQpjQckCG

— Bleacher Report UK (@br_uk) July 1, 2014
It's quite possible Argentina relies too heavily on the brilliance of Messi, but if there is any player who can drag a nation to a World Cup final, it's the pint-sized maestro in light blue.
Kevin De Bruyne, Belgium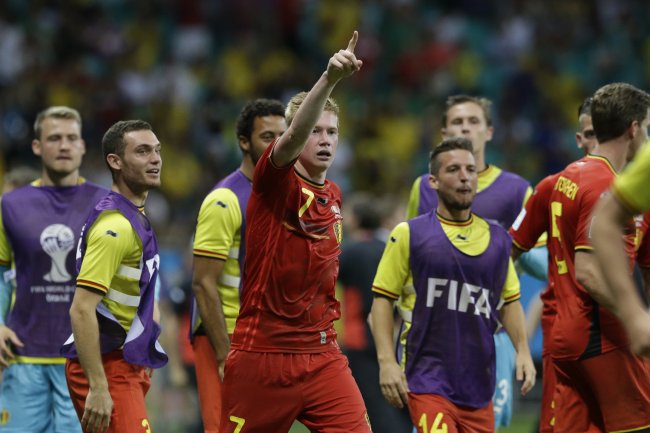 Matt Dunham/Associated Press
Hazard was expected to be the one making the killer final pass for his side, but it was De Bruyne's brilliance in extra time that made him Belgium's biggest impact player.
OptaJohan pointed out the excellent number of chances he created on the day:
10 - Kevin de Bruyne has created 10 chances vs #USA, the most for a player in a World Cup match since 1982 (Strachan vs New Zealand). Hot.

— OptaJohan (@OptaJohan) July 1, 2014
He was a threat throughout the entire match, making strong runs into the area and keeping his composure on the ball while his teammates moved into attacking positions.
He broke the collective heart of the United States with his calm finish in the 93rd minute. ESPN FC has the highlight of his superb strike:
This is how #BEL went ahead in extra time. http://t.co/rgyWMrxfqC

— ESPN (@espn) July 1, 2014
ESPN's Paul Carr noted the ominous nature of his goal:
Kevin De Bruyne scores in the 93rd minute...just like Asamoah Gyan did four years ago.

— Paul Carr (@PCarrESPN) July 1, 2014
He then returned the favor to Lukaku by providing the key pass that led to the burly striker's goal, which proved to be the eventual winner.
Tim Howard, United States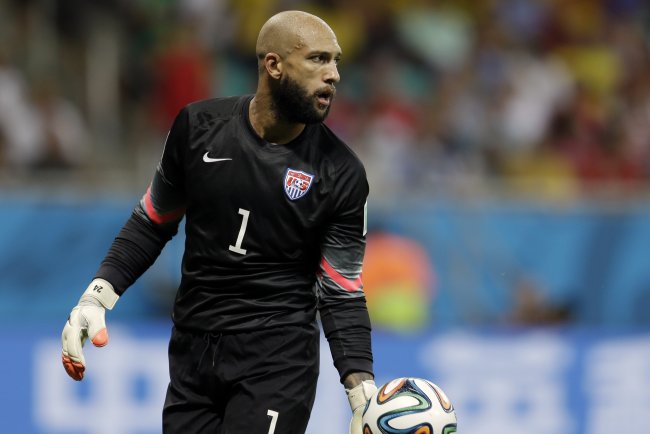 Natacha Pisarenko/Associated Press
The Stars and Stripes knew that the likes of Hazard, De Bruyne and Marouane Fellaini were going to get their chances on the day.
There was no chance Howard was escaping this match without a busy shift. He came through with a brilliant performance that kept the Belgians off the scoreboard until early into extra time.
Bleacher Report's Dan Levy summed up Howard's match before the second half had even finished:
No matter what happens, this has been the best 79 minutes of Tim Howard's career.

— Dan Levy (@DanLevyThinks) July 1, 2014
ESPN's Ramona Shelburne made an apt cross-sport comparison:
You know how a hot hockey goalie can carry a team to the Stanley Cup? That's Tim Howard right now.

— Ramona Shelburne (@ramonashelburne) July 1, 2014
Eventually, it became difficult to keep track of all the stops. Belgium kept pouring forward, but for 93 minutes, it was no match for the brilliant Everton keeper.
Howard ended up with 16 saves on the match, the most in World Cup-recorded history. It's a shame he has to join his countrymen on the plane out of Brazil, because he certainly proved his worth as one of the top keepers in the tournament.