After the opening fixture on Day 20 of the 2014 World Cup in Brazil, it's no wonder many hail the tournament as the best in history.
Not only has the 2014 iteration already seen more goals tallied than the 2010 edition from South Africa, but each match also continues to go down to the wire, as noted by ESPN's Numbers Never Lie:
#ARGvsSUI is the 5th straight World Cup game to be scoreless at the half. In previous 4 games, there were 10 goals after half.

— Numbers Never Lie (@ESPN_Numbers) July 1, 2014
With individual superstars like Lionel Messi and intriguing sides like the underdog story of the United States on the pitch, Day 20 truly made for one of the event's most memorable showings of the tournament thus far.
Let's take a look at the results as the round of 16 bleeds into the latter stages of the global spectacle.
Day 20 World Cup Fixtures

| | | |
| --- | --- | --- |
| Team 1 | Result | Team 2 |
| Argentina | 1-0 | Switzerland |
| Belgium | TBD | United States |
FIFA.com
*Updated bracket can be found FIFA.com.
Argentina 1-0 Switzerland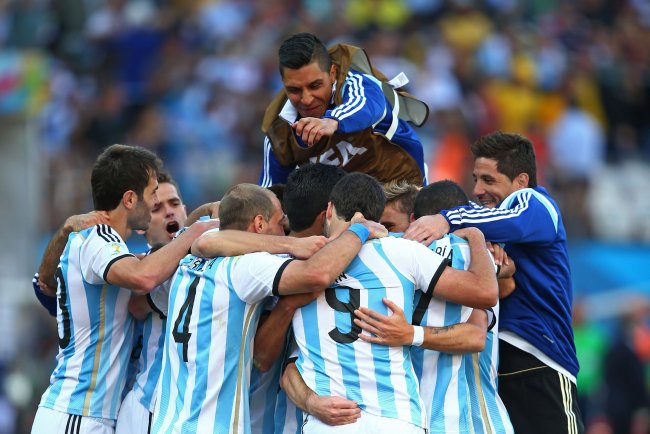 Clive Rose/Getty Images
As noted by the ESPN broadcast, Switzerland entered Tuesday's match with the favored Argentina seeking only their second knockout-stage triumph in history—the lone victory being a 4-2 win over Germany in 1938.
With that in mind, the Swiss side came out with Xherdan Shaqiri in the central striker role and did well in the early stages to hold back Argentina, which allowed them to clear longer and relieve pressure.
By all accounts, the Swiss looked rather relaxed early—except when dealing with Messi, of course. World Soccer Talk documented the approach:
It's taking at least two #SUI players to contain Messi every time he gets the ball. That will probably be the case all afternoon. #ARG

— World Soccer Talk (@worldsoccertalk) July 1, 2014
On the other end of the pitch, the Swiss actually capitalized on the sluggish play by the opposition, with Granit Xhaka only just failing to put his side up 1-0, as illustrated by Bleacher Report UK:
Almost 1-0 to #SUI Fine save from #ARG keeper Romero. https://t.co/C9YXrZNPzV

— Bleacher Report UK (@br_uk) July 1, 2014
Much of the first half followed this narrative. Switzerland were getting quality shots off, although Argentina enjoyed the most time on the opposition's side of the pitch.
Perhaps the biggest moment of the match occurred when Josip Drmic completely whiffed while catching the opposing goalie in a difficult spot. ESPN FC captured the horrific play from both participants:
VINE: Drmic wastes a good opportunity for Switzerland. #SUI #ARG https://t.co/mhNwaqKdLF

— 2014 World Cup (@2014WC_Brazil) July 1, 2014
The mishap was the perfect representation of the first 45 minutes, as was the fact it was the first half of the event in Brazil that Messi did not attempt a shot.
It should come as no surprise, then, that the second half provided much of the same. Sergio Romero continued to blunder in front of the net in the face of an epic Man of the Match performance from Shaqiri, which Squawka Football put into visual form:
Xherdan Shaqiri has created 5 chances for #SUI, more than the entire #ARG team combined (4). pic.twitter.com/nSaVwPyW2v

— Squawka Football (@Squawka) July 1, 2014
The 55-80 minute stretch saw Argentina step up the pressure in dramatic fashion, highlighted by two close misses from Messi, but to no avail, as the match was predictably sent to extra time.
It seemed a matter of time before Argentina would prevail, though, as the side held possession for 58 percent of the match, won the shots battle 20-9 and delivered more crosses by a 42-10 margin.
The form for both sides held true. Romero had little to do in front of the net, which cannot be said for his Swiss counterpart, as the staggering cross numbers did nothing but increase:
Argentina have now crossed the ball 47 times. 47! They do know they've got Lionel Messi playing for them, right? #ARG pic.twitter.com/Owkeq1a3wn

— Squawka Football (@Squawka) July 1, 2014
As expected, the onslaught of opportunities eventually produced the deciding play. Thanks to surgical off-ball precision from Angel Di Maria, he received a pass from Messi in perfect position and scored the game-winner at the 118-minute mark. RealGM Soccer has the epic moment:
Messi brilliant run and then pass to Di Maria for the goal. https://t.co/y0phyCTdP5

— RealGM Soccer (@RealGMSoccer) July 1, 2014
The celebration was short lived, as three minutes of stoppage time gave the Swiss one last chance, and the side came centimeters away from making the most of the opportunity:
How did this not go in for Dzemaili and Switzerland?? Agonizingly close. Wow. #SUI https://t.co/3kYtfF9gfg

— World Soccer Talk (@worldsoccertalk) July 1, 2014
With the dramatic win, Argentina advance to the quarterfinals to take on either Belgium, although Messi and Co. cannot be too happy about what was a rather lackluster overall display against a lesser opponent on Tuesday.
Belgium 2, United States 1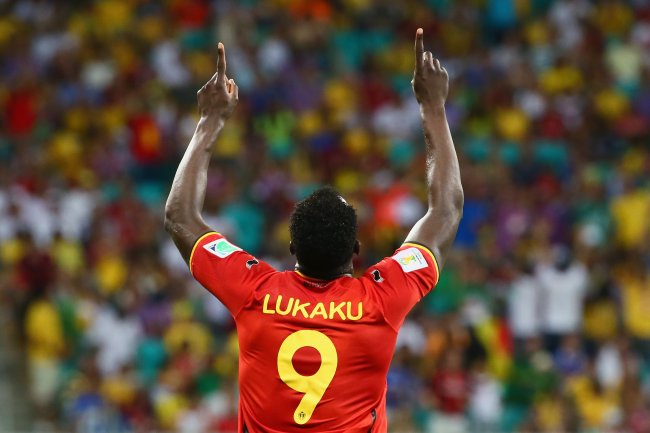 Kevin C. Cox/Getty Images
It was an intense match throughout for the United States with their backs against the wall throughout. However, it wasn't meant to be, as they ended with a 2-1 loss in extra time.
Neither side was able to draw blood in regulation, but Belgium were clearly the more aggressive squad. The United States were unable to put up nearly as many opportunities on goal, and the loss of Fabian Johnson made things harder for the team on both sides. However, as Nancy Armour from USA Today pointed out, DeAndre Yedlin did a good job coming in and holding his own.
Can't overstate what a great job @yedlinny did after coming in. Very composed. He and DMB been best #USA players, by far.

— Nancy Armour (@nrarmour) July 1, 2014
Tim Howard had an incredible game throughout, making save after save to get his team to extra time despite Belgium getting 30-plus shots on target. Unfortunately for the United States, Howard couldn't hold off Belgium's attack forever, with Kevin De Bruyne and Romelu Lukaku scoring in the 93rd and 105th minutes to put their team up 2-0.
Things seemed over for Team USA after that, but they were finally able to turn it on with the match nearly over. At only 19 years old, Julian Green was subbed in and quickly proceeded to score a goal on his first touch in the World Cup. According to Numbers Never Lie, he was the youngest American player to ever play at the World Cup.
FYI: Julian Green is only 19 years old. YOUNGEST American ever to play at the World Cup #BELvsUSA

— Numbers Never Lie (@ESPN_Numbers) July 1, 2014
However, it was too little too late for the United States. They had a few great opportunities to tie it up, but none came through, giving Belgium the win. The loss obviously stings for Team USA, but with how hard they fought, it's hard for fans to be upset with how they played, especially Howard. As ESPN's Paul Carr pointed out, Howard's 16 saves were the most in a World Cup match in half a century.
Tim Howard made 16 saves, most by any keeper in a #WorldCup game in the last 50 years. #USA

— Paul Carr (@PCarrESPN) July 1, 2014
Belgium will now have a couple of days to prepare for Argentina, but it will be a completely different kind of match. Argentina have a much more talented offensive attack with players like Lionel Messi, Sergio Aguero and Gonzalo Higuain.