Roger Federer showcased vintage form once again as he made quick work of Tommy Robredo (6-1, 6-4, 6-4) to reach the quarterfinals of Wimbledon for the 12th time.
Federer remains one of the best players in the world. Winning on the Grand Slam stage has become an uphill battle, however, with just one title in his last 17 attempts. That said, Wimbledon is still the major tournament where he's the most dangerous.
He won at the All England Club in 2012. It marked his seventh triumph in the storied event and fended off questions about how much he had left in the tank for a couple more years. He's looking to match that effort this time around.
The Swiss superstar cruised through the first week without dropping a set. Kate Battersby of the tournament's official site passed along comments from him after he dispatched Santiago Giraldo in the third round:
I'm pleased, absolutely. It's been a good first week for me. I've been playing well, feeling good. Didn't drop any sets. Wasn't really in danger in any of the matches. Got a lot of info from the first week on how I need to play moving forward.
Federer carried those positive vibes into the second week. He came out clicking on all cylinders against Robredo, who beat him for the first time in 11 meetings at last year's US Open. The No. 4 seed clearly wasn't interested in a repeat performance.
How far will Federer advance at Wimbledon?
He dominated the opening set from start to finish. He won better than 80 percent of points on both his first and second serves, hit 10 winners, had four aces and earned two breaks. It was a very encouraging effort in all aspects.
The same couldn't be said for Robredo. He had seven unforced errors and just two winners while not earning a single break-point opportunity. His execution was nowhere near the same level it was to pull off the upset at the US Open.
Federer captured the first set 6-1 in just 21 minutes as a result.
Douglas Robson of USA Today joked Federer was working hard to get off the court quickly so he could get settled in ahead of Switzerland's World Cup clash with Argentina:
Federer must have that 5 pm game in mind. #swissefficiency #Wimbledon

— Douglas Robson (@dougrobson) July 1, 2014
The trend continued as he grabbed an early break in the second set. While the 17-time major champion was playing well, Neil Harman of The Times summed up Robredo's showing:
Roger Federer has played nine games today and won eight - Tommy Robredo's play has been quite awful

— Neil Harman (@NeilHarmanTimes) July 1, 2014
Robredo did at least put up more of a fight from that point forward in the set. Falling behind an early break was a huge letdown that he couldn't recover from, though.
Federer has been putting on a serving clinic throughout the tournament. It was on full display in the second set as he won all 20 points on serve. Robredo isn't great on the return, ranking just inside the top 50 in break percentage, but to not win a single point took a special effort from Federer.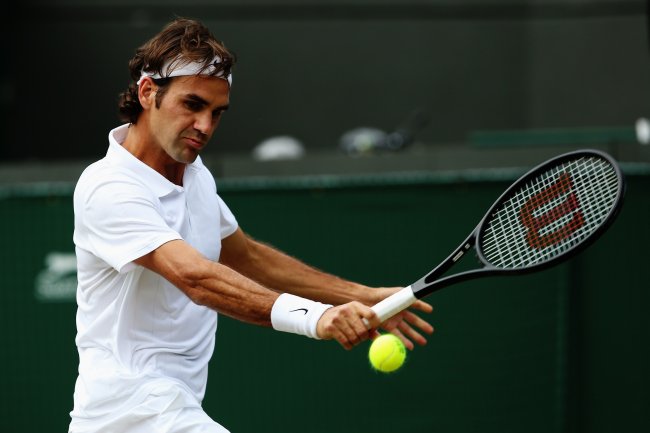 Jan Kruger/Getty Images
He used that outstanding serving efficiency to win the set 6-4 and take a commanding lead in the match.
Wimbledon provided the overall stats through two sets:
STATS: Federer goes two sets up on Robredo, losing just 3 points on serve. Here are the numbers so far... #Wimbledon pic.twitter.com/ftBRJJ8icP

— Wimbledon (@Wimbledon) July 1, 2014
Brad Gilbert of ESPN wasn't surprised by the proceedings:
So obvious Fedfan was going to take Trob to the woodshed,they might as we'll stop this formality right now send TR to prize money office now

— Brad Gilbert (@bgtennisnation) July 1, 2014
It was more of the same in the third set. Robredo was finally able to win some points off the return, but not enough to score a break. Federer must maintain that advantage as he moves into the business end of the tournament against elite competition if he wants to the trophy.
Federer grabbed a break with the Spaniard serving at 3-3 to take control of the set and never looked back.
He closed it out at 6-4. The match lasted just one hour and 34 minutes, which is key considering he must play again on Wednesday due to schedule changes caused by the rain.
Ben Rothenberg of the New York Times accurately called it a "stomping:"
Roger Federer avenges his loss at last year's US Open with a 6-1, 6-4, 6-4 stomping of Tommy Robredo. Back into yet another #Wimbledon QF.

— Ben Rothenberg (@BenRothenberg) July 1, 2014
Wimbledon provided the crowd's reaction to the latest win by one of the fan favorites:
WATCH: @rogerfederer gets a standing ovation on No.1 Court after advancing to the QFs with a win over Robredo. http://t.co/tQ89QNxefX

— Wimbledon (@Wimbledon) July 1, 2014
Up next, Federer could be in line for a quarterfinal encounter with countryman Stan Wawrinka, who currently holds a lead in his Round of 16 match against Feliciano Lopez. The Swiss players have met 15 times with Federer winning 13 of them.
Despite those lopsided head-to-head results it would still mark the most challenging match to date for Federer. The same would hold true if Lopez mounts a comeback. But the way he's been playing, he will be the clear favorite either way.
Should Federer advance, matches with Rafael Nadal and then either Novak Djokovic or Andy Murray likely loom if he wants to capture another Wimbledon title. It's impossible to count him out given his form through four rounds.