Updates from Monday, July 7
Chris Waugh of the Daily Mail reported the latest on Mathieu Debuchy's potential move to Arsenal:
Mathieu Debuchy is on the brink of completeing an £11million switch to Arsenal from Premier League rivals Newcastle.

The France right-back had been linked to the Gunners for weeks and he looks set to finally sign ater his return from the World Cup.

France were knocked out in the World Cup quarter-finals with Germany and Debuchy flew back to England to complete a medical with the Gunners on Monday.
Original Text
Mathieu Debuchy has cashed in on his strong World Cup showing with a move to Arsenal, according to Gary Payne of The Guardian:
Mathieu Debuchy looks set to join Arsenal from Newcastle this summer. The France defender is reportedly on the verge of a move to the Emirates in a deal worth around £8m – rising to £12m with add-ons – and will provide a ready-made replacement for his national team-mate Bacary Sagna, who left to join Manchester City on a free transfer at the end of the season.

After France's World Cup quarter-final defeat by Germany, he confirmed the news to a pitch-side reporter, telling TF1: "Yes, I will be joining Arsenal for next season."
However, Debuchy backtracked on those statements on Saturday, according to Jonathan Johnson of ESPNFC:
Debuchy to @lequipe: "Nothing is done at this moment. For now, we are in talks. Arsenal is a top club, we will see what happens." #NUFC #AFC

— Jonathan Johnson (@Jon_LeGossip) July 5, 2014
The timing of the transfer couldn't be any better for Debuchy. He turns 29 on July 28, so the door was closing on a potential move to a club with the stature of Arsenal. Although he's already built a solid reputation in the Premier League, the World Cup helped add a little more to his weekly pay packet.
The Frenchman wouldn't fall into the level of world-class right-backs. Some might argue that he does in fact deserve that designation. Either way, he's certainly one of the better ones in England.
WhoScored.com rated him as the best right-back in Europe:
Team Focus: European Team of the Season - article by @BenMcAleer1 via @WhoScored - http://t.co/QrLRirBZFW pic.twitter.com/hyzXdst0qW

— WhoScored.com (@WhoScored) May 19, 2014
Squawka compared his stats to those of Bacary Sagna, Branislav Ivanovic, Pablo Zabaleta and Seamus Coleman:
COMPARISON MATRIX: Mathieu Debuchy vs. some of the Premier League's best right-backs here - http://t.co/AuNGOzXHMs pic.twitter.com/GBu20zxMpR

— Squawka Football (@Squawka) June 30, 2014
Debuchy has also had an impressive World Cup. According to WhoScored.com, he was the best right-back in Group E:
GRAPHIC: World Cup 2014 - Group E highest rated XI #WSBrazil2014 pic.twitter.com/NjyJFlhMTi

— WhoScored.com (@WhoScored) June 26, 2014
With Sagna's departure to Manchester City on a free, a massive hole opened up on the right side of Arsenal's defence. Arsene Wenger didn't have another natural right-back in the squad, so it became rapidly clear that he would need to add at least one replacement in the transfer market.
Debuchy and Serge Aurier became the two most heavily linked with the Gunners. Jeremy Wilson of The Daily Telegraph reported back in May that Arsenal were looking at the Ivorian defender. Over time, the Newcastle star started leading the race, per Luke Edwards of The Telegraph:
Arsenal are interested in signing Newcastle United right-back Mathieu Debuchy, although they will not match their £12m valuation of the France international.

Significantly, Wenger knows Debuchy will not need time to adapt to the Premier League following 18 months on Tyneside, and he has been impressed with the way the fullback adds another dimension to France's forward play, as well as his defensive resolve.
French football journalist Jonathan Johnson noted that Arsenal and Paris Saint-Germain were both looking at the same two right-backs, and with Debuchy headed to the Emirates, the road has been paved for Aurier to the Parc des Princes:
So it looks as if PSG & Arsenal are battling for Aurier & Debuchy. One likely to go each way. Who goes where though? #AFC #PSG

— Jonathan Johnson (@Jon_LeGossip) June 26, 2014
If Debuchy does join Arsenal, I think we can assume Serge Aurier will not. PSG now surely favourites to sign Toulouse man. #TFC #PSG #CIV

— Jonathan Johnson (@Jon_LeGossip) June 30, 2014
While not exactly a like-for-like replacement for Sagna, Debuchy is about the best fit Arsenal could find this summer. He falls well in their price range, and his skill set will help him transition rather easily into the Arsenal line-up. Unlike Aurier, Debuchy has a season-and-a-half in the Premier League under his belt, too.
Gooners often rake Wenger over the coals for his inability to address the club's biggest needs in the transfer window. On this occasion, though, he did exactly what was needed. Supporters can't ask for much more.
The picture isn't as rosy for Newcastle supporters. They probably came to terms with the reality of Debuchy leaving the club. As was the case with the Yohan Cabaye sale, though, watching him walk out the door is a punch right to the gut, especially with the knowledge that Mike Ashley won't sink enough money in the transfer market to find a proper replacement.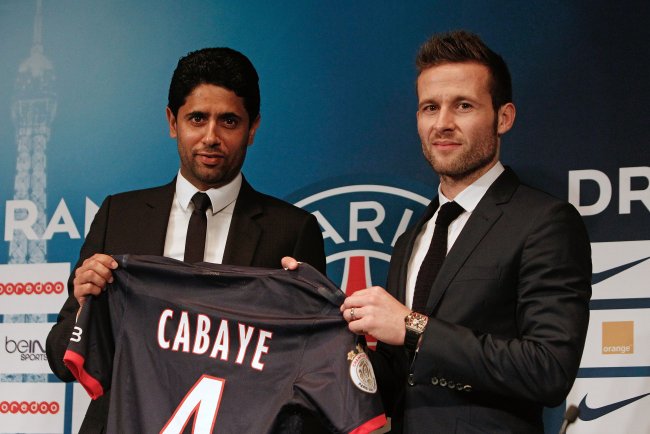 Thibault Camus/Associated Press
In a way, the Magpies copied one of Arsenal's more successful strategies in buying foreign players for reasonable prices, thus finding some of the few bargains that still exist in the market.
Now, they're copying the Gunners' annual talent drain, and doing little to make up the gap and help the club jump up in the table.
If only Newcastle had players like Mathieu Debuchy and Yohan Cabaye.