Now that the NHL draft is all said and done, teams are quickly looking to snatch up the veteran free agents who can hold down the fort until the youngsters are ready to take their turn in the spotlight.

Teams have had the go-ahead to speak with free agents since Wednesday. This sent the rumor mill into a frenzy, but in the days since, it has also allowed observers to gain some true insight on the situation.
Wild speculation has slowly morphed into measured analysis, and it's clear that the market is strong for some of the biggest names looking for new homes in the league.
Here is the latest buzz surrounding some of the most recognizable names in the league, along with predictions on where they will likely end up.
Martin Brodeur Generating Interest Around the League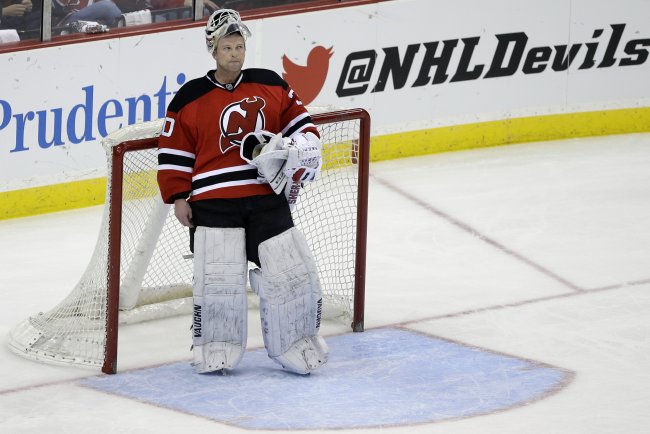 Mel Evans/Associated Press
Martin Brodeur has more name recognition than just about any other goalie in the league, which could be fueling the apparent frenzy surrounding his services.
TVA Sports' Louis Jean gave us the scoop on teams interested in the legendary Brodeur:
Among the interested teams in Brodeur: Chicago, Boston, Pittsburgh & Toronto. Brodeur wants to go to a contender.

— Louis Jean (@LouisJean_TVA) June 28, 2014
Not a bad market for an aging star.
The 42-year-old veteran has been with the New Jersey Devils since the 1991-92 season, in case anyone reading this thought Brodeur had been playing since the days of the Original Six. There is little to no chance that he's used as an everyday starter in his new home considering his diminished play in recent years.
Martin Brodeur 2011-2014 Stats

| | | | | | |
| --- | --- | --- | --- | --- | --- |
| Season | Games | Saves | Save percentage | Goals-against Avg. | Shutouts |
| 2011-2012 | 59 | 1336 | .908 | 2.41 | 3 |
| 2012-2013 | 29 | 589 | .901 | 2.22 | 2 |
| 2013-2014 | 39 | 875 | .901 | 2.51 | 3 |
Hockey-Reference.com
Brodeur, to his credit, appears to be taking things in stride and is aware his true value lies in his wealth of experience, not his ability to make limber kick saves.
"It'll be fun for me just to see what the opportunities are," Brodeur said, via ESPN's Pierre LeBrun. "But I'm open-minded, whether it's a team with a good young goalie or being in a spot where I've got a chance to win a Stanley Cup again … just look forward to seeing what's out there."
If Brodeur truly wants another chance at a Stanley Cup, Chicago, Boston and Pittsburgh are his best spots. The Blackhawks gave up the most goals (220) out of those three teams, but they might be hesitant after 41-year-old Nikolai Khabibulin finished the season on injured reserve.
The Penguins would be a good fit for Brodeur; it isn't too far from New Jersey, they have cap space to work with and he can serve as an established backup to Marc-Andre Fleury on a team that finished second in the Eastern Conference last season.
Prediction: Pittsburgh Penguins
Dan Boyle Likely to Receive Multiple Offers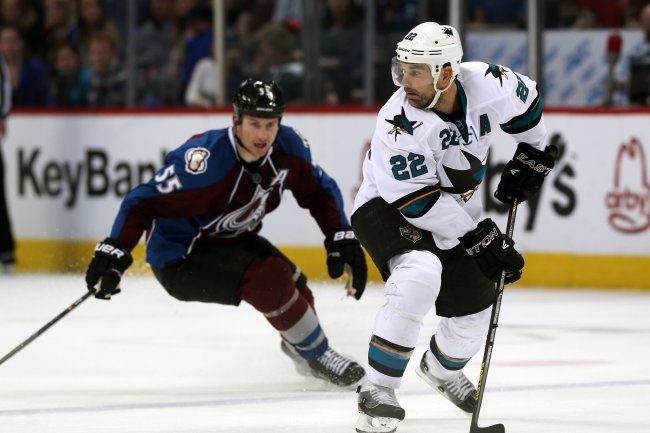 David Zalubowski/Associated Press
TSN's Darren Dreger has the scoop on which teams might be faxing defenseman Dan Boyle an offer sheet:
Dan Boyle will have multiple offers tomorrow on a 2 yr deal. TB, Tor, Det, NYR and Mtl believed to be his top 5. #TSN

— Darren Dreger (@DarrenDreger) June 30, 2014
Once again, kudos to an aging player for generating so much interest around the league. He's a 37-year-old veteran coveted for his offensive abilities, particularly on the power play. Six of his 12 goals for the San Jose Sharks last season came on the power play.
His overall play has dropped off in recent years, but his intangibles and work ethic make him a strong value pickup.
The New York Islanders acquired his signing rights from the Sharks for a conditional fifth-round pick, but on June 18, ESPN's Pierre LeBrun tweeted that general manager Garth Snow believes the team is unlikely to sign him:
Isles GM Garth Snow says he's now shopping Dan Boyle's rights, having been unable to sign the pending UFA defenseman...

— Pierre LeBrun (@Real_ESPNLeBrun) June 18, 2014
Boyle may already have an unbeatable offer. According to Helene St. James of the Detroit Free Press, the Red Wings will offer Boyle a two-year contract worth roughly $11 million.
The Red Wings could certainly use a powerful right-handed shooter in their blue-line corps. Boyle fits the bill and would fit in well in Detroit.
Prediction: Detroit Red Wings
Ryan Miller Talking to Canucks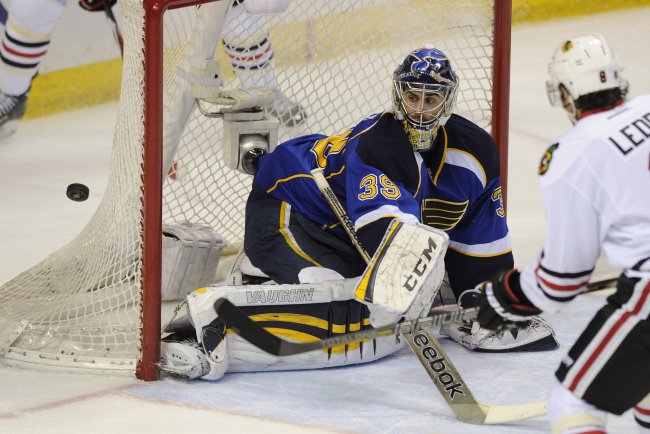 Bill Boyce/Associated Press
The St. Louis Blues acquired goalie Ryan Miller from the Buffalo Sabres in the midst of last season, hoping the 33-year-old veteran could take them on a deep playoff run. Instead, Miller suffered a huge drop-off in production.
It appears the Blues are going to wash their hands of Miller, but he may have already found a potential suitor, according to TSN's Bob McKenzie:
UFA goalie Ryan Miller is in VAN being wooed by Canucks' brass.

— Bob McKenzie (@TSNBobMcKenzie) June 30, 2014
Yahoo Sports' Greg Wyshynski gave his sardonic take on the situation:
The wooing I expect VAN did with Ryan Miller: "We're the only team in your desired geography that sorta needs a goalie. Here's what we pay."

— Greg Wyshynski (@wyshynski) June 30, 2014
Outside of Vancouver, Miller's options are limited. The majority of teams have a No. 1 goalie in place and would be loath to start a netminder controversy with a player who performed poorly with the pressure at its greatest.
Fox Sports Midwest's Andy Strickland has the key stats from last season:
Ryan Miller struggled down the stretch losing 9 of 11 including playoffs. Last 5 regular season starts Miller was 0-5 88.5% 3.11 GAA #NHL

— Andy Strickland (@andystrickland) June 30, 2014
If Miller was out of sorts in St. Louis, some might think it's best for him to return to the Sabres, where he enjoyed so much success. According to the Olean Times Herald's Bill Hoppe, that is unlikely to happen:
If you care, Tim Murray said Ryan Miller's camp hasn't approached them, he hasn't approached them. Not happening, folks.

— Bill Hoppe (@BillHoppeNHL) June 30, 2014
Vancouver just keeps looking better and better. Neither Eddie Lack nor Jacob Markstrom did much to distinguish themselves in goal last season for the Canucks. They need veteran help in goal and can offer Miller the comforts he needs to return to the form he maintained for so many years in Buffalo.
Prediction: Vancouver Canucks