United States manager Jurgen Klinsmann has voiced his concerns with FIFA's decision to appoint Djamel Haimoudi as the referee for his side's World Cup round-of-16 fixture against Belgium on Tuesday.
According to Sam Borden of The New York Times, Klinsmann inferred that the Algerian official could have a negative predisposition toward the Americans, who helped knock the North African nation out of the 2010 World Cup:
Klinsmann on Algerian ref: "Is it a good feeling? No. He is able to speak French on field to their players." Noted US elim. ALG in last WC.

— Sam Borden (@SamBorden) June 30, 2014
Grant Wahl of Sports Illustrated further quoted the German in saying Haimoudi's officiating has impressed him thus far in the tournament. Haimoudi officiated the Netherlands' 3-2 win over Australia and the Costa Rica-England scoreless draw.
Borden added Klinsmann's personal take on FIFA's logic:
Klinsmann said ALG ref did good job first 2 games, but has issues considering French-speaking ref/BEL team & fact US eliminated ALG in 2010.

— Grant Wahl (@GrantWahl) June 30, 2014
Klinsmann: "Sometimes I don't understand FIFA." He's not the only one.

— Sam Borden (@SamBorden) June 30, 2014
To suggest the referee may be biased against any one team simply due to the part his nation played in a past defeat is grasping at straws and shows a lack of faith in the controlling powers to boot.
On Klinsmann's part, it's a defensive tactic that hasn't been uncommon in the build-up to matches at this year's tournament. Players and managers alike address concerns in advance, increasing the furore before fixtures have even gotten under way.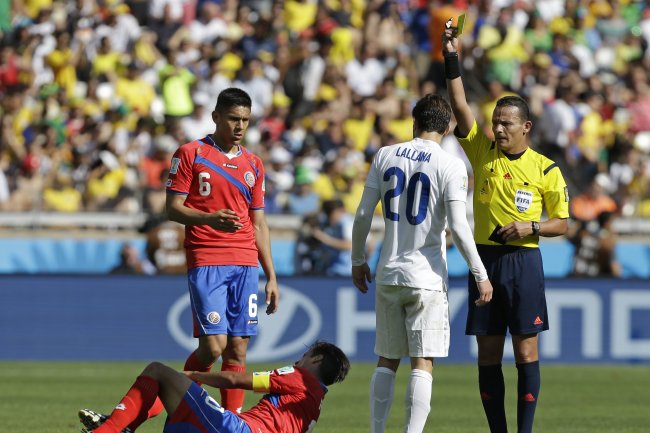 Fernando Vergara/Associated Press
Klinsmann's concerns regarding French being spoken exclusively between one competing side and the referee have more foundation. That doesn't necessarily give Belgium a substantial advantage to speak of, though, if there is one at all.
All that will matter is the 22 players who are at any one time competing to claim a spot in the quarter-finals of this year's contest. Marc Wilmots' and Klinsmann's sides each have a massive opportunity to advance in Brazil.