Updates from Tuesday, July 1
Pierre LeBrun of ESPN has the latest on Vanek's free agency:
Told Vanek has list down to 5-6 teams

— Pierre LeBrun (@Real_ESPNLeBrun) July 1, 2014
Stephen Whyno of the Canadian Press has more:
Vanek camp says he's down to 2 teams.

— Stephen Whyno (@SWhyno) July 1, 2014
The Minnesota Wild report that they've signed Thomas Vanek:
BREAKING: #mnwild has agreed to terms with Thomas Vanek on 3-year contract. More details coming #VanekWatch is over! pic.twitter.com/605ZL9xUeV

— Minnesota Wild (@mnwild) July 1, 2014
Original Text:
At 30 years old, Thomas Vanek is still one of the more productive wings in the NHL. With free agency beginning on Tuesday, the rumors are already starting to swirl around the former No. 5 overall pick.
Vanek is looking for a new contract now that his seven-year deal worth $50 million is over, according to Spotrac. While he's getting older, Vanek is still a productive player and likely be looking for another big deal.
It doesn't appear Vanek will receive a new deal with Montreal, as the Canadiens already announced they would not be re-signing him, according to Mike Cole from NESN.com.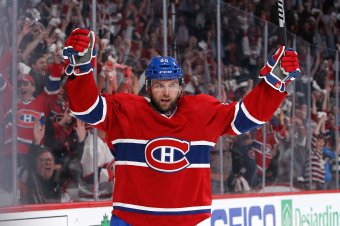 Francois Laplante/FreestylePhoto/Getty Images
Pierre LeBrun of ESPN reported more details on Vanek's free agency:
Even though the Canadiens won't bring back Vanek, he should have plenty of suitors on the open market. He spent time last season with the Buffalo Sabres and New York Islanders before ending the year in Montreal. Before this year, he had spent his entire career in Buffalo.
In 78 games last season, Vanek posted strong numbers, recording 27 goals and 41 assists. He ranked in the top 30 in the league in both assists and points scored, making him one of the higher-scoring wings set to be a free agent.
The Minnesota Wild have stood out heading into free agency as one of the top teams in play to land Vanek. The team is looking to improve it's scoring, and according to Louis Jean from TVA Sports, Vanek met with the team on Sunday:
Thomas Vanek in-person meeting w/ Minnesota #Wild today. Can't sign with a team other than Montreal before July 1.

— Louis Jean (@LouisJean_TVA) June 29, 2014
Vanek was allowed to meet with the Wild because of the league's shopping period that allows players to speak with teams to discuss potential parameters of contracts, although they can't make any official offers until free agency begins on July 1. The news that Vanek met with the team is promising, but the Wild aren't the only team interested in him.
According to ESPN's Pierre LeBrun, there are more than a few teams interested in Vanek, and the Wild don't want to sign him to a long-term deal, but it appears that the 30-year-old is alright with that.
Still some 8-10 teams on Vanek radar. Minnesota among them but as noted last week, not interested in long term deal.

— Pierre LeBrun (@Real_ESPNLeBrun) June 30, 2014
Told that Vanek is not put off by that, still likes Min as an option. But may also get huge offer elsewhere Tuesday so he'll have to decide

— Pierre LeBrun (@Real_ESPNLeBrun) June 30, 2014
Vanek also isn't the only wing the Wild are looking at, apparently. According to Michael Russo from the Star Tribune, the team is interested in Jarome Iginla, who turns 37 Tuesday, but general manager Chuck Fletcher wants to be careful in free agency, saying:
We've tried to be aggressive if the move makes sense, but there's times, too, where you need to take what's there. Sometimes you have to lay off the pitch. You can't just swing at everything. This summer could be one of those summers where maybe you just accept what's there and not try to overpursue or push something that may not make you better.
With Iginla also a possibility in Minnesota, Phil Mackey from 1500 ESPN thinks it's a no-brainer that the Wild should go after him instead of Vanek:
If Jarome Iginla (age 37) decided to explore free agency, would you rather have him or Thomas Vanek (30)? IMO, it's a no-brainer. Iginla.

— Phil Mackey (@PhilMackey) June 30, 2014
Compared to Iginla, Vanek would be a more reliable long-term option for the Wild. Iginla is likely about done, and there's a good chance that this is his last season. For Vanek, he's still going strong, and he'll more than likely be able to put up 30-plus points for the next few seasons to add another solid left wing along with Zach Parise and Matt Moulson for the Wild.
Still, considering the meeting with the team and the fact that he'll likely still be a productive player for at least a few more years, it looks like there's a good chance that Vanek joins the Wild shortly after free agency begins.