Tuesday will see Salvador's Arena Fonte Nova play host to arguably the fixture of this World Cup's round of 16 most open to interpretation.
Belgium and the United States enter the fray on level footing, and although Marc Wilmots' side advanced from Group H with three wins under their belt, Jurgen Klinsmann's outfit held their own against Germany, Portugal and Ghana to emerge from a more testing pool.
It makes for a tight encounter between the two that's sure to hand both teams their chance at a quarter-final berth, with the essential viewing information and match preview discussed below.
Date: Tuesday, July 1
Time: 9 p.m. BST/4 p.m. ET
Live Stream: BBC Sport website (UK), ESPN Watch (US)
TV Info: BBC One (UK), ESPN (US)
Team News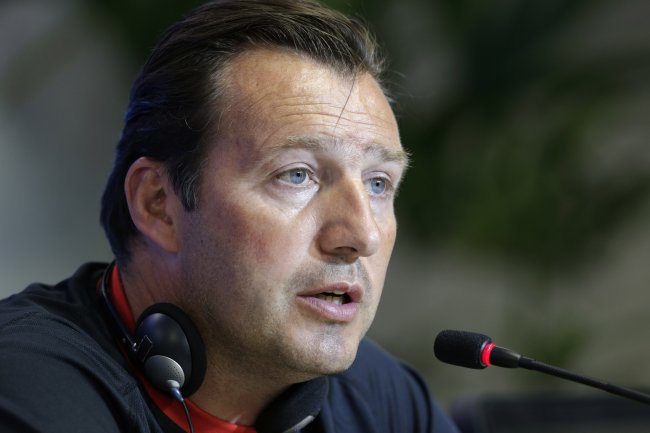 Julio Cortez/Associated Press
American dreams will have turned to nightmares upon the sight of seeing Jozy Altidore pull up with a hamstring strain in the United States' opening group-stage win over Ghana.
However, Guardian Sport now say that the striker could be fit to return for the round of 16 collision, although Grant Wahl of Sports Illustrated isn't buying into the comeback just yet:
Jozy Altidore ready to play for USA in clash against Belgium http://t.co/jwv3thkmds #USA #BEL (Photo: Reuters) pic.twitter.com/evgEyw576O

— Guardian sport (@guardian_sport) June 30, 2014
US Soccer says Jozy Altidore is available for USA-Belgium. I'd still be surprised if he starts.

— Grant Wahl (@GrantWahl) June 30, 2014
Asked Klinsmann exactly how much Altidore has trained at full speed this week with the team. Didn't really answer the question.

— Grant Wahl (@GrantWahl) June 30, 2014
Aside from that, the U.S.A. have no injury concerns or suspensions to be concerned about heading into the match, while Wilmots' main concern again lies with Vincent Kompany and the condition of his groin.
The captain and Thomas Vermaelen are each a doubt for the fixture, according to the Mail Online:
#BEL duo Vincent Kompany and Thomas Vermaelen may miss their last 16 clash against #USA http://t.co/pnusJNxIvi #USAvsBEL

— MailOnline Sport (@MailSport) June 28, 2014
Those absences would give Belgium some major concerns at the back, and although the likes of Toby Alderweireld, Daniel van Buyten and Jan Vertonghen can provide cover, their strength in depth will be put to the test if both injury concerns miss out.
Klinsmann's Concerns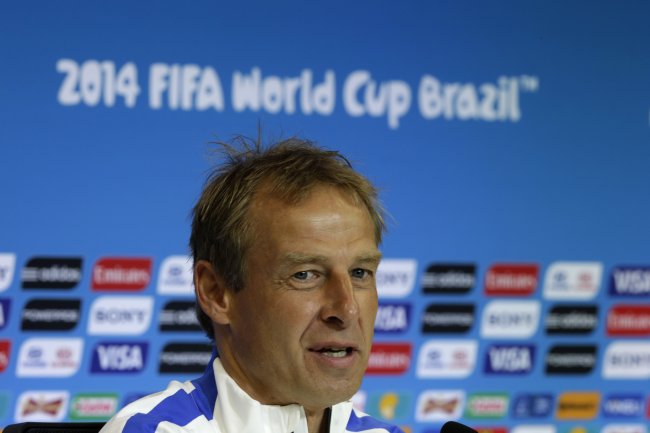 Julio Cortez/Associated Press
Monday saw Klinsmann come to the fore with some controversial comments regarding Djamel Haimoudi's appointment as referee for the round of 16 matchup between Belgium and his United States.
Wahl, along with the Telegraph's Mark Ogden provide the quotes, made in reference to an Algerian being selected for officiating duties four years after the U.S.A. knocked the North Africans out of the last World Cup:
Klinsmann said ALG ref did good job first 2 games, but has issues considering French-speaking ref/BEL team & fact US eliminated ALG in 2010.

— Grant Wahl (@GrantWahl) June 30, 2014
Klinsmann unhappy with Algerian ref assigned to USA-Belgium. "Sometimes I don't understand FIFA."

— Grant Wahl (@GrantWahl) June 30, 2014
Jurgen Klinsmann isn't overjoyed by Algerian ref for USA game v Belgium tmrw. Language issues, group familiarity etc

— Mark Ogden (@MOgdenTelegraph) June 30, 2014
The familiarity of Belgian players speaking French with the referee is perhaps a more valid concern, but still shows a surprising lack of faith in FIFA.
The Daily Mail's Ian Ladyman echoes the notion that Klinsmann was out of line making such claims:
Huge fan of Klinsmann but what he said here tonight about tomorrow's Algerian referee was ridiculous and bordering on defamatory. #USA #BEL

— Ian Ladyman (@Ian_Ladyman_DM) June 30, 2014
Klinsmann says he will give him the 'benefit of the doubt'. What doubt is that exactly? #USA #BEL

— Ian Ladyman (@Ian_Ladyman_DM) June 30, 2014
It's true that using the media is a tactic utilised by managers in order to address their concerns leading into a game, bringing it to light in order to better their chances of not seeing it materialise in the match itself.
Above all else, however, Klinsmann must place faith in his own players to get the job done against a strong Belgian line-up, summoning the same passion they showed against Ghana, Germany and Portugal to proceed into a quarter-final berth.