The round of 16 in Brazil is in full swing, with elite nations and big underdogs clashing for coveted spots in the quarterfinals.
Although mostly every match thus far in the 2014 World Cup has been decisive in terms of its impact, the elimination stage has now begun. Every match from here on out—save for the third-place game—decides who advances, and who is sent home.
The stakes couldn't be higher for these national teams, and that has shown in some exciting knockout-stage matches thus far.
Let's break down all of the results from Day 18.
Day 18 World Cup Results

| | | | |
| --- | --- | --- | --- |
| Match No. | Team | Score/Time | Team |
| 51 | Netherlands | 2-1 | Mexico |
| 52 | Costa Rica | 1-1 (5-3 pen.) | Greece |
FIFA.com
Updated Bracket: Visit FIFA.com for a complete round-of-16 bracket.
Day 18 Results
Netherlands 2, Mexico 1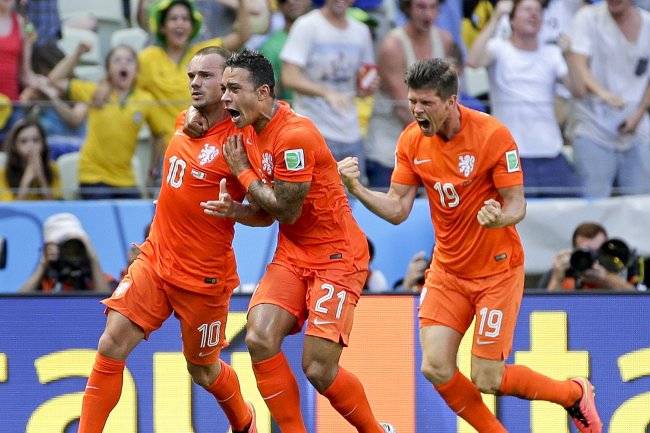 Felipe Dana/Associated Press
Mexico were just a few minutes away from stunning the Netherlands and advancing through to the next round. Then, two late Dutch goals led the favorites to an insane, 2-1 victory.
It was a match between one of the world's top offenses in the Dutch, and one of the best defenses thus far in Mexico. Early on, the latter shone through.
There was nothing going on in the attacking third for the Netherlands in the early goings, as the Mexican back four of Francisco Rodriguez, Rafael Marquez, Miguel Layun and Hector Moreno stood firm and didn't allow quality chances behind them. Meanwhile, Mexico threatened the Dutch defense multiple times in the first half.
When the second half came around, Mexico kept on pushing, and arguably their most struggling player came through.
Giovani dos Santos has been invisible in recent fixtures, but made the difference against the Netherlands with this 48th-minute goal, per ESPN SportsCenter:
Here is the beautiful strike off the left foot of Giovani Dos Santos in the 48' to give #MEX the 1-0 lead: http://t.co/eC9qfbPtNe #NEDvsMEX

— SportsCenter (@SportsCenter) June 29, 2014
As expected, Mexico head coach Miguel Herrera's reaction was priceless as ESPN uncovered:
#MEX broke through with the first goal. Miguel Herrera went loco. https://t.co/wXiQ5gVmmy

— ESPN (@espn) June 29, 2014
Being the offensive dynamo that it is, the Netherlands attack didn't keel over and die in the second half despite its back being against the wall. Arjen Robben began finding chances, but he and the Dutch attackers were no match for Mexican goalkeeper Guillermo Ochoa.
The Netherlands seemed certain to score off a corner kick, but Ochoa was there to make an incredible reflex save as Footy Vines illustrated:
He's at it again!! Ochoa with the reflex save onto the post https://t.co/RMUxusnbcP

— Footy Vines.com (@Footy_Vines_) June 29, 2014
The Dutch controlled possession throughout the second half and ended with a favorable split of the ball, but it didn't much matter. Mexico had the quality scoring chances all game long, while any serious Dutch attack was met with strong defense and unbelievable goalkeeping.
With their chances running out, the Dutch subbed out Robin van Persie for Klaas Jan Huntelaar in the 76th minute. But 11 minutes later, it wasn't Huntelaar that equalized, but rather midfielder Wesley Sneijder.
The ball came to Sneijder at the top of the box, and he put it where Ochoa couldn't reach with a rip just inside the left post to tie things up. It was his first goal in quite some time, per WhoScored.com:
Wesley Sneijder: Has scored is first goal for Netherlands since October 2013 (vs Turkey) #ned

— WhoScored.com (@WhoScored) June 29, 2014
With six minutes of stoppage time, the Dutch weren't about to sit back and accept the 30 minutes of extra time. They kept on attacking, continued to push the ball into the Mexican box and got the call of the match.
Robben danced into the box and got the ball near the end line, then drew contact from Marquez and went down. The referee pointed to the penalty spot, and Huntelaar swiftly put it inside the left post to give the Netherlands a 2-1 lead.
Bleacher Report UK caught footage of the decisive moment:
#ned 2-1 #mex - @KJ_Huntelaar, pen 94 - Joy for the Netherlands, heartbreak for Mexico. https://t.co/7KJS481Oic

— Bleacher Report UK (@br_uk) June 29, 2014
Robben actually admitted to a first-half dive, but thought the late penalty was justified, per BeNeFoot:
Robben:'I must apologize, the one was a pen, but the other one was a dive in the first half. I shouldn't be doing that.' (NOS)

— BeNeFoot (@BeNeFoot) June 29, 2014
There was just no time left for Mexico to make a late surge to tie things up. Deflated by what unfolded in the late minutes, El Tri just couldn't find the time to get back level.
Did Mexico deserve to win?
What a heartbreaking way to go out for Mexico. They were just minutes away from arguably the biggest upset so far at the World Cup, and had it all wiped away.
It's nothing short of commendable what Herrera has done in Mexico, despite the loss. On the verge of failing to even qualify for Brazil, the fiery coach got his side just minutes away from knocking off the 2010 finalists.
Still, the way he went out irked ESPN's Taylor Twellman as his emotions got the best of him:
Herrera with so much passion you love to see it but no reason for him to get into pushing Van Persie and refs after game. #MEX

— Taylor Twellman (@TaylorTwellman) June 29, 2014
Meanwhile, the Dutch dodged a major bullet by advancing despite seemingly everything going wrong through the opening 80 minutes. Whether it was pretty or not, it takes results like this for favorites to make a deep run.
Next up for the Netherlands is a meeting with the winner of Costa Rica-Greece, Sunday's final match.
Costa Rica 1, Greece 1 (5-3 pen.)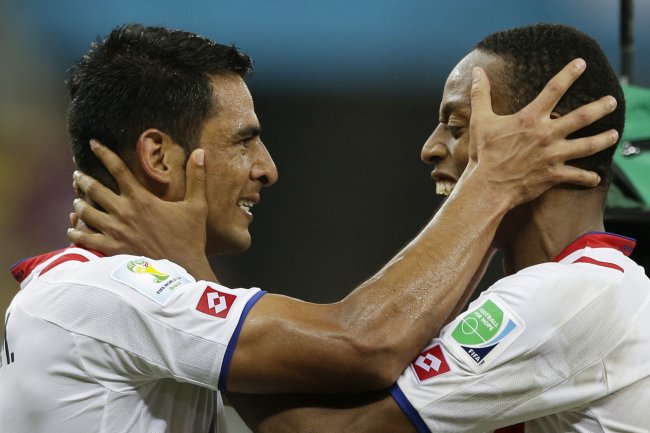 Ricardo Mazalan/Associated Press
Costa Rica went in front early, spectacularly held on with 10 men for nearly 60 minutes against a pressing Greece side and pulled out the victory in a penalty shootout.
They were up against the wall for much of stoppage time and extra time, but when the penalty kicks came, Costa Rica didn't miss as ESPN Stats and Information showed:
#CRC earn the @VW #TopPerformance with its PK shooting. Costa Rica converted on all 5 shootout attempts #CRCvsGRE pic.twitter.com/1IPMOKA7zk

— ESPN Stats & Info (@ESPNStatsInfo) June 29, 2014
Needless to say, there wasn't an endless amount of hype surrounding this one despite it being a round-of-16 affair. Costa Rica dazzled by winning Group D in stunning fashion, but many thought Greece shouldn't even be here after their controversial late penalty against Ivory Coast allowed them to advance.
But by the end of this 120-minute affair, it was obvious that it was just another one of the many down-to-the-wire finishes in Brazil, per The Big Lead's Jason McIntyre:
2014 World Cup has a flair for the dramatic - you can't look away late, just like NBA/NFL/MLB. gotta tune in late for the absolute best

— Jason McIntyre (@jasonrmcintyre) June 29, 2014
Although they were tested later on, Costa Rica went in front first and looked to be the most talented team on the pitch early on.
But the match was slow to get going in terms of scoring—until Bryan Ruiz put Costa Rica in front early in the second half. It wasn't a high-velocity rip, but it was on target as Bleacher Report UK captured:
#crc 1-0 #gre—Bryan Ruiz, 52—placed finish from the edge of the area. Game on! https://t.co/r7SG5XoCMA

— Bleacher Report UK (@br_uk) June 29, 2014
Sports Illustrated's Grant Wahl noted how effective it is that Costa Rica often shoots before taking a touch, as was the case in Ruiz's goal:
Costa Rica: Still the best story of World Cup. Ruiz goal a perfect example of why hitting balls first time is so important.

— Grant Wahl (@GrantWahl) June 29, 2014
But just as Costa Rica looked to be surely into the round of 16 against a Greek side that couldn't find offense, they flung the door wide open for a Greece comeback. Costa Rican defender Oscar Duarte was sent off in the 66th minute after his second yellow card.
With Costa Rica reduced to 10 men, Greece attacked and attacked. And for the second straight time, they scored in stoppage time to keep their World Cup hopes alive.
Sokratis Papastathopoulos was there to put in a rebounded effort in the 91st minute to equalize for Greece, as ESPN FC highlighted:
Greece were just minutes away from heading home. But they always seem to find a way with a late goal. WATCH » http://t.co/LCp22sIdFm

— ESPN FC (@ESPNFC) June 29, 2014
Greece continued to search for chances to win the match, and even got a great chance just before stoppage time ended. But as it carried on into extra time, those final 30 minutes didn't see any side in front.
And Greek manager Fernando Santos flipped before the penalty shootout, leaving him off the pitch during the decisive moment, per BBC Sport:
#GRE boss Fernando Santos appears to have been sent off by referee Benjamin Williams. http://t.co/om9zunsDyY #CRCGRE pic.twitter.com/oe0PHYRuyr

— BBC Sport (@BBCSport) June 29, 2014
It didn't much matter for the Greeks. Costa Rica stepped up to the penalty spot and drilled home all five of their attempts, while the only Greece attempt that missed was saved beautifully by Costa Rican goalkeeper Keylor Navas.
The loss was certainly crushing for Greece, which fought back valiantly and took control of the final 60 minutes with their man advantage. As it turns out, they just couldn't keep their improbable run going.
Speaking of improbable runs, Costa Rica have further solidified their status as the most inspirational story thus far in this World Cup. They topped the tough Group D with wins over both Italy and Uruguay, and now are onto the quarterfinals with a match against the Netherlands.
After the results they've had in Brazil, no Costa Rican will enter that match doubting their chances.
Follow Steven on Twitter.