Former Auburn tight end Philip Lutzenkirchen, a contributor on the Tigers' 2010 national championship team whose football career was cut short due to injury, died as the result of injuries suffered in a car accident Sunday morning.
He was 23.
Brandon Marcello of AL.com provides details on the toxicology report, which was released in August:
Former Auburn star Philip Lutzenkirchen and the driver of the vehicle that crashed on June 30 and resulted in their deaths were both legally drunk, according to documents released Wednesday.

Joseph Ian Davis, the driver, registered a blood alcohol content level of 0.17 (the legal limit in Georgia is 0.08); Lutzenkirchen, who was seated in the back seat, registered a blood alcohol level of 0.377.
The staff at 247Sports first reported Lutzenkirchen's passing. B.N. Talley of the Georgia State Patrol told Ryan Black of the Ledger-Enquirer that Lutzenkirchen was a passenger in a vehicle that traveled through a stop sign at an intersection and into a churchyard, at which point the vehicle flipped and ejected three of the four passengers.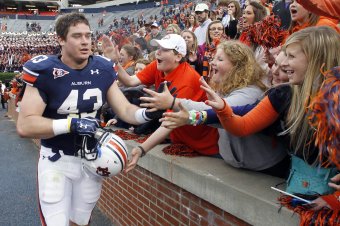 Butch Dill/Associated Press
"It happened at the intersection of Upper Big Springs Road and Lower Big Springs Road," Talley told the paper. "The vehicle was a 2006 Chevy Tahoe and the driver missed a stop sign at the intersection of those two roads, which is more or less a 'T-intersection.' They traveled through the intersection off into a churchyard. They were out of control for about 450 feet."
Details are still emerging in the situation, and police are still investigating the reason for the crash. Police said Lutzenkirchen was not wearing his seatbelt during the accident. Joseph Davis, who was driving at the time, was also killed. The two other passengers, 22-year-old Elizabeth Ann Seaton Craig and 20-year-old Christian Tanner Case, were both taken to West Georgia Medical Center in LaGrange, Georgia, for treatment of their injuries.
Auburn released a statement on Lutzenkirchen's passing, via Twitter:
The Auburn Family mourns the loss of our friend Philip Lutzenkirchen (1991-2014). He'll forever live in our hearts. pic.twitter.com/VXXW2ePzSA

— Auburn Tigers (@AuburnTigers) June 29, 2014
Auburn head coach Gus Malzahn also released a statement, courtesy of Alex Byington of the Opelika-Auburn News:
"I'm deeply saddened by the untimely passing of Philip Lutzenkirchen. He was a great young man who touched the lives of everyone he knew ...

— Alex Byington (@AUBlog) June 29, 2014
Malzahn cont.: "On the field, Philip was a great player & competitor, but more importantly, he was a great teammate & friend off the field."

— Alex Byington (@AUBlog) June 29, 2014
Malzahn cont.: "This is a sad day for the entire Auburn family. I find peace knowing that even though Philip was taken from us too soon, ...

— Alex Byington (@AUBlog) June 29, 2014
Malzahn cont.: "… that he lived his life to the fullest, leaving a lifetime of great memories for his family and friends to cherish forever"

— Alex Byington (@AUBlog) June 29, 2014
Tigers fans also showed their respects for Lutzenkirchen by rolling Toomer's Corner in his honor (via Justin Lee on Vine):
Lutzenkirchen played at Auburn from 2009 through 2012. Highly touted out of Lassiter High in Georgia, he made an impact upon his arrival on campus and was instantly one of the more popular players within the locker room.
During his four years with the Tigers, Lutzenkirchen made 59 receptions for 628 yards and 14 touchdowns. He holds the school's all-time record for touchdowns for a tight end.
During the Tigers' national championship campaign, he was one of Cam Newton's favorite red-zone targets; five of his 15 receptions in 2010 went for scores. His most famous catch of that campaign was a game-winner in the fourth quarter against Alabama, which culminated a comeback from 24 points down.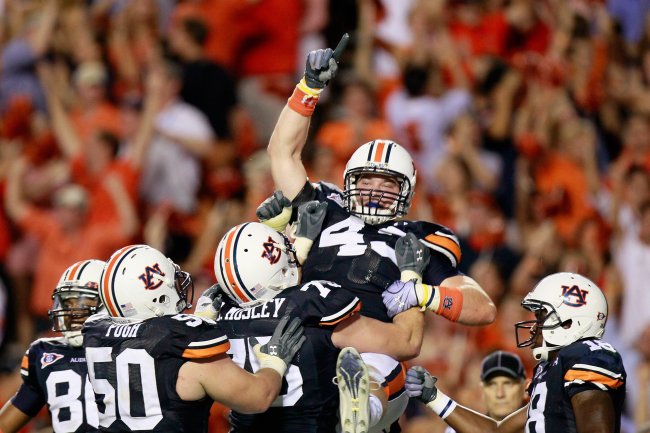 Kevin C. Cox/Getty Images
He last played for Auburn in 2012, a hip injury cutting short what was amounting to a strong senior season. He then shortly caught on with the St. Louis Rams as an undrafted free agent before the hip injury stopped his professional career before it got off the ground.
Justin Hokanson of 247Sports provided an anecdote that highlighted why Lutzenkirchen was so popular with players and coaches:
I vividly remember Phil reaching out to write a public "thank you" letter to the Auburn fans, coaches after his final season. Rare man.

— Justin Hokanson (@JHokanson) June 29, 2014
Since his release in St. Louis, Lutzenkirchen had been as an assistant coach at St. James High School in Montgomery, Alabama. He maintained a close relationship with the Auburn program, former teammates and staff members who were there during his career.

Lutzenkirchen is survived by his parents, Mike and Mary.
Follow Tyler Conway (@tylerconway22) on Twitter.