Updates from Thursday, July 10
Sam Amick of USA Today reported on the offer sheet between Chandler Parsons and the Dallas Mavericks:
A sign and trade between Dallas and Houston will not be happening re: Chandler Parsons, I'm told. The Rockets have the offer sheet.

— Sam Amick (@sam_amick) July 10, 2014
Earlier Yahoo! Sports' Adrian Wojnarowski reported on a potential sign-and-trade:
Parsons offer sheet was signed, just hasn't been delivered to the Rockets yet.

— Adrian Wojnarowski (@WojYahooNBA) July 10, 2014
Eddie Sefko of The Dallas Morning News previously reported details on a move that could bring Houston Rockets forward Chandler Parsons to Dallas:
Possible sign-and-trade still in play for Chandler Parsons, which is why Mavericks have not sbumitted offer sheet to the Rockets yet.

— Eddie Sefko (@ESefko) July 10, 2014
Moments earlier, Dwain Price of the Fort Worth Star-Telegram reported on the status of Parsons' offer sheet with the Mavericks:
The 72 hour clock on Parsons hasn't started yet. Donnie Nelson said the offer sheet won't be submitted until tonight.

— Dwain Price (@DwainPrice) July 10, 2014
Jonathan Feigen of the Houston Chronicle previously reported on how Chris Bosh could impact the Rockets' plans regarding Parsons:
If Rockets get Bosh and can do both in time, they'd match Parsons' offer sheet, per source. If don't get Bosh, tough, close call on Parsons.

— Jonathan Feigen (@Jonathan_Feigen) July 10, 2014
Earlier, Parsons tweeted his excitement after reportedly signing an offer sheet with the Dallas Mavericks:
Extremely humbled! One night of fun and back to work. THANK YOU to everyone who has helped me! I am blessed.

— Chandler Parsons (@ChandlerParsons) July 10, 2014
His mother followed with this telling tweet:
A great celebration! pic.twitter.com/M7yy4WoFmq

— Terri Parsons (@sadie1532) July 10, 2014
Updates from Wednesday, July 9
ESPN's Marc Stein reports Parsons has agreed to an offer sheet:
ESPN sources say Mavericks and Rockets RFA Chandler Parsons have reached agreement on three-year offer sheet worth in excess of $45 million

— Marc Stein (@ESPNSteinLine) July 9, 2014
Stein also reported on another team showing interest in Chandler Parsons:
Hearing Cavs have strong interest in Rockets RFA Chandler Parsons if LeBron elects to stay to Miami. Parsons said to be next-in-line target

— Marc Stein (@ESPNSteinLine) July 9, 2014
Updates from Tuesday, July 8
Bleacher Report's Ric Bucher provides his take on how much he believes Chandler Parsons is worth:
Updates from Monday, July 7
Chris Broussard of ESPN reported on a potential suitor for Chandler Parsons:
Dallas, believing it likely will lose out on both LeBron James and Carmelo Anthony, will attempt to sign Chandler Parsons away from the Houston Rockets. The Mavericks also have Luol Deng and Trevor Ariza in their sights, sources said.
Updates from Wednesday, July 2
Jonathan Feigen of the Houston Chronicle reports that while Chandler Parsons' destination for next year remains in the air, one member of the Rockets believes he knows where he'll end up:
Interesting listening to Dwight after the Melo lunch talk about Parsons as certain to be back. "I don't think it's a question mark."

— Jonathan Feigen (@Jonathan_Feigen) July 2, 2014
Updates from Tuesday, July 1
Adrian Wojnarowski of Yahoo Sports reports on one team that is very interested in signing Chandler Parsons:
Dallas calls on RFA Chandler Parsons, and make no mistake: If Mavs miss on 'Melo, they'll be aggressive in pursuit of Parsons, sources say.

— Adrian Wojnarowski (@WojYahooNBA) July 1, 2014
Updates from Monday, June 30
Jonathan Feigen of the Houston Chronicle reports the Rockets have officially declined Chandler Parsons' option, but also reports their views on his future within the organization:
Rockets as expected officially do not pick up options on Parsons, Daniels. Will make qualifying offers today so can match rfa offer sheets.

— Jonathan Feigen (@Jonathan_Feigen) June 30, 2014
Rockets intend to keep both Parsons and Daniels, regardless of what else happens in free agency, source said. Will cite both in pitches.

— Jonathan Feigen (@Jonathan_Feigen) June 30, 2014
Parsons later spoke about his free agency with Mark Berman of Fox 26:
. @ChandlerParsons : "'It's an exciting feeling to be able to go through this process & be a restricted free agent." (more)

— Mark Berman (@MarkBermanFox26) June 30, 2014
more @ChandlerParsons : "It's much more difficult to be RF rather than UF but expect a lot of interest from around the league." (more)

— Mark Berman (@MarkBermanFox26) June 30, 2014
. @ChandlerParsons on being paid what he's worth: "It's a good feeling knowing financially I will B paid my value but @ the same time(more)

— Mark Berman (@MarkBermanFox26) June 30, 2014
. @ChandlerParsons :"I picked my1st contract&everybody goes through the process of the rookie deal no matter how much Uplay it out&deserve"

— Mark Berman (@MarkBermanFox26) June 30, 2014
Original Text
The Houston Rockets allowing Chandler Parsons to hit restricted free agency this summer was seen in some circles as a savvy move that allows them to control the process. That process might wind up costing them.
Parsons is said to have multiple suitors waiting in the wings, most notably the Lakers, Timberwolves, Bulls and Mavericks, according to Marc J. Spears of Yahoo Sports. Spears notes that the Parsons market will largely be decided with what happens with Knicks forward Carmelo Anthony—and to a certain extent Warriors guard Klay Thompson.
The same teams expected to pursue Anthony, who will be testing free agency for the first time in his career, will push for Parsons if their pitch fails. Because Parsons is a restricted free agent, interest in him league-wide will be dictated by the market. Restricted free agents often go one of two ways, garnering an instant overpay or sitting and waiting for a high-salary offer while the unrestricted shuffling commences.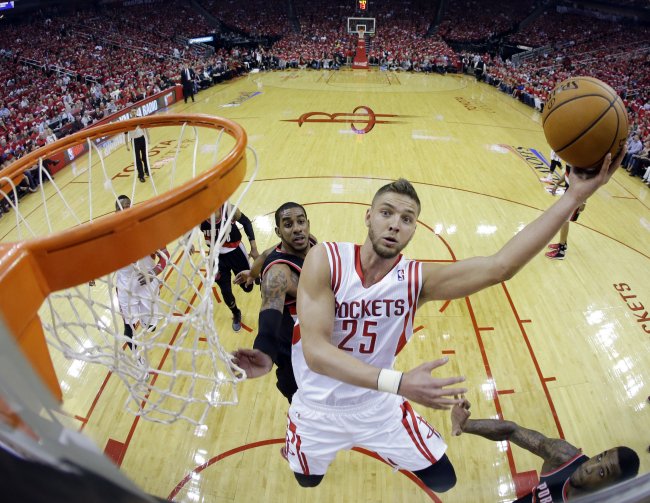 David J. Phillip/Associated Press
Houston can match any offer sheet Parsons signs with another franchise. The team is largely expected to do so, and part of its plan in declining Parsons' option for next season is to keep him and sign another star player long-term.
The Rockets are attempting to clear near-max room to make a run at a high-profile name to pair with James Harden and Dwight Howard. Trading Omer Asik to the New Orleans Pelicans was the first step in that plan, and moving Jeremy Lin's contract would get the team in serious contention for a star. If they are able to sign a veteran, the Rockets can then go over the salary cap to match an offer sheet for Parsons—provided the moves happen in the correct order.
But Parsons might not be incentivized to help management out. A second-round pick in 2011, the former Florida standout has been one of the league's biggest bargains throughout his career.
He made less than a million dollars this past season, one in which he averaged 16.6 points, 5.5 rebounds and 4.0 assists per game. Only seven NBA players matched or eclipsed those totals last season, per Basketball-Reference. Factoring in Parsons' three-point shooting—he's a career 37 percent shooter from distance—and it's fair to say he's among the league's best offensive small forwards.
Because of his relatively paltry contract, Parsons might emphasize financial stability over helping the Rockets structure their roster the way they want. He told Spears that while he never created a fuss behind-the-scenes about his salary, Parsons knew he was worth more.
"When I got drafted in the second round, I signed the four-year deal and everyone has to go through their rookie scale," Parsons said. "It was all part of the process. I obviously thought I deserved more. But I never was bitter or jealous of anyone making more than me. I was just fortunate enough to do this for a living."
If Houston gets a serious challenger before it expected, it will be interesting to see how the situation is handled. Landing three stars has always been a part of the long-term plan. Parsons is a fine player, but also a defensive minus and someone who is on the next tier down from All-Star consideration. Paying him eight figures per season is fine if Parsons is the fourth star; doing so if he's third in command might limit the Rockets' ceiling.
As Nate Jones points out, merely re-signing Parsons is a "worst" possible outcome for Houston:
Having GOOD options is a great position to be in. Resigning Parsons is Houston's worst case option. Just an awesome job there.

— Nate Jones (@JonesOnTheNBA) June 28, 2014
Morey, ever the opportunist, knows what he's getting himself into. The July moratorium period in this way might be a godsend. Teams and players can begin negotiating deals on July 1, but they cannot be completed until the NBA re-opens for business on July 10. That means Morey would have until July 13 to match any deal Parsons signs on the first "official" day of free agency.
He'll have to move quickly, but the NBA calendar allows the Rockets boss time to execute his plan. Parsons, meanwhile, will be out on the market hoping to extract every possible dime as he prepares for his first big-money professional contract.
Follow Tyler Conway (@tylerconway22) on Twitter.