Day 16 of the 2014 World Cup brought tears to Neymar's eyes.
The opening match of the knockout round, Brazil vs. Chile, couldn't have been much more intense. Brazil went undefeated in the group stage, living up to its expectations as the favorite to win the tournament. But Chile, which won two games, was unfazed while facing Brazil on its own turf as an underdog.
The scoreboard didn't stay 0-0 for long. Off a Neymar corner kick 18 minutes in, Brazil defender David Luiz scored to put Brazil on top 1-0.
GOAL! #bra 1-0 #chi - David Luiz puts Brazil in front after 18 minutes. https://t.co/YeDizusNzL

— Bleacher Report UK (@br_uk) June 28, 2014
But its lead would be short-lived.
Just 14 minutes later, Chile forward Alexis Sanchez tied the score at 1-1 with a goal of his own.
#Bra 1-1 #Chi - Alexis Sanchez, 31 - his 10th goal in his last 14 appearances for Chile and it's game on in Brazil! https://t.co/eSbKDnC9Or

— Bleacher Report UK (@br_uk) June 28, 2014
The two teams entered halftime still tied. But 54 minutes in, Brazil nearly regained the lead with a Hulk goal.
However, the referee disallowed the goal, calling a handball on Hulk.
Disallowed for handball: The incredible Hulk and the phantom menace #bra #chi https://t.co/AUKivypNfA

— Bleacher Report UK (@br_uk) June 28, 2014
Then the defenses stepped up. For the next 66 minutes, scoring didn't happen, as goalies Julio Cesar and Claudio Bravo combined for seven saves. After 120 minutes, they forced a penalty shootout.
Brazil's turn came first. It elected for Luiz to kick, and he scored again to put Brazil up 1-0 in penalty kicks.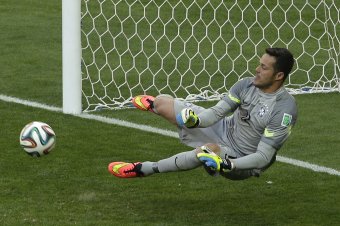 Hassan Ammar/Associated Press
Chile's first attempt from Mauricio Pinilla didn't go as well. Cesar blocked the shot, maintaining Brazil's lead. But Brazil's Willian missed too, keeping Chile within striking distance.
After another Chile miss by Sanchez, though, Marcelo put Chile out of striking distance with a goal. Down 2-0 and needing a point to stay in the shootout, Charles Aranguiz finally broke through for Chile to put it within one again.
And all of a sudden, Brazil's lead had vanished. Hulk missed his penalty kick, and Marcelo Diaz took advantage, tying the shootout at 2-2. It all came down to Neymar and Gonzalo Jara.
Neymar nailed his.
Jara didn't.
And those Neymar tears were tears of joy. Brazil stayed alive, winning 1-1 (3-2).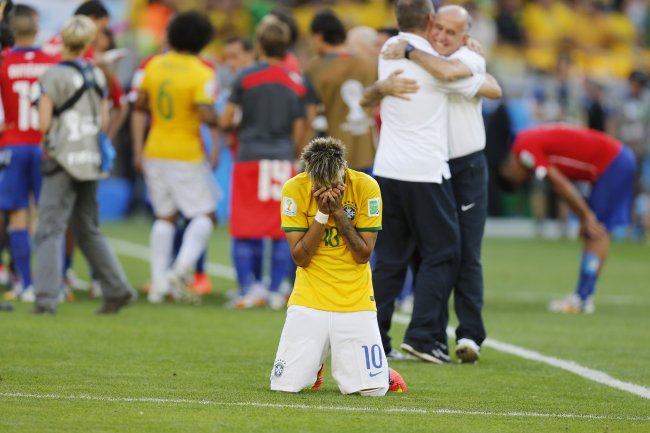 Frank Augstein/Associated Press
The second match of the day wasn't nearly as dramatic, thanks to James Rodriguez, the new leader for the Golden Boot award.
Without Luis Suarez, a Uruguay win would have been a shock. And it never threatened to happen.
Colombia entered halftime with a 1-0 lead after Rodriguez, in spectacular fashion, scored his fourth goal of the World Cup 28 minutes in.
#col 1-0 #uru - if you didn't believe the James Rodriguez hype this might change your mind https://t.co/QayYIc45FQ

— Bleacher Report UK (@br_uk) June 28, 2014
He wasn't finished.
Just five minutes into the second half, he scored his second goal of the match and fifth of the tournament.
#col 2-0 #uru - Watch James Rodriguez's 5th goal of the tournament (he also has four assists if you're counting) https://t.co/0sVU4BipE5

— Bleacher Report UK (@br_uk) June 28, 2014
The goal put him in front of the likes of Neymar, Lionel Messi and Thomas Mueller for most goals in the World Cup thus far.
And that deserves a celebration.
James Rodriguez and #col: Because great goals need great celebrations. https://t.co/Cgv75neBUp

— Bleacher Report UK (@br_uk) June 28, 2014
Colombia goalie David Ospina also deserves recognition for his five saves. His outstanding defensive effort never gave Uruguay a chance to come back. And Colombia held on for a 2-0 victory.
Here is an updated World Cup bracket after Day 16's happenings.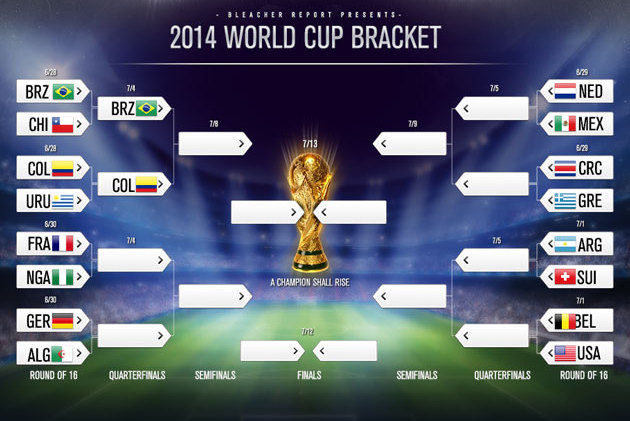 Bleacher Report
David Daniels is a columnist at Bleacher Report. He tweets, too.