Four South American countries put on a dazzling display during Day 16 of the 2014 World Cup.
Neymar and host country Brazil looked to stand their ground against a defensively sound Chile team, while the exciting Colombia team looked to get back a Uruguay team without its star player in Luis Suarez.
These star-studded casts didn't disappoint.
After two fantastic displays of world football, only 14 teams remain for the remainder of the knockout stages. With Brazil and Colombia on to the quarterfinals, let's take a look back at how each Day 16 contest unfolded.
Bracket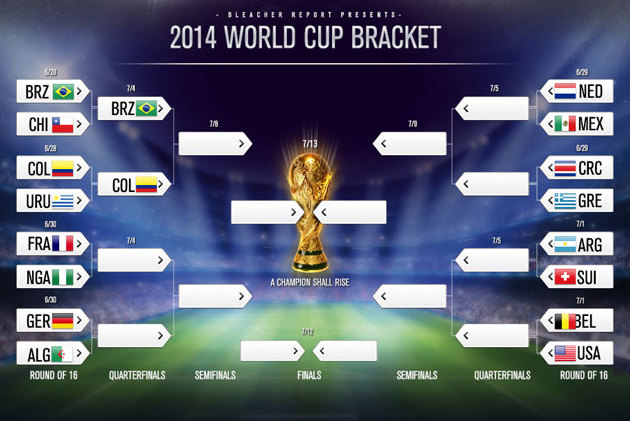 B/R
The complete bracket can be viewed at FIFA.com.
Brazil 3-2 Chile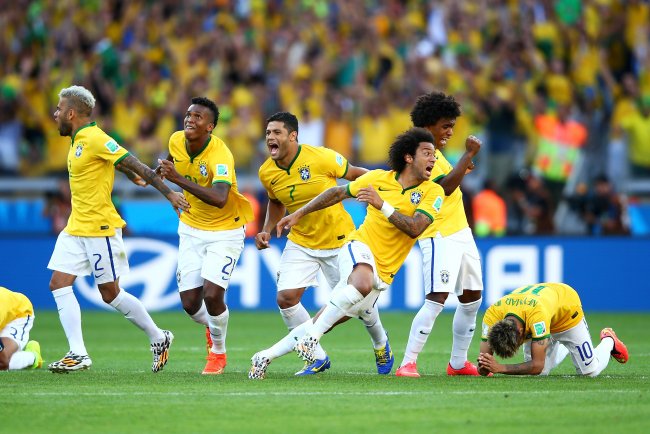 Paul Gilham/Getty Images
Talk about setting up the knockout rounds in style.
Brazil and Chile may have put on the biggest display of world football prowess that we've seen in this year's World Cup.
In a fantastic matchup featuring two teams with opposing strengths, Brazil's offense found a very formidable opponent in Chile's stout defense.
The Brazilians remained the aggressors throughout the match, accumulating 23 total shots, 13 of which were on goal. However, the team was only able to come away with one goal in regulation.
David Luiz began the scoring after a couple of post-corner volleys. Here's a look courtesy of World Cup 2014:
VINE: David Luiz's goal! http://t.co/m9PH9edkur

— World Cup 2014 (@PostWorldCup) June 28, 2014
Brazil wouldn't keep the lead for long, as Alexis Sanchez equalized the match with a nice shot that found its way just past the reach of Julio Cesar. Take a look:
Alexis Sanchez scores to make it 1-1 | https://t.co/Ksfaw20r0Z

— 2014 World Cup (@2014WorIdCup) June 28, 2014
The match went into extra time after regulation ended in a 1-1 draw. During a defensive struggle, neither team was able to score in sudden death, and the match moved into a thrilling penalty-kick shootout.
Here's a look at all of the shots:
That stunning finish was a perfectly fitting end to such a miraculously tantalizing match.
Colombia 2-0 Uruguay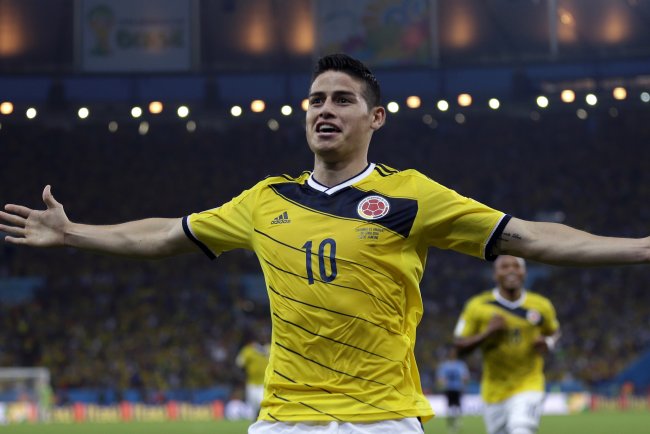 Natacha Pisarenko/Associated Press
The pitch belonged to James Rodriguez on Saturday afternoon.
Rodriguez entered his contest against Uruguay after scoring three goals and accumulating two assists in his previous three matches. He was brilliant once more.
In the 28th minute, James struck one of the most impressive goals we've seen in this year's World Cup. He put on a display of control and precision that was simply astonishing.
Here's a look at his decisive strike, courtesy of Football Vines:
What a goal from James Rodriguez.. http://t.co/zq7sjGMOa9

— Football Vines (@FootballVines) June 28, 2014
That goal caught the attention of the entire world. One of the most prominent reactions came from NBA superstar LeBron James:
Man watching this Colombian game I think I have my fav player in the world cup! Obviously his name help that out #Biased #10 #James #WC2014

— LeBron James (@KingJames) June 28, 2014
LeBron had more reason to favor Rodriguez soon after.
In the 50th minute, James struck again, taking a brilliant dish from Juan Cuadrado to net the easy goal. Take a look, via Sports Vines:
James Rodriguez scores his second goal of the game, fifth of the World Cup. #COL http://t.co/RbGIfQklFV

— Sports Vines (@TheSportsVines) June 28, 2014
From there, Colombia rode it's two-goal cushion on through the 90th minute to earn an impressive victory and a date with Brazil in the quarterfinals.