After two squads earned a trip to the 2014 World Cup quarter-finals on Saturday, two more spots will be up for grabs on Day 17 in Brazil.
Sunday's matches feature the surprise appearance of two CONCACAF squads in the knockout stage as Mexico and Costa Rica look to continue their runs. Meanwhile, Greece are also enjoying an impressive run to reach the knockout stage after outlasting Ivory Coast and Japan.
This leaves the Netherlands, which have proved throughout the tournament that they are one of the best teams in Brazil. They have convincing wins over Spain and Chile already, and they are hoping to improve upon their second-place finish from 2010.
Of course, we have seen throughout the tournament that the best team does not always win, and anything can happen. Here is a look at what to expect in the two upcoming battles.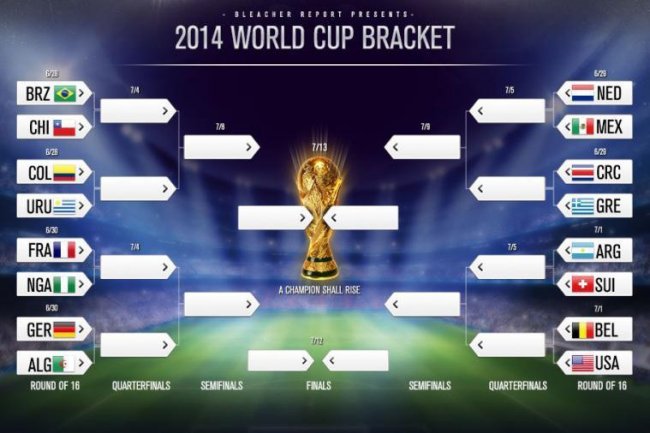 Credit: Bleacher Report
Netherlands vs. Mexico
When: Sunday, June 29
Time: 12 p.m. ET
Where: Estadio Castelao, Fortaleza, Brazil
TV: ESPN
Live Stream: Watch ESPN
Odds (via Oddsshark): Netherlands (+110), Mexico (+255), Draw (+276)
This is a classic battle between one of the best defensive teams in the world against one of the best offensive ones.
Mexico have only allowed a single goal to this point, which included a shutout against Brazil. The key so far has been the strong play of Guillermo Ochoa in net, who was considered by Jonathan Wilson of Sports Illustrated to be the best at his position in the group stage:
The Mexico goalkeeper's contract at Ajaccio expired at the end of last season, but you suspect he won't be without a club for long after his heroics against Brazil, when he made a series of fine blocks, the most eye-catching of which was his full-length dive to his right to claw away a Neymar header.
He has proved that it takes a perfect shot to get past him and earn a goal. Fortunately for the Netherlands, they have the players capable of making those perfect shots.
Robin van Persie scored one of the best goals you will ever see in the first match against Spain:
Cahill (http://t.co/OIkViaQE0d) or RVP (http://t.co/EGPLbChCuI): Which goal was better? Answer using #SCGolazo. Results on World Cup Tonight

— ESPN FC (@ESPNFC) June 18, 2014
Meanwhile, Arjen Robben has the ability to rocket a ball past anyone in any corner of the net. This duo creates one of the most intimidating attacks in the world that will be extremely difficult for Mexico to stop.
Additionally, the Dutch have done a great job working on the counter-attack when opponents get too aggressive, according to Squawka Football:
Netherlands have scored more goals on the counter attack (3) than any other side at this year's World Cup. #NED pic.twitter.com/EjIoJg0JS6

— Squawka Football (@Squawka) June 28, 2014
Mexico play a conservative brand of football, but they will have to work hard to get into the final third for the Netherlands. Giovani dos Santos and Oribe Peralta have the ability to get the ball into the net, but the average midfield will leave the squad too exposed.
The Dutch will be able to create enough opportunities to get at least a couple of shots past Ochoa as they move into the next round.
Prediction: Netherlands 2, Mexico 1
Costa Rica vs. Greece
When: Sunday, June 29
Time: 4 p.m. ET
Where: Arena Pernambuco, Recife, Brazil
TV: ESPN
Live Stream: Watch ESPN
Odds (via Oddsshark): Costa Rica (+150), Greece (+190), Draw (+220)
This contest is definitely not one that many were expecting coming into the tournament, as noted by Rob Dauster of NBC Sports:
Costa Rica plays Greece for a spot in the quarters while four South American sides battle it out for one semifinal spot? Who had that?

— Rob Dauster (@RobDauster) June 24, 2014
However, both teams have every right to be here. The problem is this will not be the most entertaining battle as both sides utilize a defensive approach to keep opponents away from good opportunities in the final third.
Costa Rica have been especially impressive on that end of the pitch, with manager Jorge Luis Pinto explaining, "I would say that if Costa Rica have a good point it's our defensive system, which isn't just the four or five defenders. Our defence is balanced, tough and very efficient," via Chris Taylor of The Guardian.
Greece failed to get a goal in either of the first two matches before slipping through the group stage with two in the final match against the Ivory Coast. Bryan Armen Graham of MicNews discussed the craziness of the situation:
Greece needed 223 minutes to score their first goal of the World Cup but it will be enough to put them into the Round of 16 if results hold.

— Bryan Armen Graham (@BryanAGraham) June 24, 2014
While the team can thank its great defenses for advancing, the relatively weak group also played a big role. The scoring struggles will not go away, especially against a strong defense for the Ticos.
This contest will be relatively slow, but Costa Rica have been better on the counter-attack and should be able to break through with a necessary goal to earn the win.
Prediction: Costa Rica 1, Greece 0
Follow Rob Goldberg on Twitter for the latest breaking news and analysis.