Greatest Potential Fishaps and Muck Ups to a Super Bears Season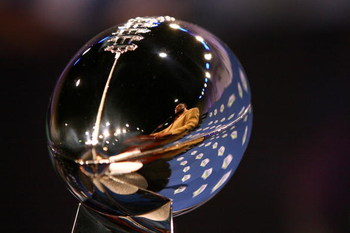 First let me apologize for my inappropriate play on letters in my title. On second thought, I don't apologize, THIS IS NFL FOOTBALL. Hit 'em in the mouth, Black and Blue division, snots, grunting, broken bones and blood! It is intense. It is a Mans game and if you don't like it have a seat and a cup of tea with the Ladies.
As an avid Bears fan I am extremely excited about this season and those yet to come. Growing up in the South suburbs of Chicago I, like most other Chicago natives, have a deep affinity for Chicago sports! Aside from Da Bulls in da 90s, one awesome Bears championship, and a White Sox Championship (Not sure if this one even counts as I am a Cubs fan) finishing first in a Major Sport has been extremely rare for Chicago teams for over the past 40 some years.
Let me say that I am so proud, shocked and elated to see what Dale Tallon and the gang is doing with the Blackhawks! It is great to see them field, build and continue to nurture such a youthful team with great potential! Now you have Jerry Angelo and the Bears that have stepped up via trades and free agency to create a new Bears team that can contend for the Superbowl! I feel that I am about to cry tears of joy into my Shredded Beef and I-talian Sausage, with red sauce and hot pepper sandwich! Oh, maybe that is just the hot peppers causing those tears, well you get my point.
My story lists what I believe are the greatest threats to a Super finish for the Bears. There are 7 of them and I would love to get your feedback!
Receivers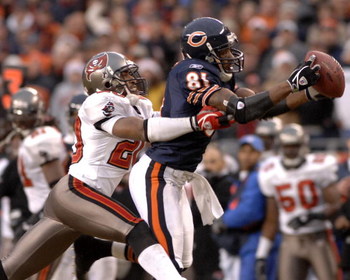 I selected this photo of Davis stretching out to what appears to be him catching the ball, or doesn't he? That is the point here which receiver or receivers will step up and catch the ball from Chicago's Jay Cutler?
I list this as my 7th potential Muck Up because I, like Bears management believe that this receiving corps is young and inexperienced but has lots of talent and potential. Having Cutler at QB will make all the difference in the world to the receivers. I will not even list the differences that his skills and abilities will add to making each receiver reach his potential.
I do not anticipate that management brings in a free agent receiver. I DO think that the Bears are a go with what they have here. A lot of it might only be potential but I am expecting this area to turn into a strength come the end of the season. The unproven potential is why this is risk number 7.
O-Line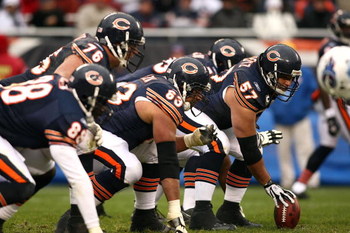 Like most teams, Chicago included here, you need to have a healthy Offensive Line in order to be successful on offensive. There are certainly some other major issues of: age, experience and cohesion which will play out.
I list the O-Line here at 6th because of the additions made in FA. The age and health of Key left tackle Pace will be a major factor in the Bears success. As well as the unproven and in my opinion still a rookie Williams at RT. There are also some questions of how good the other FA pickups will turn out to be. Plus when you put all the new pieces together you cannot be sure as to how they will perform as a single unit.
In my view I think the Bears O line will be above average. I think that they have add some good pieces to the puzzle and that with having the talent the line will gel over time.
Depth at Running Back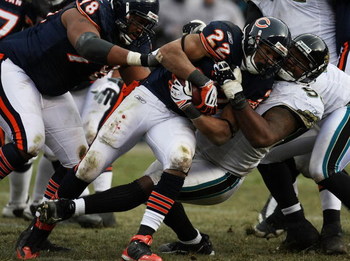 Matt Forte has proven that he is a prototypical NFL featured running back. He can run, catch and block. How fantastic the outlook is for the Bears rushing game for years to come with a healthy Matt Forte!
I list the depth of running backs here at 5th because if something happens to Forte, the running game, will surely cause the entire Bear offensive to suffer and to never reach its potential. It is very difficult to quantify how Kevin Jones would perform as the starting running back. How will his reconstructed knees perform? Will his knees last an entire season?
What we do know is that we have seen in the past with Wolfe and Peterson and that it is certainly not the quality running game of a healthy Forte. That's why this is only #5 on the Mucked Up and Fishaps list. Lets pray for a healthy Forte!
Secondary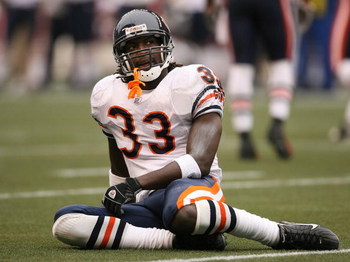 I don't know, I have them listed here at 4th but truly they could have been listed all the way to the number 1 spot. Tillman, Vasher, Steltz, Graham, Payne, Moore, Afalava and Manning..... Did I miss anyone.? What will we get here on the field? A BIG I don't know in my opinion.
The Bears D was ranked 30th against the pass last year, and I will not blame all of it on the secondary. Letting Mike Brown go with his health issues leaves a major hole to be filled here. Wow I don't know what else to say here except that the performance of the Secondary is also dependent on the performance of the D Line..... Which by the way brings me to ....
The D Line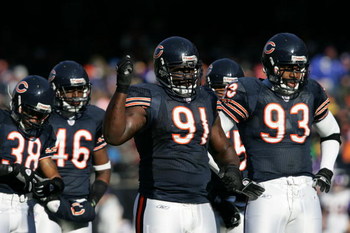 Ok on to No. 3 we go on the Mucked Up and Fishaps list! To me this might be the biggest single factor that will affect the outcome of the 2009 Chicago Bears season. In fact the D Line was so important that 2 of the top 3 picks in this year draft were defensive linemen.
The Defense has always been the dominate part of any Chicago Bears team as long as I can remember. Shoot dang, I will forever have ingrained in my brain pictures of a tattered and bloody Dick Butkus coming off the field after another fine defensive stop! My goodness didn't every young boy in the 60-70s wanna play just like him? Sorry I digress, but you get my point.
I believe that the D Line will dictate how successful this years Bears season will be. Everything hinges on how well of a push and the containment that we can get from the Line. Our great LB core will be viewed as having a good or bad season based on how much help they are getting up front. The wildcard secondary will need to have a strong Line in order to be successful.
The D Line starts with Tommie Harris and the double teams he will be getting. As he goes so will the rest of the line, if he stays healthy I believe the line will have a great season and so will da Bears. I stress the importance of Harris but he doesn't do it alone, there is good talent on the line with Ogunleye, Brown and Dusty.
With the addition of highly acclaimed DL coach Rod Marinelli, might I add not just from Lovie but also by great hall of fame linemen like Warren Sapp, the line if they can stay health should have a great season.
Stud QB Jay Cutler
Bringing us up to #2 is Jay Cutler. Actually I will say the HEALTH of Jay Cutler. it is the second, well possibly first threat to the Bears having a Super season. I do believe that by picking up Jay that the Bears have single-hand idly made the ENTIRE team better!
My best description of the Bears offensive last season was 3 and done... No offensive to Forte, the TEs and O line. The burden to keep us in games or to win from behind has unfairly been placed on the Defense for the past few years. Jay Cutler changes all of this. The pressure is now on him and from his past performance I believe that we are in good hands!
In my first article on the bleacher report: http://bleacherreport.com/articles/202525-why-bears-trading-for-jay-cutler-was-a-great-move I highlight why getting Cutler was a great move. I also included a poll in there asking if what the Bears gave up was worth getting a Stud NFL QB. Surprisingly only 1 out of 32 respondents said NO, the Bears did give up too much. With all of what Chicago gave up this tells me how important the QB position is in winning according to football fans. By the way NO ONE said that Jay is not a Stud QB according to my poll. Jay is a Probowl QB that is young and has many talents to make everyone on his team a better player.
I list a healthy Jay Cutler as #2 on my Mucked Up and Fishap list, but in fact it should probably be #1. My #1 threat to success is actually very dependent upon Jay Cutler's health and would drop somewhere to the bottom of this list if Jay was unable to play.
Offensive Coordinator Ron Turner
Here we are with #1 on the Mucked Up and Fishhap list. First I would like to say that I was quite pleased with the picture of Rexy and Ron. I feel that it best demonstrates the past short comings of a failed Chicago offense. Although if you read the official Bears Coaches write up on Turner http://www.chicagobears.com/team/coach.asp?coach_id=3 you would think he is some kind of Wunderkid. I think that it is pure folly to compare Turners offensive achievements to past Chicago Bears offensive history Please! That's like bragging about the speed of a Smart Car in a Ferrari world.
To my point Ron Turner must design an offense that takes advantage of Jay Cutlers strengths, which are many, or you will get a less then optimum result with the Bears season. YES I am saying that if Jay is healthy that the entire Bears season rests on the strength of Turners play calling!
In my Bears Superbowl Utopia I envision a well oiled offensive machine that dominates the clock game in and game out, allowing the defense to rest so that they are fresh each time they step on the field. A utopia where the fast WR stretch the field, corners are forced to play back, holes are opened for the running game, and TE are free to block and roam the middle. The offensive line holds their pass blocks and destroys the defense on run blocks. The ball will be seamlessly delivered in stride and on target to dashing receivers. WR will be optimized with trick running plays and reverses. Chicago WR will lead the league in YAC. Plays are called and executed in a Belichicklike like manor.
Fellow football fans I can almost taste this Utopia. Trust me it is within reach given the current pieces that we have. In order for any of it to occur we need to have a carefully crafted offensive playbook where the old form of run twice and throw on 3rd and long is long gone.
Can Turner get this done? As I have already mentioned I believe that he has all the pieces, he simply needs to find a way to maximize the strengths and to be creative to keep the defenses guessing! I think the more accurate question is will he be able to get this done?
It will take lots of hard work, creativity and imagination. I envision it being an ongoing work in progress as the best pieces to the puzzle will begin to fall into place. I do feel safe in saying that if the Bears 2009 season turns out to be an offensive disappointment that the blame will fall hard on Turner.
Keep Reading

Chicago Bears: Like this team?