One year after a stunning second-round exit in London, Maria Sharapova finds herself through to the second week of the 2014 Wimbledon and the surefire favorite to emerge the victor.
That is, if her current elite form that saw her win the French Open can remain.
It has been a decade since Sharapova lifted the Venus Rosewater Dish at the All England Club. Pair that with the early exit one year ago, and it is no surprise that the Russian star found great relief in her advancing to the fourth round, as captured by BBC Tennis:
"I'm just happy to be in the 2nd week after last year's result" - @MariaSharapova #bbctennis #Wimbledon pic.twitter.com/UTuSQ4epll

— BBC Tennis (@bbctennis) June 28, 2014
Sharapova fell behind 3-1 in the third round against American Alison Riske before rattling off 11 games in a row. The brief sluggish play was quite the anomaly after dominant victories over Samantha Murray (6-1, 6-0) and Timea Bacsinszky (6-2, 6-1) in the first and second rounds, respectively.
While the flirtation with a decrease in form would worry most in recent years, one has to understand that the transition from clay to grass can be difficult. Whereas Sharapova's first two opponents were not in great form, Riske is a quality grass player in comparison.
The Russian explained this after her victory on Saturday, via Vivienne Christie of the tournament's official website:
"Because it's so quick from one (surface) to another, the first couple of matches are really crucial in just working on so many things as a grass court player, just trying to make that transition and trying to do it as quick as possible."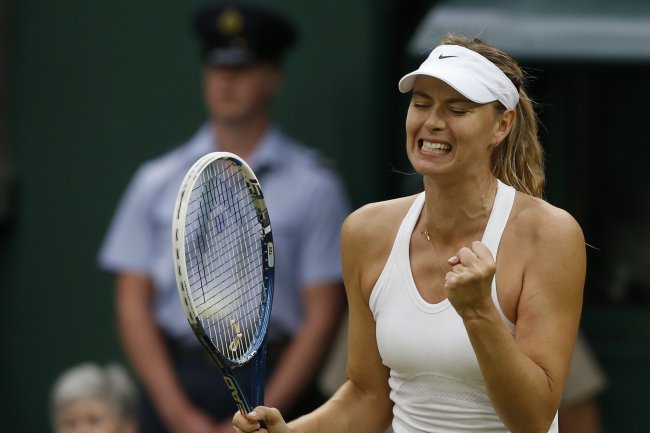 Ben Curtis/Associated Press
Sharapova is encountering better competition as she progresses through the bracket, but to suggest her form has tailed off is preposterous.
She'll face No. 9 seed Angelique Kerber in the fourth round, another step up in competition, but also a player she routinely dominates, as noted by her 4-1 head-to-head advantage.
It helps that a potential quarterfinal bout with Serena Williams is no longer part of Sharapova's equation this year. Williams was upended Saturday by Alize Cornet, marking her earliest exit from the tournament since 2005.
Ben Rothenberg of The New York Times provided an interesting coincidence involving the two superstars:
Last three times Serena and Sharapova have been drawn into same quarter at a Slam, Serena hasn't made it that far. Coincidence? #Wimbledon

— Ben Rothenberg (@BenRothenberg) June 28, 2014
For Sharapova, it ruins a wish of hers this year, per John Skilbeck of The Independent:
If we do get to the stage of playing against each other, first of all, I'll be happy to be in that stage, in the quarter-final stage, facing against her on one of the courts. We've played each other many times. I haven't had the best results against her. I always look forward to that opportunity and the challenge to play against the best, try something a little bit different to try to get a win out there.
It also robs fans of a championship-caliber match before that portion of the bracket, but don't mistake the rest of Sharapova's journey in London as a cakewalk.
Will Sharapova win the Wimbledon?
Kerber is no slouch, and a potential date with No. 13 seed Eugenie Bouchard will be no easy task later in the bracket. The Canadian has reached the final four at both the Australian and French Opens this year as she continues to become one of the sport's most dominant players.
Their last encounter occurred at the very French Open Sharapova went on to win, but Bouchard put up quite the fight in the 4-6, 7-5, 6-2 defeat. Of course, to even force a rematch, Bouchard has to move past the upset-happy Cornet.
Doubling down with victories at the French Open and Wimbledon seemed a pipe dream for Sharapova before the season, but the calendar year littered with upsets and new stars shifting the landscape of the sport has been anything but normal.
Given her experience, the remainder of the draw and unflappable current form, Sharapova is sure to wind up pulling off the feat with apparent ease as perhaps the only superstar living up to her billing at the moment.