The Madden Curse: The Players and Their Downfalls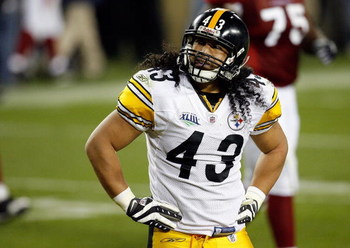 John Madden has a history in the NFL.
He now has established himself in the history of video games.
Every year, a new game is made.
Every year, another player gets the cover.
Every year, that player has been cursed.
The "Madden curse" affects players either during the season in which they were portrayed on the Madden cover or, rarely, the one after it.
You may see this as a "superstition." Well, read on...
Eddie George: The First Victim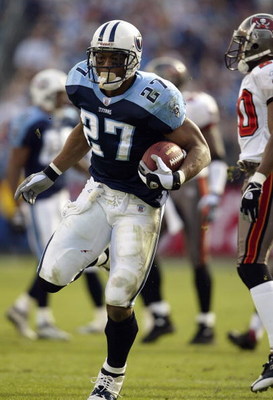 Entering the NFL in the 1996 season, George came in blazing. He won the Rookie of the Year award in '96, having 1,368 rushing yards, 4.1 YPC, and eight TDs on the year.
By the 2001 season, he had racked up over 6,500 rushing yards and 42 touchdowns for his career...then what happened?
I'll tell you—his photo was plastered on the Madden cover.
He finished 2001 with fewer than 1,000 rushing yards, 3.0 YPC (his lowest ever), and five TDs, tied for his second lowest ever.
Some may think that this was just a one-off, a fluke.
Read on, naysayer...
Daunte Culpepper: Succumbing to the Curse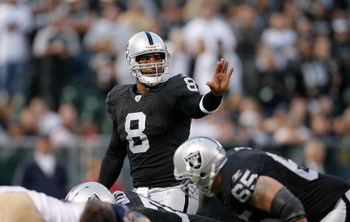 His photo was the cover of Madden '02.
The fourth quarterback drafted in '99, behind Tim Couch, Donovan McNabb, and Akili Smith, Culpepper had little playing time in his rookie season, but he reached success in his second season.
Throwing for 3,397 yards, 33 TDs, and a QB rating of 98.0, Culpepper was a sure pick for the Madden cover.
He would live to regret it.
In the 2002 season, he threw for over 1,300 yards less than in his previous season, he had only 14 TDs with 13 INTs, and the Vikings played one of their worst years ever because of it.
Oh, he also got injured and missed four games.
Curse? Read on...
Marshall Faulk: The Plague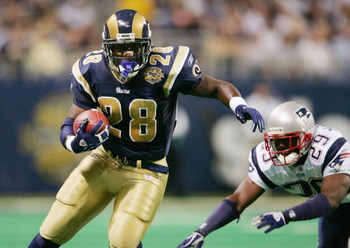 Drafted second overall by the Indianapolis Colts in '94, when his image was portrayed on the Madden cover on Madden 2003, he played for the Rams.
1,382 rushing yards, 12 TDs, 5.3 YPC—not to mention the receiving stats. That was 2001; don't expect these numbers in '02.
In '02, he sat out four games because of a nagging ankle injury, and he also only ran for 953 yards. That's right—fewer than 1,000 yards for a sure shot Hall of Fame RB.
An incredible RB being held to under 1,000 yards? Fishy.
Read on...
Michael Vick: The Preseason Heartbreaker
Once upon a time, he was an elite athlete that had served no time behind bars. Once upon a time, he would lead his team to the playoffs. Once upon a time, he was a franchise QB.
Once upon a time, he got cursed.
Vick had the best year of his career prior to being depicted on the Madden 2004 cover. Sixteen passing TDs and only eight picks are just a few among many other great stats for the year. Vick had a buzz around him—until the 2003 season.
Playing in the preseason, Vick broke his leg. Missing more than six weeks of the season was detrimental to the Falcons' playoff hopes. Vick only played five games during what must have felt like an infinitely long Falcons season.
The Madden Curse at its finest.
Read on...
Ray Lewis: The One That Got Away?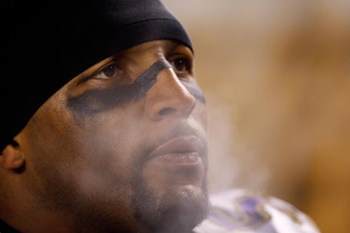 Ray Lewis.
His image graced Madden '05.
Drafted 26th overall by the Baltimore Ravens, he was a six-time Pro Bowler when he entered the '04 season.
Guess what—he was a seven-time Pro Bowler by the end of it.
He did, however, have some major setbacks.
The major setback is he only had one forced turnover all season, seven fewer than the season before, and no interceptions. For the first time in his career, he didn't get a pick.
This may give some naysayers a solid argument that the Madden Curse isn't real. But maybe, just maybe, it only affects offensive players.
Read on...
Donovan McNabb: Proof It's Back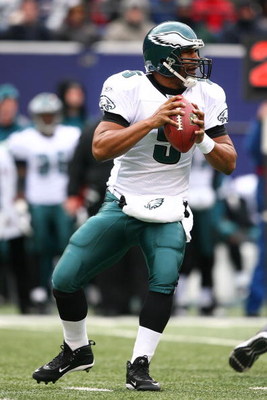 Donovan McNabb.
Drafted second overall in '99, he soon became a franchise player and team leader. He was a threat to scramble at any time, and he had a lethal bullet pass.
That is, until he was on The Cover.
It strikes again.
Prior to the curse, McNabb led his team to a Super Bowl. He had a great year, one of the best of his career.
He then had a photo on a certain football video game.
Madden 2006.
The next season he was cursed. He suffered a hernia against the Dallas Cowboys and was out for most of the season as it was getting surgically repaired. The Eagles finished 5-11, their worst record in five years.
Guess what?
It's back.
Read on...
Shaun Alexander: Forgotten Too Soon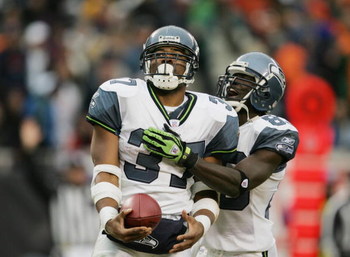 Shaun Alexander.
Drafted 19th overall in 2000, he was a three-time Pro Bowl player. He put up numbers very consistently and was considered one of the best RBs in the league.
In fact, he played extremely well in the 2005 season, breaking the NFL rushing TD record with 27 in one season.
2006 was a different story.
He was cursed.
He broke his foot early in the season, therefore missing more than six games. He finished the season with just under 1,000 yards less than the year before (896) and less than 3.6 yards per carry.
He continued to play for the Seahawks for one more year before being released and picked up by the Redskins last season.
This should turn the naysayers into followers.
Read on...
Vince Young: Well, Vince Young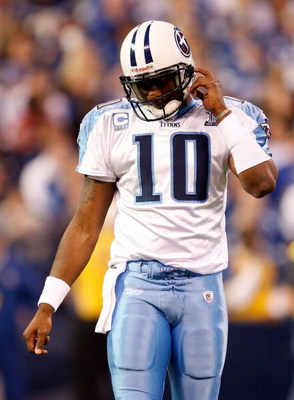 Vince Young.
There is little to be said here, because Young never lived up to his hype.
He had 13 interceptions to 12 TDs in his rookie season.
After being seen on the Madden 2008 cover, he threw 17 interceptions and only nine TDs.
The curse didn't need to work too hard here.
Read on...
Brett Favre: Jetting to Injury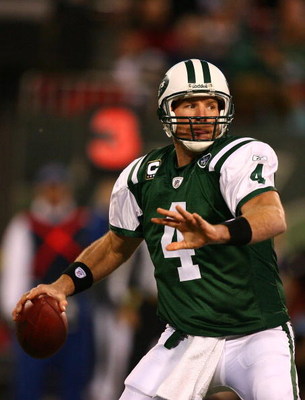 Brett Favre.
Walking history. He "retired" after the 2007 season but was back in '08 to play for the Jets.
In 2007 he threw for 4,155 passing yards, 22 TDs, and 15 picks. After showing up on the Madden 09 cover, he dropped to 3,472 passing yards and had 22 picks and 22 TDs. He also had some bicep trouble near the end of the season.
Looking at the TD/INT ratio, you would see the curse in full effect...but you could argue it was the switching of teams and aging coming into effect.
Read on...
The Conclusion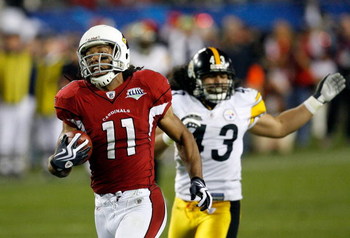 By now, most people know that Larry Fitzgerald and Troy Polamalu are both going to be on the Madden cover this year. Could this negate the effects of The Curse? Or will both players be affected?
Fitzgerald is a high-round fantasy pick this season, and an injury would be the last thing anyone wants. He is also a star player on the Cardinals; how could they cope without him?
Polamalu is the heart of the Steelers defense. He is fast and can read offenses at the drop of a hat. What will the reigning champs do without Troy? How will they adjust?
Time will tell.
Keep Reading

Arizona Cardinals: Like this team?