Aside from the trade deadline, no day is more active on the trade front in terms of high-impact deals than the first night of the NHL draft. With organizations looking to land players who can help immediately and in the future, every general manager is working the phones.
Here is a look at the 2014 draft-related trades that have gone down already.
Trades from Day 2
Lightning Move Up In Deal With Islanders
According to Joe Smith of the Tampa Bay Times, the Lightning moved up 15 spots in a deal with the New York Islanders:
Tampa Bay trading up to 185 now, giving up their final pick 200th

— Joe Smith (@TBTimes_JSmith) June 28, 2014
The #TBLightning trade sent #Islanders the 200th overall pick and a seventh-rounder in 2015. Got C Cameron Darcy

— Joe Smith (@TBTimes_JSmith) June 28, 2014
Jets Deal With Senators
Shortly after making a deal with Washington for three picks, the Jets confirmed on Twitter they made a deal with Ottawa to acquire another pick in 2015:
The #NHLJets trade the 189th overall pick to Ottawa for their 6th round pick in 2015.

— Winnipeg Jets (@NHLJets) June 28, 2014
Capitals, Jets Make Swap
The Capitals acquired goaltender Eddie Pasquale and the 159th pick in the draft in exchange for three picks this year in a deal with the Winnipeg Jets, according to Washington's Public Relations on Twitter:
The #Caps trade picks 164, 192 and a 7th round pick in 2015 for the 159th pick and the rights to goaltender Edward Pasquale.

— CapitalsPR (@CapitalsPR) June 28, 2014
It was also confirmed by the Jets' official Twitter account:
The #NHLJets trade the 159th pick and Eddie Pasquale to Washington for 164th, 192nd, and 7th round pick in 2015.

— Winnipeg Jets (@NHLJets) June 28, 2014
Rangers Make Trade To Get Rid Of 4th Round Pick
With the Rangers owning two straight picks near the end of the fourth round, Joe Smith of the Tampa Bay Times reports the Lightning made a deal with New York for the 119th pick:
In trade, #TBLightning gives #Rangers the 140th and 142nd overall picks in draft to move up to 119 and get D Ben Thomas

— Joe Smith (@TBTimes_JSmith) June 28, 2014
Coyotes, Canadiens Make Deal
The Arizona Coyotes announced on Twitter that they acquired a third and fourth round pick in a deal with Montreal:
BREAKING #Coyotes have traded the 73rd overall pick in the 2014 #NHLDraft to Montreal for pick No. 87 and pick No. 117.

— Arizona Coyotes (@ArizonaCoyotes) June 28, 2014
Capitals-Rangers Trade
According to Alex Prewitt of the Washington Post, the Capitals traded back into the third round by giving the Rangers two later picks:
Capitals have traded No. 104 and 118 to the Rangers for No. 89. Back into the third round.

— Alex Prewitt (@alex_prewitt) June 28, 2014
Blackhawks Deal Bollig To Calgary
According to ESPN's Pierre LeBrun, the Blackhawks have dealt left winger Brandon Bollig to Calgary for a third-round pick:
Hawks trade Bolig to Calgary for the 83rd pick

— Pierre LeBrun (@Real_ESPNLeBrun) June 28, 2014
Lightning, Wild Deal Picks
According to Joe Smith of the Tampa Bay Times, the Lightning and Wild pulled off a deal that bumped Tampa Bay up a spot:
#TBLightning moves up a pick in trade, swapping No. 80 for No. 79, giving Minnesota the seventh rounder it acquired in Garrison trade

— Joe Smith (@TBTimes_JSmith) June 28, 2014
Blue Jackets, Red Wings Swap Picks
The Blue Jackets' official Twitter noted the team pulled off a deal with the Red Wings to land one pick this year and another pick in 2015:
#CBJ trades pick 63 to Detroit in exchange for pick 76 (2014) and a third-round pick in 2015.

— NHL Blue Jackets (@BlueJacketsNHL) June 28, 2014
The Red Wings used the 63rd pick on Pierre Turgeon's son Dominic, via Detroit's Twitter:
UPDATE: The #RedWings select Dominic Turgeon from the Portland Winterhawks with the 63rd pick #ATTExtCov

— Detroit Red Wings (@DetroitRedWings) June 28, 2014
Maple Leafs Acquire Blues Defenseman
According to TSN's Bob McKenzie, the Maple Leafs have acquired defenseman Roman Polak from St. Louis:
TOR has acquired Roman Polak from STL.

— Bob McKenzie (@TSNBobMcKenzie) June 28, 2014
Jeremy Rutherford of the St. Louis Post-Dispatch provided full details on the trade, which also includes Carl Gunnarson going back to Toronto:
#stlblues have traded Polak for Carl Gunnarson and pick No. 94, according to a source.

— Jeremy Rutherford (@jprutherford) June 28, 2014
The Blues confirmed the deal:
BREAKING: The Blues have acquired Carl Gunnarsson and Toronto's No. 94 pick in exchange for Roman Polak. #stlblues

— St. Louis Blues (@StLouisBlues) June 28, 2014
Canucks Acquire Linden Vey
Mike Halford of Pro Hockey Talk reports that Vancouver have acquired forward Linden Vey from the Los Angeles Kings:
Vancouver continues to be the busiest team at the 2014 NHL Entry Draft.

The Canucks made another trade on Saturday morning, acquiring Kings forward Linden Vey in exchange for the 50th overall pick — a pick Vancouver acquired from Tampa Bay for d-man Jason Garrison on Friday.

Vey, 22, was Los Angeles' fourth-round pick in the 2009 draft and made his NHL debut last season, recording five assists in 18 games. A gifted scorer — he had 116 points in his last WHL season — the move reunites him with new Canucks coach Willie Desjardins, who coached Vey in Medicine Hat.
Sharks, Predators Swap Picks
ESPN's Pierre LeBrun breaks down a pair of deals between these two squads:
San Jose trades pick 62 for picks 72 and 102

— Pierre LeBrun (@Real_ESPNLeBrun) June 28, 2014
To Nashville that is

— Pierre LeBrun (@Real_ESPNLeBrun) June 28, 2014
Nashville trades pick No. 46 to San Jose for the 51st pick and a 4th rounder in 2015

— Pierre LeBrun (@Real_ESPNLeBrun) June 28, 2014
Sabres, Capitals Trade Picks
ESPN's Pierre LeBrun has the details of the swap:
Sabres trade pick 39 to Wash for picks 44 and 74

— Pierre LeBrun (@Real_ESPNLeBrun) June 28, 2014
Trades from Day 1
Islanders Trade Up to No. 28 Overall
New York announced details of the trade with Tampa Bay, and its selection:
The #Isles have traded for the 28th overall pick sending the 35th and 57th pick to the Tampa Bay Lightning

— NYIslanders (@NYIslanders) June 28, 2014
With the 28th overall pick, the #Isles select Josh Ho-Sang from the Windsor Spitfires

— NYIslanders (@NYIslanders) June 28, 2014
Blackhawks and Sharks Swap Picks
Chicago announced details of the trade with San Jose, as well as its selection:
Trade alert! #Blackhawks get picks #20 and #179 from San Jose for #27 and #62. In related news... we're on the clock!

— Chicago Blackhawks (@NHLBlackhawks) June 28, 2014
With the 20th pick in the 2014 #NHLDraft, the #Blackhawks select... Green Bay (USHL) center Nick Schmaltz! Welcome to Chicago, Nick!

— Chicago Blackhawks (@NHLBlackhawks) June 28, 2014
San Jose then announced its selection:
With the 27th selection in the #NHLDraft, the #SharksDraft forward Nikolay Goldobin from the Sarnia Sting of the OHL.

— San Jose Sharks (@SanJoseSharks) June 28, 2014
Penguins Trade James Neal to Predators
Nashville announced details of the trade with Pittsburgh:
BREAKING NEWS: James Neal traded to the @PredsNHL for Patric Hornqvist and Nick Spaling.

— Nashville Predators (@PredsNHL) June 28, 2014
Pre-Draft Trades
Canucks Trade Ryan Kesler to Ducks for 1st-Round Pick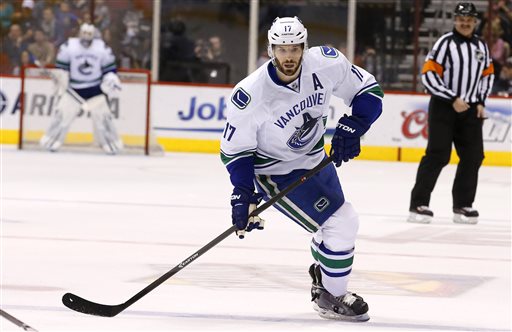 Ross D. Franklin/Associated Press
A major trade chip fell in the hours leading up to Friday night's first round of the NHL draft. According to the Anaheim Ducks' official Twitter account they acquired center Ryan Kesler and a future draft pick from the Vancouver Canucks for defenseman Luca Sbisa, forward Nick Bonino and a pair of 2014 selections:
BREAKING: #NHLDucks acquire @Ryan_Kesler and 2015 3rd round pick from VAN for Nick Bonino, Luca Sbisa and 2014 1st and 3rd round picks.

— Anaheim Ducks (@AnaheimDucks) June 27, 2014
Kesler has been a hot name on the trade block since the middle of the 2013-14 season, so it seemed like an eventual deal was inevitable. The Ducks have been in search of a second-line center to complement Ryan Getzlaf and a two-way guy like Kesler is a perfect fit.
The Canucks are a team in transition, so nabbing first- and third-round picks in this year's draft will help immensely. Vancouver already owned the No. 6-overall selection and then added No. 24 as well as No. 85. In addition to that, both Sbisa and Bonino should be useful role players.
Vancouver announced its selections on Twitter during the draft:
The #Canucks proudly select JAKE VIRTANEN sixth overall. Welcome to Vancouver! #NHLDraft

— Vancouver Canucks (@VanCanucks) June 27, 2014
The #Canucks proudly select JARED McCANN 24th overall. Welcome to Vancouver!

— Vancouver Canucks (@VanCanucks) June 28, 2014
It is quite possible that this is the first of multiple moves for Vancouver. Even if this trade stands alone, NHL analyst Matthew Barnaby believes that both teams did what they needed to do:
Both teams do very well in the Kesler. Kudos to Benning for not letting it drag out.

— Matthew Barnaby (@MattBarnaby3636) June 27, 2014
Not only does the Kesler deal create avenues for other potential trades involving the Canucks but it could also expedite the process for other available centers like Jason Spezza of the Ottawa Senators and Joe Thornton of the San Jose Sharks.
With one big name now off the market, it is entirely possible that the flood gates will open on draft night.
Capitals Send Jaroslav Halak to Islanders for 4th-Round Pick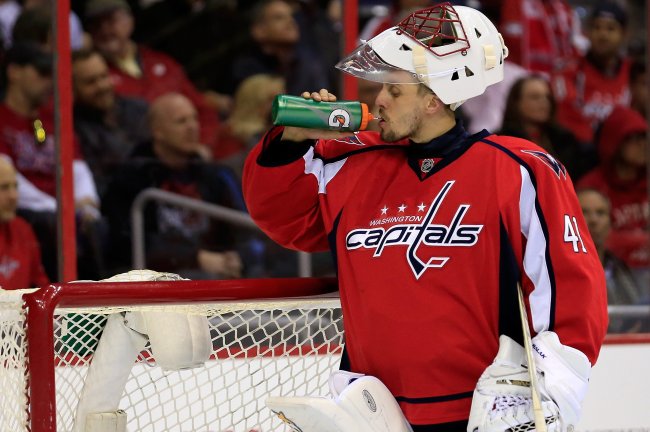 Rob Carr/Getty Images
The earliest notable post-deadline trade that involved a 2014 NHL draft pick featured the Washington Capitals trading the free-agent rights of goalie Jaroslav Halak to the New York Islanders for a fourth-round pick, which sits at No. 118 overall.
With the Caps either unwilling or unable to work out a new contract with Halak, they decided to get an asset in return for him rather than using him for nothing.
As for the Islanders, goaltending has been one of their biggest issues for several years, and it became quite clear that Evgeni Nabokov and Kevin Poulin weren't capable of carrying the load.
The trade carried some risk from New York's perspective since there was no guarantee that Halak would sign prior to the start of free agency, but they were able to come to terms on a deal, per Brett Cyrgalis of the New York Post:
#Isles sign Halak (4yr, $18m) & Snow thinks it's "a fair deal." Adds that he "absolutely" is open to trading No5 pick http://t.co/qWttBpL3HK

— Brett Cyrgalis (@BrettCyrgalis) May 22, 2014
Signing with the Islanders ensures Halak that he will have an opportunity to start in 2014-15 and beyond. With that in mind, he believes the Isles are a great fit for him, according to WFAN's Daniel Friedman:
Halak: "I'm thrilled to sign with (the Islanders). Given my age and where my career is right now, this is the perfect fit for me."

— Daniel Friedman (@DFriedmanOnNYI) May 22, 2014
As for the Capitals, the fourth-round pick is essentially a crapshoot. Fourth rounders flame out more often than not, but there have been plenty of instances in which mid-round picks have gone on to become stars.
At least Washington was able to get what amounts to a lottery ticket in exchange for Halak. The trade could end up being a major coup, but nothing was lost even if the pick doesn't work out since Halak was out the door anyway.
Canucks Send Jason Garrison to Lightning for 2nd-Round Pick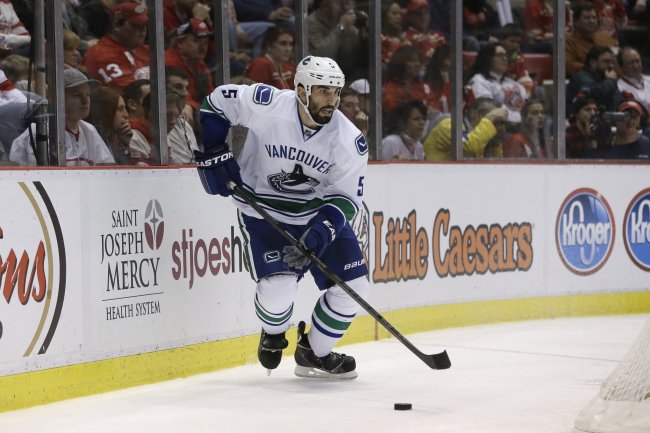 Carlos Osorio/Associated Press
The Tampa Bay Lightning just got stronger on the back line by acquiring veteran defenseman Jason Garrison.
Vancouver provided the complete details of the trade on Twitter:
#Canucks acquire 50th overall pick from Tampa Bay for Jason Garrison, the rights to Jeff Costello and Van's 7th round pick in 2015.

— Vancouver Canucks (@VanCanucks) June 27, 2014
Jeff Costello is a young forward who has yet to play in the NHL, but Garrison is the real prize in this deal. The 29-year-old player matched a career high with 33 points this season—including 26 assists which ranked third on the team.
When the Canucks asked Garrison to waive his no-trade clause, he was taken off guard, via SportsNet Pacific:
Jason Garrison on Vancouver radio - "It was shocking, that's for sure, definitely unfortunate, I wanted to stay." #Canucks #Bolts

— Sportsnet Pacific (@SNETPacific) June 27, 2014
The good news is that he now can move to a legitimate contender in the Lightning where he can make a real difference. On the other hand, Vancouver can help the rebuilding process by clearing some salary, according to Pierre LeBrun of ESPN:
For those wondering, Vancouver did not retain any salary in the Garrison deal. Tampa takes on full contract

— Pierre LeBrun (@Real_ESPNLeBrun) June 27, 2014
With the second-round pick, the Canucks will be able to bring in a real difference-maker that will be able to help out in the future.
Rangers Deal Derek Dorsett to Canucks for 3rd-Round Pick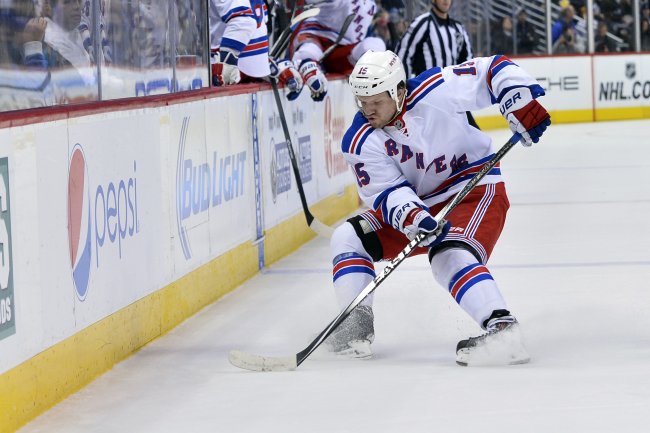 Jack Dempsey/Associated Press
Vancouver remains incredibly active heading into the draft. The organization dealt its brand-new third-round pick that it acquired in the deal for Ryan Kesler to the New York Rangers for right wing Derek Dorsett, according to Katie Strang of ESPN:
Rangers trade Derek Dorsett to VAN for a third-rounder in the draft. Dorsett was part of productive fourth line for Rangers this spring

— Katie Strang (@KatieStrangESPN) June 27, 2014
The 27-year-old forward played a minimal role throughout his first year with the Rangers, totaling just four goals and four assists in 51 games. This came after parts of five seasons with the Columbus Blue Jackets when he totaled 65 points in 280 games.
However, Dorsett should be excited about his new situation, via Pat Leonard of the New York Daily News:
New Canucks coach Willie Desjardins had Derek Dorsett in juniors. Dorsett raved to me during playoffs about Desjardins as a coach/mentor

— Pat Leonard (@PLeonardNYDN) June 27, 2014
Although it appears to be a bit of a backwards move for Vancouver to trade away picks in what has clearly become a rebuilding effort, the squad has brought enough of them in already that it can spare a few for a more proven player.
As for the Rangers, they will hope that they can bring in someone who can help get the squad over the top after coming up short in the Stanley Cup Final this postseason.
Follow @MikeChiari on Twitter