Se7en Answers to the National League Question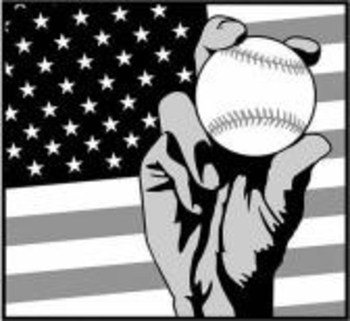 Divisions are rarely won or lost in June. This is a list of players who have the potential to lead their respective teams into the playoffs, or to drag them out of contention.
These are all guys you will be talking about before the playoffs start, guys who matter to their teams on teams that matter in the NL. Successfully predicting how each of them plays post-All star break should give you a good idea of how the National League playoff picture will shape up.
The list has six position players and just one arm. Pitchers, although all-important in the playoffs, can't single-handedly carry a team through whole months of the regular season the way everyday players can.
You won't find any Dodgers on this list; the West was won long ago. You also won't find any players on pretenders like the Reds and Marlins. So here they are, the significant seven.
Derrek Lee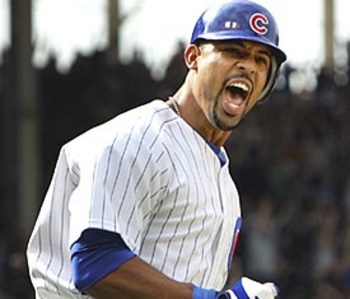 Lee has been a cornerstone of the Cubs lineup since the dawn of time, and they need him in Chicago now more than ever. After a slow start, he has been great for the last month or so.
Derrek Lee is always going to hit for average, but is the recent resurgence in pop just an aberration, or a precursor to something more?
The Cubbies lack of offense has led to lost jobs and clubhouse tension. They probably won't need the 46 home runs Lee hit in 2005 to win the Central, but they might.
Todd Helton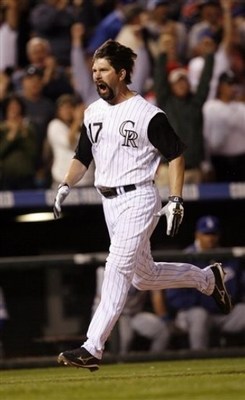 After injuries sidelined him for a good part of 2008, it looked like Todd might finally be getting old. Unfortunately for the rest of the NL Wild Card hopefuls, Helton has put together a nice little season.
Strangely, his home-away splits have been almost identical so far. If he starts hitting at Coors like he has in the past, then Colorado could run away with the Wild Card and possibly even give the Dodgers some trouble.
Troy Tulowitzki
Tulowitzki is another player who is putting up nice numbers after health problems in 2008. After a terrible start to 2009, he has really got it going. Tulo has also shown a newfound willingness to run.
If he and Dexter Fowler continue to stay aggressive on the base paths, it could give the Rockies offense a dose of flexibility. A team with a nice mix of power and speed actually won the World Series last year, in case you don't remember.
Trevor Hoffman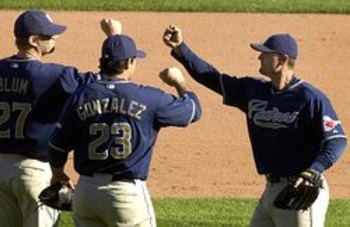 Hoffman had yet to allow an earned run until June 14, then he proceeded to let up five in his next five appearances. Hoffman is getting old, but usually closers tend to hold up pretty well.
Milwaukee does have other decent options if Hoffman doesn't get back his changeup or if he gets hurt again, but a sparkling ERA in middle relief does not necessarily a closer make.
If "Hells Bells" is still blasting through Miller Park's speakers come playoff time then it's because Hoffy got his act together.
Ryan Ludwick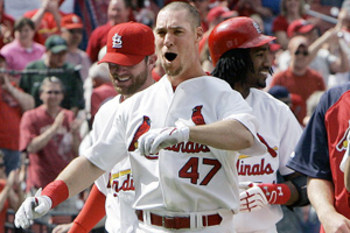 Protection, protection, protection. Albert Pujols is as good as it gets, and the rest of the Cards lineup is not. Ludwick had a great 2008, and Pujols consequently had an MVP season (even if it was undeserved).
Unfortunately for those GREAT fans in St. Louis, Ludwick's 2008 came with little warning. If he doesn't start hitting soon then he will probably be gone by August, and Albert will continue to see very few pitches to hit.
Jose Reyes
Love him or hate him, Jose adds a lot to New York's offense. There have been rumblings that the Mets don't need Reyes, but their record screams otherwise.
Jose and Carlos Delgado both have to get healthy if the Mets have a chance to catch Philly. And despite Jose's reputation for big-game choking, he scored 16 runs in 18 games against Philadelphia in 2008. Reyes may be a poor influence in the clubhouse, but the Mets can go nowhere but up.
Jimmy Rollins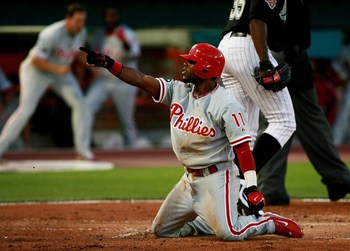 The rival Phillies are no stranger to troubled shortstops either. The middle of the order is just itching to drive in runs, and Jimmy isn't holding up his end of the bargain.
After a four-game benching he responded tonight against Atlanta to the tune of… 0-for-5 with two strikeouts. If he starts getting on base then the Phils will coast into the playoffs, if not they will need to rely on a career second half from the always anemic Eric Bruntlett or a hot finish for the third straight year.
Keep Reading