Canada's Olympic Roster Shows Some Surprises: The Top Five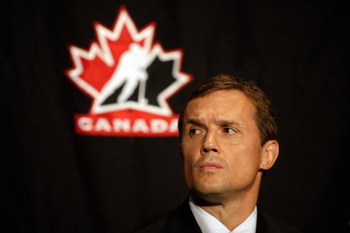 No one denies that Canada has easily the greatest star power of any country in the upcoming 2010 Winter Olympics.
No one denies that Stevie Y is ultimately one of the most gifted hockey players ever to grace the ice and he brings with him some of the most gifted staff in the world in All-Star coaches Babcock, Hitchcock, Ruff, and defensive mastermind Jacques Lemaire.
But what anyone can question is what caused Team Canada to opt against some of the stronger playmakers, snipers, and shutdown guys in lieu of other less known, perhaps less productive players.
It seems that the team is attempting to copy Sweden's rise to success with a good mix of stars and less-known players for a team atmosphere as opposed to a All-Star game.
In addition, it can be noted that even players not invited to this camp can be considered for the tournament and some will be scouted in the fall.
Who knows, it might pan out. Certainly, they seem like they should be the favorites every year when you're not even hard pressed to come up with a roster like this:
Goaltenders:
Martin Brodeur, New Jersey Marc-Andre Fleury, Pittsburgh
Roberto Luongo, Vancouver Steve Mason, Columbus
Cam Ward, Carolina
Defensemen
Francois Beauchemin, UFA Jay Bouwmeester, Calgary
Dan Boyle, San Jose Brent Burns, Minnesota
Drew Doughty, Los Angeles Mike Green, Washington
Dan Hamhuis, Nashville Duncan Keith, Chicago
Scott Niedermayer, Anaheim Dion Phaneuf, Calgary
Chris Pronger, Philadelphia Robyn Regehr, Calgary
Stephane Robidas, Dallas Brent Seabrook, Chicago
Marc Staal, NY Rangers Shea Weber, Nashville
Forwards
Jeff Carter, Philadelphia Dan Cleary, Detroit
Sidney Crosby, Pittsburgh Shane Doan, Phoenix
Simon Gagne, Philadelphia Ryan Getzlaf, Anaheim
Dany Heatley, Ottawa Jarome Iginla, Calgary
Vincent Lecavalier, Tampa Bay Milan Lucic, Boston
Patrick Marleau, San Jose Andy McDonald, St. Louis
Brenden Morrow, Dallas Rick Nash, Columbus
Corey Perry, Anaheim Mike Richards, Philadelphia
Derek Roy, Buffalo Joe Sakic, Colorado
Patrick Sharp, Chicago Ryan Smyth, Colorado
Martin St. Louis, Tampa Bay Eric Staal, Carolina
Jordan Staal, Pittsburgh Joe Thornton, San Jose
Jonathan Toews, Chicago
Whatever happens, here's a look at some guys who made the team and some that were left behind.
5: Marc-Andre Fleury from the Pittsburgh Penguins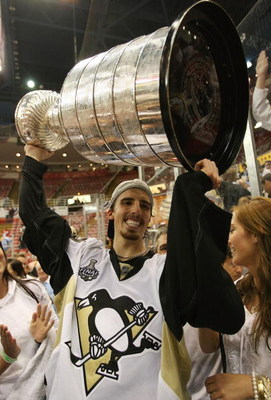 Yeah, yeah, yeah, he just won the Stanley Cup with the great Pittsburgh Penguins. And yes, he was perhaps the greatest reason that they were able to pull off a stalwart victory in game seven against the heavily slated defending champions.
But really, is he anything to compare with the likes of fellow Cup winners Martin Brodeur and Cam Ward and the great Roberto Luongo?
Is he even as good as Calder winner Steve Mason is right now with his .916 save average, 2.29 GAA, and league-leading 10 shutouts? Fleury only went .912, 2.67, and 4.
Whatever the answers are, it's hard to say Fleury will be making this team. Penguins fans better stick with their captain in that hope.
4: Brendan Morrow from the Dallas Stars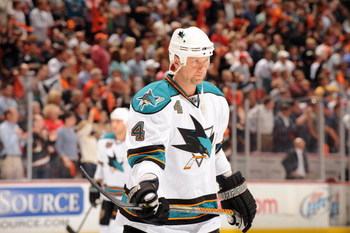 Dallas' captain first ignited controversy by usurping longtime Stars' captain Modano for the job amongst many jarring hits to many star players.
Since then he has led the talented Dallas Stars squad who for the last decade helped dominate the league with the likes of the Devils, Red Wings, and Avs to a disappointing 83 points, good for 12th place in the Western Conference while being injured for 64 games.
Still, in those 18 games he played he almost put up a point per game, scoring 5 goals and adding 10 assists for 15 points and he adds some much needed grit to a very finesse-oriented team.
Even so, on a roster this talented, he'll be hard pressed to make his grit count against more productive hard nosers like Ryan Smyth, Jarome Iginla, Milan Lucic, Ryan Getzlaf, and Rick Nash.
3: The Staals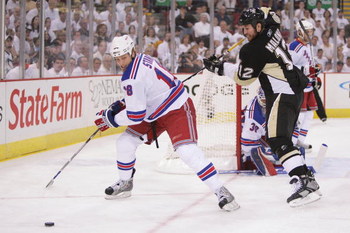 It's certainly self-explanatory why the big Staal, Eric, was invited to camp. The electrifying forward is currently a Stanley Cup winner and a leader for the annually contending Carolina Hurricanes.
It's a bigger question as to why his brothers were also invited.
Who can argue with adding a little brotherly love to the locker room?
Well, except for the fact that neither of these defensemen have made an All-Star appearance, only one has won a Cup, and neither were really even first pair/line players.
Jordan Staal was only a third line center, but would probably have been a second liner on any team without Sidney Crosby and Evgeni Malkin.
No one denies they're a big part of their respective teams, but together they only put together 64 points and a -2 on playoff teams. Their older brother Eric put up 75 points (including 40 goals!) and went +15 alone.
2: Marc Savard from the Boston Bruins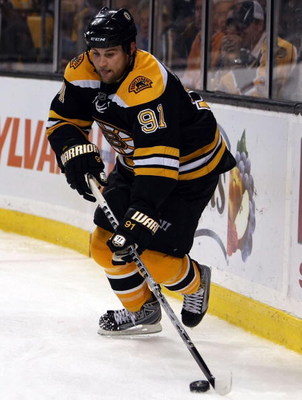 The Boston Bruins were a juggernaut. So was All-Star Marc Savard.
Scoring 25 goals and 63 points for a team-high 88 points, the playmaker was a major reason for Boston's success this year. He was also incredibly defensively responsible with a huge +25.
Even his teammate Milan Lucic was invited to camp with an inferior 17-25-42 and +17.
The biggest difference though is Lucic's six inch, 29 lb loom over the 5'10", 191 lb Marc Savard. That's the only reason I see.
1: Brian Campbell from the Chicago Blackhawks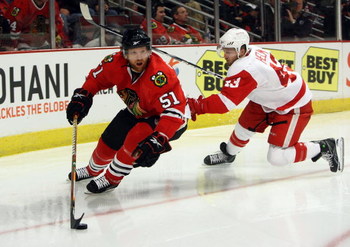 Brian Campbell has written the book for puck-moving Canadian defensemen over the last couple of years with stellar play.
With each of the Buffalo Sabres, the San Jose Sharks, and the Chicago Blackhawks he has not disappointed. He has put up numbers representative of his play, most recently completing a season of 7 goals, 45 assists, and 52 points good for 10th in the league.
In fact, all of the players from the countries who have announced preliminary rosters above him in points have made camps.
Even his fellow Blackhawk, Brent Seabrook, made the list with an impressive point total that happened to be only exactly half of Campbell's.
Anyway,
GO USA!
Keep Reading