From a field of 32, only the 16 most deserving sides remain in the running to become 2014 World Cup champions after several international giants fell in the group stage.
Title holders Spain were the most high-profile of these early exits, while England's failure to claim a group-stage victory for the first time in more than half a century was also a surprise to see.
Saturday's round of 16 action kicks off the second phase of the tournament, and while luck surely plays its part, certain nations undoubtedly have a simpler path to the Rio de Janeiro final than others.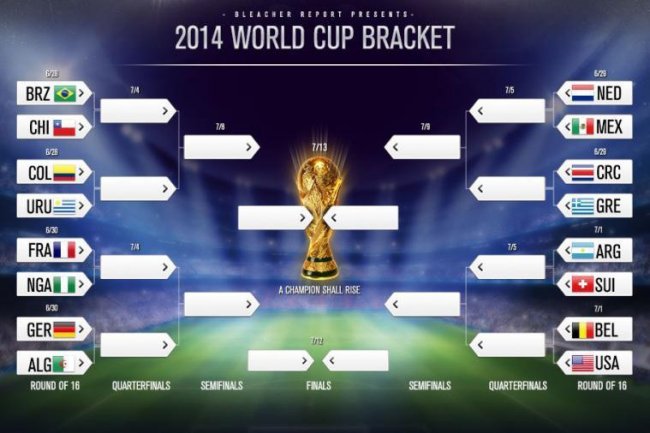 Via Bleacher Report
Hardest Run to the Final: Algeria
A 1-1 draw against Russia on Thursday evening was enough to ensure Algeria of a place in the second stage of a World Cup for the first time in their history, joining Nigeria as one of two African nations to advance.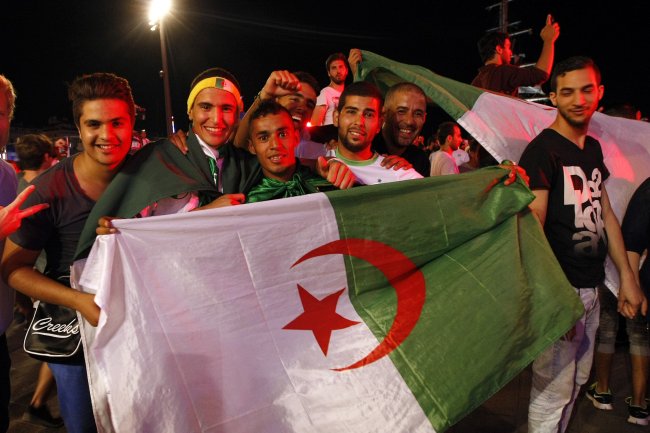 Claude Paris/Associated Press
They may feel some justice has finally been delivered after the controversy of 1982, where a West Germany side intentionally limited their scoring during a 1-0 win over Austria in order to deny Algeria progress.
Thirty-two years after that most unsavoury incident, Martyn Ziegler of the Press Association and The Telegraph's Jeremy Wilson highlight the coming full circle:
Algeria v Germany. Well they say revenge is a dish best served cold... 32 years this one has been chilling.

— Martyn Ziegler (@martynziegler) June 26, 2014
Huge achievement by Algeria tonight, first WC last 16, puts to rest 1982 scandal a little. Lots of grown men hugging each other in press box

— Jeremy Wilson (@JWTelegraph) June 27, 2014
It's fate-like that it should be a German team that again hold the keys to Algeria's fate in the round of 16, and after going unbeaten in their pool campaign, Joachim Low's men will be an incredibly hard force to beat.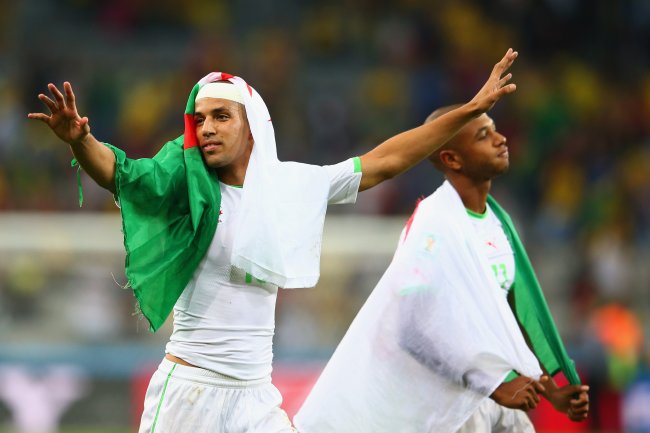 Julian Finney/Getty Images
But the struggles won't end there even if Vahid Halilhodzic can overcome the odds. Should they triumph in Porto Alegre on Monday, Algeria still have the potential to encounter any of France, Colombia, Brazil or Chile before entertaining the thought of a final fixture.
The Fennec Foxes' only win of the group stage came against a very uninspiring South Korea side, and their lack of an attacking presence makes it hard to believe they'll go much further.
Easiest Run to the Final: Argentina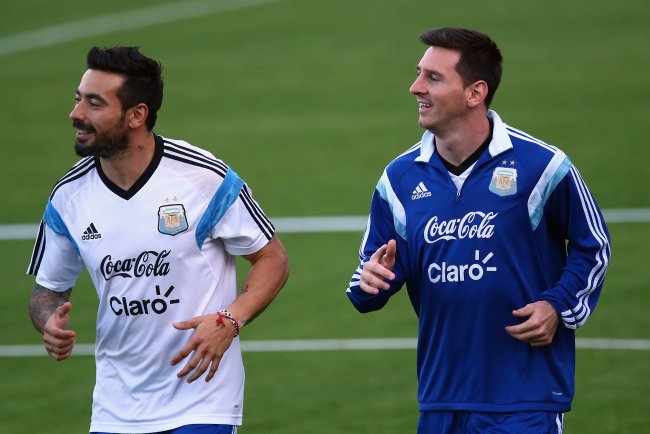 Ronald Martinez/Getty Images
Even before the tournament got underway, Argentina were looked upon as one of the favourites to clinch silverware. Now that their path to Rio has been defined, those chances seem all the more likely.
That being said, after Lionel Messi scored crucial goals in all three of his Man of the Match group outings, The Guardian's Michael Cox is of the impression La Albiceleste perhaps aren't deserving of their perfect run:
Filling in the tables on the wallchart. How did Ghana manage to get only one point?! Could have won all three games...

— Michael Cox (@Zonal_Marking) June 27, 2014
@HFDSP Arguably Argentina too

— Michael Cox (@Zonal_Marking) June 27, 2014
Their round of 16 fixture sees them line up opposite Switzerland, whom France battered in the group stage.
Tancredi Palmeri of beIN Sports and Sky Sports' Paulo Freitas have each shared their opinion on Alejandro Sabella's side, claiming they couldn't wish for a better run to the final:
.@Politiks_First Argentina have a corridors for the final, doesn't matter how they play

— Tancredi Palmeri (@tancredipalmeri) June 21, 2014
@OneCarloA @andrijukr I think Argentina have an easier road to the final and they tend to gain momentum, Brazil seem to be feeling the+

— Paulo Freitas (@Cynegeticus) June 21, 2014
Argentina expert Dan Colasimone, meanwhile, gives a more precise account of what he thinks will unfold on July 13:
When Argentina play Brazil in the final, the score will be 5-7. #EarlyPrediction

— Dan Colasimone (@ArgentinaFW) June 25, 2014
Should they make it past the Swiss as expected, a quarter-final match opposite either Belgium or the United States awaits—both of whom looked stubborn but certainly far from unbeatable—especially in the case of the latter.
It's not until a potential semi-final against the Netherlands that Sabella's men should encounter an elite side, with Louis van Gaal's men seeking to make their way past Mexico and one of either Costa Rica or Greece along the way.