The season after the NBA season is already in full swing.
So far, the two biggest potential free agents on the market have opted out of their current deals. The future of Kevin Love remains in doubt. The No. 1 pick in the NBA draft may also be there to the highest bidder.
As Grantland's Zach Lowe tweeted out, the offseason is already hitting its stride after only a few weeks:
NBA is in full offseason crazy mode, and the draft hasn't even happened yet. Unprecedented madness.

— Zach Lowe (@ZachLowe_NBA) June 26, 2014
With the draft only hours away, some of the rumors will die down a bit before free agency officially begins.
The three developments below will be worth following over the next hours, days and/or weeks.
Jeremy Lin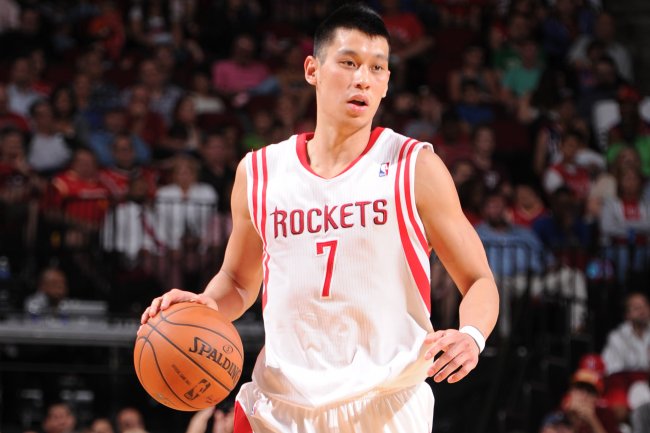 Bill Baptist/Getty Images
The Houston Rockets are moving around the pieces necessary to accommodate the contracts of either LeBron James or Carmelo Anthony.
They've already moved Omer Asik to the New Orleans Pelicans for a first-rounder, per Bleacher Report's Howard Beck:
Source confirms: Rockets are sending Omer Asik to N.O. for 2015 1st-rd pick. Clearing cap room for run at LeBron/Melo.

— Howard Beck (@HowardBeck) June 26, 2014
Sam Amick of USA Today reported Jeremy Lin might be the next domino to fall:
Rockets will also send cash to New Orleans in the deal. Houston clears cap room for free agency season. Jeremy Lin up next likely.

— Sam Amick (@sam_amick) June 26, 2014
A Jeremy Lin trade, I'm told, won't likely happen unless one of big-time free agents commits. But as I've reported, they have deals teed up.

— Sam Amick (@sam_amick) June 26, 2014
Last year, Lin saw his place in the starting five usurped by Patrick Beverley. As a result, his minutes declined, and his counting stats dropped across the board.
Looking at the Rockets roster from last season, Asik and Lin were always going to be the most expendable heading into the offseason in the event Houston wanted to make a run at a marquee free agent.
Asik's been on the trade block ever since Dwight Howard's arrival, while Lin has become surplus to requirements after Beverley emerged.
Cleveland Cavaliers
It's probably not a good thing that you could say almost anything about the Cleveland Cavaliers and the No. 1 pick, and it would make sense. Nobody seems to have any idea what the Cavs' plans are.
Joe Kotoch of Sheridan Hoops reported that the chances are over 50 percent that Cleveland trades the pick, with many teams coveting Andrew Wiggins:
Based on conversations with sources around the league it sounds like a better than 50% chance Cavs deal 1st pick.

— Probasketballdraft (@Probballdraft) June 25, 2014
All the teams rumored to be interested in trading up are said to be targeting Wiggins, except the Jazz. #76ers #Magic

— Probasketballdraft (@Probballdraft) June 25, 2014
The Cavaliers are nothing if not unpredictable. How many people saw Dion Waiters and Anthony Bennett coming? It's almost as if the team's management loves swerving fans and experts just for the sake of the surprise.
You could write a book with all of the rumors surrounding the Cavs over the last few months. But ask most fans, and they'll likely agree that the team's best move is drafting either Wiggins or Jabari Parker.
Nothing that's been making the rounds in terms of potential trades would represent fair value for the No. 1 pick in one of the deepest drafts in years.
Then again, this is the Cavaliers we're talking about. If there's a team that can screw this up, it's that one.
New York Knicks
It truly is a new era for the New York Knicks. On Wednesday, they dealt Tyson Chandler and Raymond Felton to the Dallas Mavericks for Jose Calderon, Shane Larkin, Wayne Ellington and Samuel Dalembert, per ESPN.com's Jeff Goodman:
Knicks send Chandler, Felton to Dallas for Calderon, Larkin, Dalembert, Ellington and No. 34 and 51, sources told ESPN. Deal is done.

— Jeff Goodman (@GoodmanESPN) June 25, 2014
You don't normally associate the Knicks with acquiring multiple assets and draft picks in a trade.
Larkin and Dalembert might not want to get too used to their surroundings, though. Chris Herring of The Wall Street Journal reported that New York may look to move the two players:
I'm hearing the Knicks are trying to move Dalembert and Larkin in a separate deal, according to a person familiar with the matter.

— Chris Herring (@HerringWSJ) June 25, 2014
Beck reported that Larkin would likely be the only player moved.
Last thing before I log out for the night: No indication that Knicks are looking to trade Dalembert. But Larkin is a strong possibility.

— Howard Beck (@HowardBeck) June 26, 2014
The Knicks had very few salable assets last season. Tim Hardaway Jr. and Iman Shumpert were arguably the only players not named Carmelo Anthony with any sort of trade value.
New York's newest acquisitions provide a little more flexibility now if the team wants to try and get into the first round of the draft or add more pieces that could entice Anthony to sign a new deal with the team.
Larkin, despite playing 10 minutes last year, is only 21 years old. While he's not the next Chris Paul, he could grow into a productive starter in the NBA. Plenty of teams would be willing to give up an asset or two to acquire him.
Dalembert, on the other hand, arguably has more value if the Knicks keep him instead of trading him. The veteran big man is only due $1.8 million of his roughly $3.9 million salary. New York can buy him out and save some money, which can be used to lure a free agent or two.