College Football's Five Most Likely Upsets in 2009, Pt 2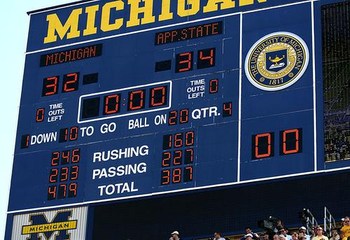 Sometimes the snow comes down in June. Sometimes the earth goes 'round the moon. And sometimes, an FCS school beats two FBS schools in the same season!
Yes, I did just cite a Vanessa Williams song.
But it speaks to how improbable an upset of a FBS school by a FCS school seems. I write "seems" because it is more common than it appears—albeit among what could be described as "lesser quality" FBS teams.
Nevertheless, these upsets are more than just a Sun Belt school going down.
Ask Colorado and Dan Hawkins what it is like to lose to Montana State! I thought it was "the Big 12!".
Or ask Minnesota, who lost to a North Dakota State team, a team that also beat bowl-eligible Central Michigan in the same season.
And, of course, how could we forget what happened in Ann Arbor in 2007, when national champion Appalachian State shocked and awed the mighty Michigan Wolverines?
This is part two of a three part series that examines potential upsets for the upcoming 2009 college football season.
Part One analyzed potential upsets involving Football Championship Subdivision (FCS) schools and non-BCS Football Bowl Subdivision (FBS) schools.
This slideshow will go through potential upsets of FBS schools in BCS conferences by FCS programs.
First, allow me to address a couple of comments from Part One.
One person commented that the picks were not really upsets, since it involved mediocre FBS schools, while another person noted that each selection was a safe one.
With regards to the first comment, any time a team from a "lower" (sub)division beats a team in a "higher" (sub)division, it is an upset.
The teams are divided into these classifications for a reason. Even if it is Montana (an FCS power) beating Washington (0-12 last season), it is still an upset, at least by my definition.
In terms of the second comment, yes these are "safe" picks, in that it would seem ludicrous for me to state that the Charleston Southern-Florida game is a "potential" upset. I am looking at the games that present the best opportunity for an upset.
Picking the Buccaneers to beat the Gators would be akin to predicting a 16-seed beating a 1-seed in the NCAA basketball tournament:
It could happen, but it is extremely unlikely. Thus, most of these picks are more like a 13-seed beating the 4-seed.
Still, I am not as confident about these potential upsets as I am with Part One. I am not claiming these upsets will definitely take place (as you will see, #5 is not likely, but presents a better scenario than any other match-up).
So, enjoy! I appreciate any and all feedback.
Honorable Mentions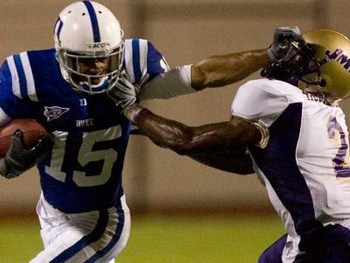 JAMES MADISON DUKES at MARYLAND TERRAPINS (September 12)
James Madison played well at their own tier, defeating conference foes (and playoff teams) Appalachian State, Villanova and eventual national champion Richmond.
However, they lost to Duke, and that was with the extremely talented Rodney Landers at QB.
This season, the Dukes must go without Landers, who threw for over 1500 yards and rushed for almost 1800 yards last season (37 total TDs).
They are also without their second-leading rusher Eugene Holloman, and several key defenders—including second-team All-American Marcus Haywood.
And they lost center Scott Lemm to graduation.
James Madison does return DE Arthur Moats (12 sacks last season), dangerous return-man Scotty McGee (four returns for TD last season), and most of their top receivers.
But the X-factor would have been Landers, who is attempting to make the Tampa Bay Buccaneers squad. Without him, the Dukes stand little chance to upset the Terps.
JACKSON STATE TIGERS at MISSISSIPPI STATE BULLDOGS (September 5)
Jackson State won the SWAC East Division last season with defense, finishing second in total yards per game and fourth in rushing defense. And Mississippi State was one of the worst teams in the country in terms of offensive production—especially running the ball.
Even with a change in head coach and the offensive-minded Dan Mullen coming in, it is hard to imagine the Bulldogs quickly turning it around.
That stated, it is equally difficult to see a SWAC team beat an SEC team. And this has more to do with the weakness of the SWAC than it does the perceived strength of the SEC.
Half of the SWAC teams were in the Top 20 in total defense. That is because seven of the ten SWAC schools were in the bottom 50 (out of 125) in offensive production!
Two of the three remaining SWAC schools were still in the bottom half (Southern was the only "offensive" team in the SWAC, ranking 16th in total offense).
#5. Northern Iowa Panthers at Iowa Hawkeyes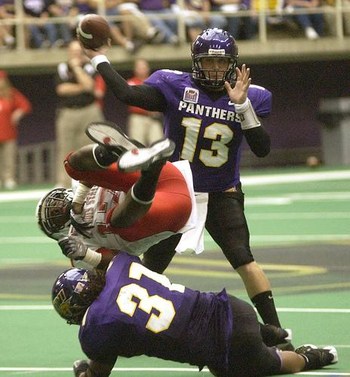 September 5 (Week One)
WHY IT COULD HAPPEN
Before you enter a comment and think there is absolutely no chance,first follow along.
The team knocked off Iowa State two years ago—in the same season they went undefeated and made it to the semifinals last season before losing to eventual champ Richmond.
The program is talented and has proven to be a strong competitor at the FCS tier.
They had a balanced attack last season, ranking 50th in yards per game (23rd in rushing yards per game) and 38th in points per game.
They are led at quarterback by senior Pat Grace, who passed for over 2000 yards and ran for another 618 yards. They return second-leading rusher Derrick Law (789 yards, nine TDs) and top receiver Josh Collins, a redshirt sophomore.
On defense, the Panthers have two talented defensive linemen in James Ruffin (leader in sacks) and two active linebackers—Josh Mahoney and Jamar Thompson (first and second on the team in tackles). Thompson was also second on the team in interceptions with four.
As for Iowa, they lost the second-leading rusher in the FBS, running back Shonn Greene, who was drafted by the New York Jets. While the Hawkeyes went 9-4 last season, they had back-to-back 6-6 regular seasons, leading one to believe that most of Iowa's success last year came because of the running of Greene.
The team also lost two of their top three wide receivers.
The inconsistency of Iowa teams under Kirk Ferentz makes this game an unknown. He is capable of putting together a 10-win team, but he is equally capable of underachieving and getting six wins.
WHY IT MIGHT NOT HAPPEN
All of that stated, this is still a good Iowa team. When Ferentz has had success, it seems to come in bunches (three straight ten-plus win seasons from 2002 until 2004).
Despite losing Greene, sophomore Jewel Hampton received significant playing time last season, rushing for 463 yards while also returning kickoffs.
They also return quarterback Ricky Stanzi, leading receiver Derrell Johnson-Koulianos, and several key components on defense—including Pat Angerer, Jeremiha Hunter, Amari Spievey, and former walk-on Brett Greenwood.
Northern Iowa lost their leading rusher Corey Lewis. And while they are not a pass heavy team, losing three of your top five receivers is going to take a toll.
The Panthers also lost third team All-American linebackers Everette Pedescleaux, Jeremy Robertson and Justin Kirk from a defense that ranked 23rd in the FCS last season.
UNI's chances rest primarily on how well Law moves into the starting role and whether the experience of QB Pat Grace running the option can help overcome an Iowa team that is looking to build off a solid 2008 season.
#4. North Dakota State Bison at Iowa State Cyclones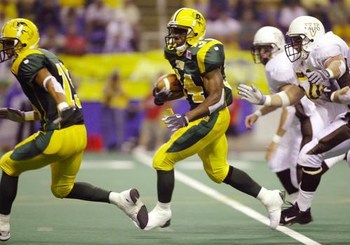 September 3 (Week One)
WHY IT COULD HAPPEN
I'm not trying to pick on the Iowa schools, but Iowa State is not a good program. They lost a head coach, Gene Chizik, who was 5-19! They replace the defensive-minded Chizik with another defensive guy, Paul Rhoads.
Yet despite having Chizik, the team sported one of the worst defenses in the country! Of course, it did not help playing against high octane offenses such as Oklahoma State and Missouri. But Iowa State was also blown out by South Dakota State last season!
Speaking of high octane, the Bison averaged 199.9 yards on the ground last season—good for 18th in the FCS. They were also 38th total offense.
The Bison also had the fifth best total defense last season, and tied for third with 34 sacks on the season (an average of over three sacks a game).
Quarterback Nick Mertens returns to lead the Bison attack. In his first season as a starter, Mertens threw for 2004 yards with 16 touchdowns (he did throw 15 picks, as well).
"Journeyman" Pat Paschall is the lead returning running back, having rushed for just over 600 yards last year.
On defense, strong safety Cyrus Lemon returns after recording 69 tackles and two interceptions. Linebacker Matt Anderson should find himself starting this year, while DT Matthew Gratzek (second on the team in sacks) will continue to clog up the middle.
Also, remember that NDSU has gone into an FBS team's house and come away with a victory (at Minnesota in 2007, one season after falling short against the Golden Gophers). The Bison will not be intimidated.
WHY IT MIGHT NOT HAPPEN
Well, it does not help to have players dismissed from the team. While losing backup QB Troy Jackson is not a big blow, losing WR Jordan Schultenover and UCF transfer Sidney Haynes, also a WR, is a huge loss.
This is especially damaging because with the absence of Schultenover, the Bison lost their top six from a year ago. However, Lee Vandal does return (five receptions for 56 yards last season).
NDSU also lost Tyler Roehl, their top rusher in 2008, as well as several of their top defenders.
Gone is Joe Lardinois (the Bison's leader sacker), Ramon Humber and Mike Maresh (first and second in tackles), and top defensive back Nick Schommer, who was recently signed by the Tennessee Titans.
Iowa State might be bad enough to offset the losses for the Bison, but the losses are from a team that underachieved (NDSU was 6-5 last year).
If North Dakota State can hit the ground running (literally), then the upset should happen. But the losses, especially the dismissals, is a reason why this potential upset is at No. 4 rather than higher up the list.
#3. Eastern Kentucky Colonels at Indiana Hoosiers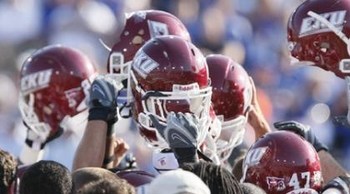 September 3 (Week One)
WHY IT COULD HAPPEN
This hinges more on Indiana than it does on Eastern Kentucky.
Kellen Lewis, IU's all-time leader in passing touchdowns, was dismissed from the team in the Spring. Lewis, who is now at Valdosta State, was also the team's second-leading rusher.
Indiana also lost leading rusher Marcus Thigpen, and will be without their top two receiving threats. Andrew Means was declared for the NFL Draft as a junior and Ray Fisher was converted to cornerback.
These losses do not help an offense that ranked in the bottom third in the FBS.
Additionally, the defense was one of the worst in the country, ranking 107th in yards allowed per game (worst in the Big Ten). They only tallied six interceptions, "good" for 117th in the country.
Only Fresno State and the University of Miami grabbed fewer picks.
Eastern Kentucky, the defending Ohio Valley Conference champs, return several key starters on both sides of the ball.
Most importantly on offense is the multi-talented WR Cody Watts, who was third on the team in receiving yards (and first in receiving touchdowns), third in rushing yards, and second in passing yards (145 yards).
His versatility speaks to the type of offense that the Colonels run—the spread option. In that regard, they return their top four rushers from a year ago, including running back C.J. Walker.
And while they do not throw for a ton of yards, they do return two of their top three receivers. The aforementioned Watts is joined by Shannon Davis, who led the team in receptions and was second in receiving yards and touchdowns.
On defense, they return linebackers Antonio Fredrick and Jake Tamaska—The latter should be a full-time starter this season. Defensive lineman Chris Hall also returns, the team's leader in sacks and tackles for loss.
Redshirt sophomore Jeremy Caldwell and junior Jaren Gooden anchor the defensive backfield.
So EKU returns several key players from last year's team. But...
WHY IT MIGHT NOT HAPPEN
The Colonels were a team that, statistically, was unimpressive last season. The offense ranked 101st in the FCS and for a team that runs the ball, they were equally unimpressive (93rd).
They were not efficient on third down, converting only 27.6 percent of the time (118th in the FCS).
And, to top that, they lost QB Allan Holland to graduation. Holland started in each of the last two seasons. In his place will be Trevor Hoskins, who has thrown exactly two passes in his collegiate career.
The defense was not much better last year, ranking 76th in yards allowed and 48th in scoring defense.
While returning several players on defense, they also lose third-team Sports Central All-American safety Brandon Gathof, as well as leading tackler Tyjuan Jones and defensive lineman Chris Coy.
And for those who like kickers, second-team AP All-American kicker Taylor Long is also gone.
While Indiana's defense was lackluster, they did do one thing well -- get to the quarterback. The Hoosiers were tops in the Big Ten with 31 sacks (although the Big Ten's website has them ranked as fifth in sacks with 30) and return defensive end Jammie Kilrew, the team leader in sacks (10.5 sacks).
Kilrew also had nine more tackles for loss. Linebackers Matt Mayberry and Will Patterson also return -- each had 8.5 tackles for loss.
Considering that the Colonels will be breaking in a new quarterback, even if EKU runs the ball, the disruption that Kilrew, Mayberry and Patterson could potentially cause will help Indiana avoid an upset.
#2. Maine Black Bears at Syracuse Orange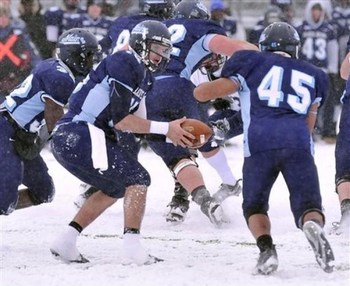 September 26 (Week Four)
WHY IT MIGHT HAPPEN
Much like the previous match-up, this lies more on Syracuse being awful than anything that Maine brings to the game. Maine should be entering this game with no worse than a 2-1 record (possibly 3-0), while Syracuse will likely limp in winless.
Okay, that does have something to do with the level of competition. But the Orange could definitely be beat-up come this game.
Syracuse finished 2008 in a worse position than Indiana in terms of team statistics. They ranked 115th in total offense and 101st in total defense. However, they did beat CAA bottom-feeder Northeastern!
The Orange must replace 1100-yard rusher Curtis Brinkley.
While Syracuse does return QB Cameron Dantley, he was essentially a non-factor last year, with just under 1300 yards while completing 48 percent of his passes.
Besides, this is a team that relies on running the ball.
In terms of Maine, this is a team that is coming out of an FCS conference that was constructed as one of the top conferences in the country. They earned an at-large bid to the Division-I playoffs, losing to Northern Iowa in the first round.
The Black Bears have two returning quarterbacks, who have both seen significant playing time in each of the past two seasons.
Adam Farkes started the first six games last season before a shoulder injury forced him out, while Mike Brusko played in all 13 games.
Together, the two quarterbacks threw for 1806 yards and 17 touchdowns. Brusko also had 417 yards rushing and 118 yards receiving—Yes, the quarterback lined up at wideout.
But this is a running team (24th in the FBS last season), and they return four of their top five rushers.
Fullback Jared Turcotte led Maine with 625 yards. He is joined by the aforementioned Brusko and two other running backs—tailback Pushaun Brown and H-back Derek Session.
In the receiving department, they return all key receivers, including WRs Tyrell Jones and Landis Williams, and tight end Derek Buttles.
Maine's defense was good, but not great—37th in the FCS in yards per game.
WHY IT MIGHT NOT HAPPEN
Well, Maine is not a powerhouse like a New Hampshire or a Montana or an Appalachian State. They are good, but not great.
Certainly Syracuse is not great either, but the Orange might have success in running the ball.
Maine's run defense was 54th last season, meaning that they can be run on. If teams at the FCS tier can run on the "Black Hole" defense, then certainly an FBS team—even one as awful as Syracuse—can do the same.
Furthermore, defense is where Maine experienced the biggest loss of players.
Gone is first team AP All-American DL Jovan Belcher, who led the Black Bears in tackles (98, 44 solo) and sacks (7.5). They also lost two-year starter DL Jonathan Pirruccello.
Add to that LBs Andrew Downey and Sean Wasson; and DBs Lionel Nixon, Jr. and Lamar Whetstone and you are looking at six starters gone.
For Syracuse to avoid the upset, they must be able to run the ball against what could be a relatively inexperienced Black Bear defense.
#1. Richmond Spiders at Duke Blue Devils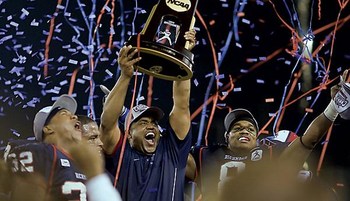 September 5 (Week One)
WHY IT COULD HAPPEN
The defending national champions return several key starters who helped lead the Spiders to a surprise run last fall.
Richmond returns second team All-American guard Matthew McCracken to anchor the offensive line and will provide protection for quarterback Eric Ward.
The redshirt senior took over as quarterback at the end of the 2006 season and has performed the duty well. Last season he threw for over 2800 yards, with 17 touchdowns and a 64.1 completion percentage. He also ran for 440 yards and eight touchdowns, and even caught a touchdown pass.
The Spiders return their top three receivers, Kevin Grayson, Tre Gray and Jordan Mitchell. Those three combined for over 2000 receiving yards and 10 of the team's 18 receiving touchdowns.
Statistically speaking, the offense ranked 48th in the FCS, but 25th in rushing yards per game.
The defense, though, was the highlight of the Spiders' 2008 season. Richmond's defense ranked 10th nationally, and sported one of the better run defenses in the country. They also picked off 29 passes, second most in the FCS.
Luckily for the Spiders, they return many starters on defense.
Linebackers Eric McBride, Patrick Weldon, Jordan Shoop, and Collin McConaghy; defensive backs Michael Ireland, Derek Hatcher and Justin Rogers; and defensive linemen Parker Miles and Martin Parker all return!
While the CAA is a tough conference, Richmond seems poised to make a strong push to repeat as national champions.
WHY IT MIGHT NOT HAPPEN
I do like the Blue Devils and I think they are heading in the right direction under David Cutcliffe.
With an upset here or there, I think there is a slim chance that Duke could finish 6-6. Unfortunately, Richmond will not be a walk in the park (and some could argue that Duke beating Richmond is the real upset).
The success of Duke this season revolves mainly around one player—QB Thaddeus Lewis.
Lewis enters his senior season, having been the Blue Devils' starting quarterback since he walked on to campus. He has missed only one game since 2006 (last season against Virginia Tech).
Lewis's game has improved every year, especially last season under Cutcliffe.
Cutcliffe has a track record of developing quarterbacks, including both Eli and Peyton Manning, as well as current U.S. Representative Heath Shuler!
While no one is claiming that Lewis is the next Manning (or even a U.S. Representative), it is easy to deduce that the Duke QB should be much improved in his final year in Durham.
Additionally, for all that Richmond returns, there are two huge voids—RB Josh Vaughan and DE Lawrence Sidbury, Jr.
Vaughan rushed for almost 1900 yards and 20 touchdowns, while Sidbury was the team's leader in sacks and tackles for loss.
Both of these players are now attempting to make an NFL roster. Sidbury was drafted by the Atlanta Falcons, while Vaughan signed with the Tampa Bay Buccaneers as a free agent.
How well the Spiders replace these two players, along with how well Thaddeus Lewis has developed in the off-season, will dictate whether or not the Blue Devils can avoid this upset.
Keep Reading