When the NBA draft starts on Thursday night, the tension will be palpable.
That's because the 2014 draft figures to be one of the most unpredictable in recent years. With the former consensus No. 1 overall selection Joel Embiid's foot injury casting doubt over what the Cleveland Cavaliers will do with the first pick, even the opening selection remains shrouded in mystery.
Then there's the bevy of hypothetical trades being floated around the Internet in the lead up to the event. With names like LeBron James and Carmelo Anthony highlighting the free-agent market, teams will no doubt be looking to jockey for position in the sweepstakes.
But which reports are just a smokescreen and which reports are likely to come to fruition? Let's examine in the space below.
Cavs Trading No. 1 Pick?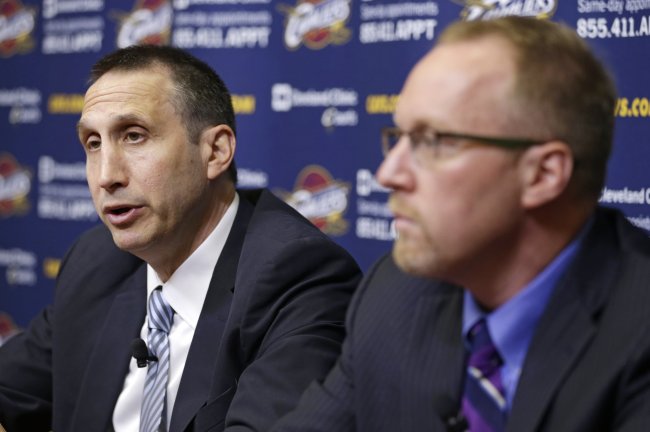 Tony Dejak/Associated Press
Plenty of the rumor-mill discourse has centered around what the Cavaliers are going to do when they go on the clock with the first pick. The latest from Chad Ford of ESPN is that Cleveland brass is split on whether to take Kansas star Andrew Wiggins or Duke forward Jabari Parker:
Sources: Cavs owner Dan Gilbert wants Wiggins at No. 1. Cavs front office wants Parker. Link coming ...

— Chad Ford (@chadfordinsider) June 25, 2014
However, Probasketballdraft reports that the Cavaliers are more than 50-50 on trading away the first overall pick:
Based on conversations with sources around the league it sounds like a better than 50% chance Cavs deal 1st pick.

— Probasketballdraft (@Probballdraft) June 25, 2014
As a speculative destination for LeBron James, it should be no surprise that the Cavs are rumored to be shopping the pick. After all, James would hypothetically want to win now, and doing that means improving the roster with a proven commodity, not a prospect who won't come into his own for a few years.
To get an idea of the kind of return the Cavs would likely seek for the No. 1 pick, Adrian Wojnarowski of Yahoo Sports reports that Cleveland attempted to trade for Kevin Love of the Minnesota Timberwolves:
Cleveland pushed on deal centered on No. 1 pick for Kevin Love, but his refusal to re-sign w/ Cavs has killed talks, sources tell Yahoo.

— Adrian Wojnarowski (@WojYahooNBA) June 25, 2014
What should the Cavaliers do?
Other teams in the top five have been rumored to be interested in moving up. Ford's latest mock draft (subscription required) includes the Philadelphia 76ers, Orlando Magic and Utah Jazz as potential trade partners.
Verdict: Sell
It's absolutely understandable why these rumors have some traction. If the Cavs are torn on Wiggins and Parker, it could be seen as the club not loving either prospect and looking to get what they can for the pick.
However, it's more likely the team is trying to sweeten the pot for a deal that just isn't coming. The only way the Cavaliers should trade the first selection is if they are getting a superstar in return. That's not happening.
This Cavaliers will most likely use this pick on Andrew Wiggins.
Jabari Parker to the Milwaukee Bucks?
The Milwaukee Bucks were devastated on the night of the lottery to find out they lost the No. 1 pick to the long-shot Cavs. As it turns out, they still might wind up with their man after all.
According to Marc J. Spears of Yahoo Sports, Parker has been told the Bucks will take him at No. 2, provided he is available:
Jabari Parker says he's not opposed to going to Cavs, but said no commitment was made.Said Bucks told him they'd take him if he's there at 2

— Marc J. Spears (@SpearsNBAYahoo) June 25, 2014
Availability will be the tricky part. As told in the section on the Cavaliers, Wiggins is definitely in play if Cleveland uses the pick, but Ford reports that Parker is coveted by a slew of potential trade partners for the No. 1 pick:
Sources: If Bucks, Magic, Jazz or Celtics move up to No. 1 — Jabari is their man. If Sixers move up it's for Wiggins.

— Chad Ford (@chadfordinsider) June 26, 2014
If the Bucks want to ensure they get their man at No. 2 they'll need to be in close contact with the Cavaliers. They'll want to make sure they're involved in any potential trade talks.
Verdict: Buy
Parker makes all kinds of sense for the Bucks. His perimeter scoring is desperately needed and the perception is he's the most NBA-ready talent. For the team that actually held the worst record in basketball, that's crucial.
The Duke prospect would finally give the Bucks a go-to scorer that they can build around. Barring a trade at No. 1 this is a pick you can bank on happening.
Lakers Trading No. 7 Pick?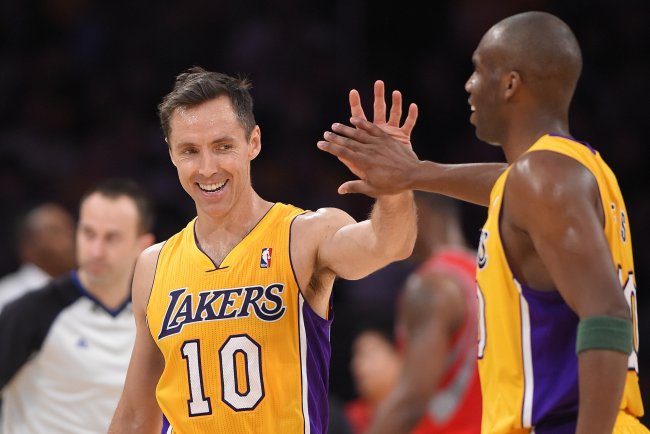 Mark J. Terrill/Associated Press
When the Los Angeles Lakers get on the clock at No. 7 things are bound to get interesting—if only because it's rare to see the franchise in the lottery.
However, Ford reports that the Lakers might not be taking a player with the selection. According to his latest mock draft:
The Lakers have been very active in looking for a veteran for their pick. Players like Klay Thompson, Michael Carter-Williams and Thaddeus Young are all interesting to them. This is a team that wants to win now. Randle or Smart could help, but a veteran will be even more ready.
Ramona Shelburne of ESPN has also brought up the possibility of the Lakers trading the No. 7 pick. Specifically, packaged with the expiring contract of Steve Nash to create some cap flexibility for upcoming free agency:
Lets say Lakers package #7 pick w/ Nash & return zero salary. Wouldn't happen until after July 1, but $30m is enuf to create two $15m slots

— Ramona Shelburne (@ramonashelburne) June 23, 2014
Ford also mentions Kentucky forward Julius Randle and Oklahoma State guard Marcus Smart as possible selections for the historic franchise.
Verdict: Buy
There's a reason we don't see the Lakers in the lottery very often. It's a franchise known for being a consistent winner. If the Lakers choose to use the pick, it could be seen as an admission they are in for a multiyear rebuilding phase.
That may be the smart thing to do, but it doesn't fit the profile of the Lakers organization. After all, the team is partially here because it rolled the dice on Dwight Howard staying and lost.
It seems much more likely that the Lakers would be interested in trading this pick with Nash to accrue cap space and become a player in the Carmelo Anthony and LeBron James pursuit.