It doesn't appear likely the Los Angeles Lakers will settle their head coaching search before Thursday's draft, so the upcoming decisions will rest heavily on general manager Mitch Kupchak and owner Jim Buss.
With an upcoming offseason overhaul on the horizon, the Lakers' first order of business is to make the right moves during the draft. The team has plenty of options, and rumors regarding certain scenarios the team is considering have recently surfaced across the Web.
Who will the Lakers select with the No. 7 overall selection? Will the team end up trading the pick?
These questions may not be answered until the draft arrives; however, that won't stop us from speculating based on a few juicy rumors.
Trade Pick to Please Melo?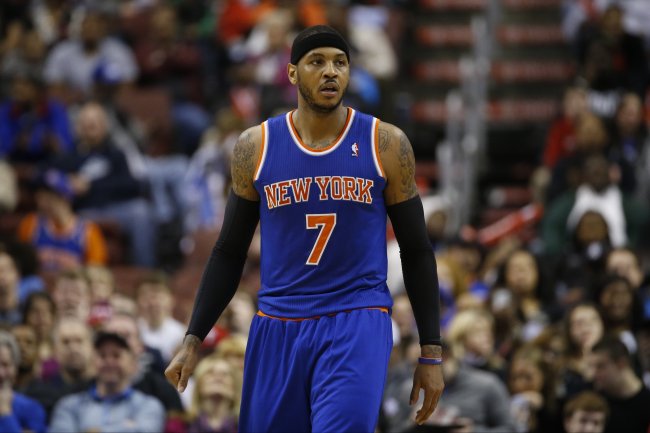 Matt Slocum/Associated Press
The Lakers are looking to make waves during the offseason. One big part of their plans appears to be making a run at free agent Carmelo Anthony.
Well, if the Lakers are to acquire Anthony's services, they have some work to do.
According to a report from Ramona Shelburne and Marc Stein of ESPN.com, Anthony wants a stronger roster in Los Angeles before he makes a decision:
It is believed Anthony would want them to strengthen their roster before he would seriously consider a move to L.A. Sources say the Lakers, to that end, have been exploring their options with the No. 7 pick in Thursday's draft and have told teams they are prepared to package the pick with the expiring contract of Steve Nash(owed $9.7 million next season) for the right offer.
Bolstering the roster with veterans would certainly appeal to Anthony. There's even some speculation regarding which players Los Angeles would want to bring in on such a deal. Here's one option, via ESPN's Ryen Russillo:
More Embiid fallout. Lakers could move Nash and #7 to Philly for MCW and T Young. 76ers would take Exum at #3.

— Russillo (@ryenarussillo) June 20, 2014
We shall see how this all plays out.
Embiid Watch
So, what are the Lakers planning to do if they keep the pick?
According to Mike Bresnahan of the Los Angeles Times, the team is keeping a keen eye on Joel Embiid:
The Lakers, though, are also interested to see if Kansas center Joel Embiid falls to them with the seventh pick, assuming they don't trade it. Embiid had surgery to repair a stress fracture in his right foot Friday and could miss part or all of next season.

He was a top-three pick for sure, and perhaps the top overall pick, before the surgery was announced. He has become prone to injury this year, missing the Jayhawks' only two NCAA tournament games because of a stress fracture in his back.
At one point, Embiid appeared to be the consensus No. 1 overall selection; however, his recent foot surgery quickly dashed that idea.
Now, the question becomes how far the center will slide.
It may not be far, due to the possible interest of the Philadelphia 76ers. After all, the team is apparently doing its due diligence. As Dei Lynam of CSNPhilly.com reported, Philadelphia has already acquired his medical records:
#SixersTalk The #Sixers have Joel Embiid's medical records according to NBA source.

— Dei Lynam (@dlynamCSN) June 24, 2014
Should the Sixers—and the following three teams—decide to pass on Embiid, he appears a likely target to go to Los Angeles at No. 7 overall.
Options at No. 7 Overall
Should the Lakers keep their pick, and assuming Embiid is off the board, the team does have some fine options to work with.
Due to the team's need for instant starters and the aforementioned demands of Anthony, two prospects appear to stand out above the rest, according to Chris Mannix of Sports Illustrated:
The Lakers will have some options they like. Julius Randle had a strong workout for them and the team is enthralled by his offensive potential, a source said. But the bet here is that Smart, the bulldozing point guard, is the pick. The Lakers love his size for the position and, as one executive noted, despite the fact that Smart shot poorly from three-point range in college, the form on his jump shot isn't all that bad.
Selecting Randle or Smart makes complete sense for the Lakers here.
Randle is as NBA-ready as it gets. He was a double-double machine at Kentucky, and his aggressive style of play in the paint makes him a tremendous threat on both ends of the floor.
Smart's toughness, size and vision are all coveted attributes. He'll prove to be a legitimate starter even without a solid shot from downtown. According to Dave McMenamin of ESPNLosAngeles.com, Smart has already been impressing in L.A.:
Spoke to a Lakers source who was very impressed by Marcus Smart's workout with them: "Tenacity was off the charts"

— Dave McMenamin (@mcten) June 17, 2014
It sure seems likely that one of these two prospects will be coming off the board at No. 7 overall.