For a draft that seemed straightforward by usual standards two weeks ago, the 2014 NBA draft has taken on so many different faces in the final stretch that it's hard to keep track of which teams are interested in which players.
Joel Embiid started the chaos when it was announced he needed foot surgery and would be out of action for four to six months, according to Adrian Wojnarowski of Yahoo Sports. The former Kansas center seemed like Cleveland's clear choice at No. 1, with Andrew Wiggins and Jabari Parker following at second and third.
That was followed by the report from ESPN's Chris Broussard that LeBron James was going to exercise his opt-out clause to become a free agent on July 1.
LeBron James' agent Rich Paul has told Heat LeBron will exercise early termination option

— Chris Broussard (@Chris_Broussard) June 24, 2014
With LeBron available, teams can shift picks to add better talent with the hopes of convincing the four-time MVP to sign with them.
All of this uncertainty and instability makes for more draft-day drama than an episode of Game of Thrones, not to mention all the rumors and buzz heading into Thursday's extravaganza. We have the latest on what you might see when commissioner Adam Silver steps up to the podium.
Shake-Up at the Top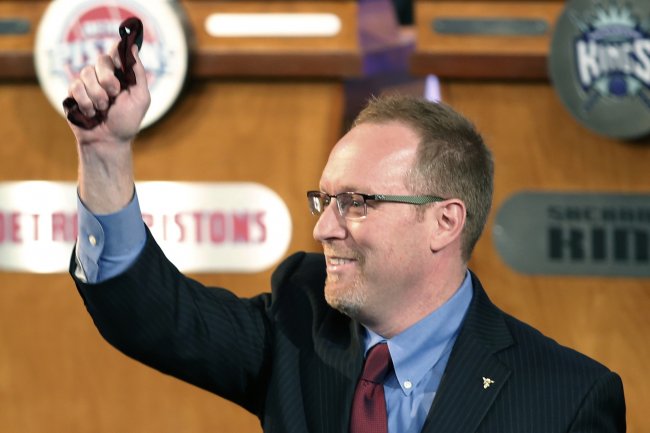 Kathy Willens/Associated Press
The Cleveland Cavaliers are currently set to make history by picking first overall for the third time in four years, but the whispers of a potential deal keep getting louder the closer we get to the draft.
ESPN.com's Jeff Goodman and Chad Ford noted that Orlando, Philadelphia and Utah were in talks with the Cavaliers about moving up to the No. 1 spot.
Of the offers they've received, a source says the Cavs aren't enamored by either the Sixers' offer (Thaddeus Young and the No. 3 pick) nor the Jazz's offer (Derrick Favors and the No. 5 pick). However, the Cavs do have some interest in the Magic's offer of Arron Afflalo, the No. 4 pick and the No. 12 pick.
Following on the heels of that report, Sam Amico of Fox Sports Ohio said the Magic appear to be serious players in this trade discussion.
Also told Cavs talks with Magic are real, but nothing hot with Sixers, as reported.

— Sam Amico (@SamAmicoFSO) June 25, 2014
A move down would seem to go against what the Cavaliers need to do, unless they are still sold on Embiid but don't want to make him the top pick. Wiggins or Parker provide instant results and are worthy of the No. 1 selection, but the one thing teams will always sell their soul for is size.
If the Cavaliers can find a way to get Embiid, another lottery pick and Afflalo in a deal, combined with Kyrie Irving, suddenly they look a lot more formidable on paper and are possibly a borderline playoff contender in a soft Eastern Conference.
Utah Jazz Zeroing In On Pick at No. 5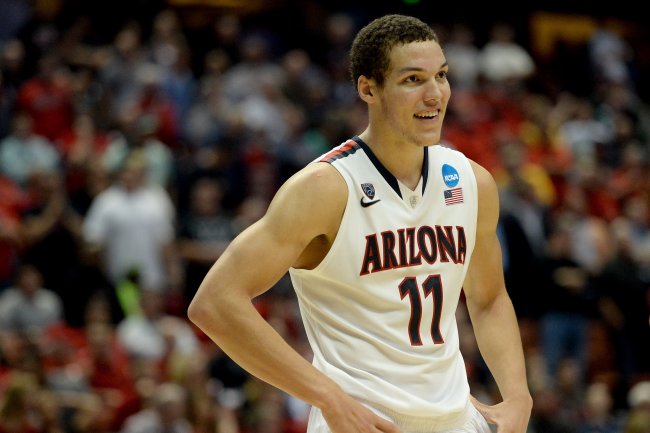 Harry How/Getty Images
If the Jazz stay in their current draft position at No. 5, they will be able to get an impact player who can help the team improve an offense that ranked 23rd in rebounds and 29th in scoring last season.
However, based on this report from Jody Genessy of the Deseret News, the Jazz seem to be locking in on a defensive stalwart:
Hearing Aaron Gordon is a strong possibility at 5 for Jazz, but there are mixed feelings in front office on players likely to be available.

— Jody Genessy (@DJJazzyJody) June 25, 2014
Genessy also noted that one of the draft's impact offensive players, Julius Randle, has too much uncertainty for Utah at its current position.
Still hearing there are risk concerns that would prevent the Jazz from drafting Julius Randle.

— Jody Genessy (@DJJazzyJody) June 25, 2014
The Jazz are not used to enduring a season like the one they had in 2013-14. Their 25 wins were the fewest by this franchise since the 1981-82 season and marked just the third losing season for the franchise since 1983-84.
Drastic measures must be taken for the Jazz to get out of the doldrums. This used to be one of the best and most consistent franchises in the NBA, but now they can't find any consistency from year to year.
Gordon doesn't fill their immediate need for scoring help, though he would add a toughness on defense and stellar rebounding presence to help create more opportunities for the rest of the team.
Heat Making Draft Pitch to LeBron James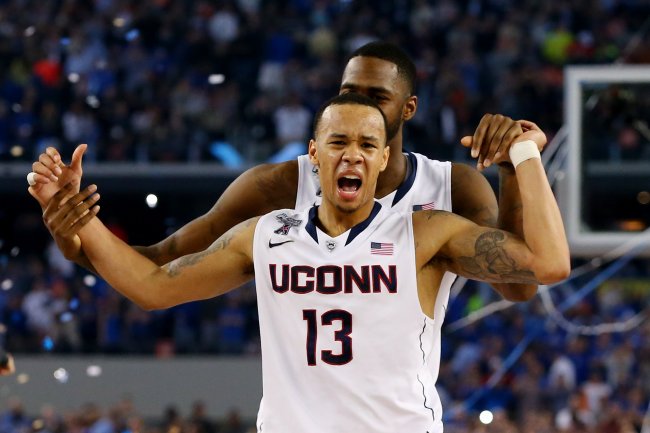 Ronald Martinez/Getty Images
What would be the smartest move of the first round?
Pat Riley challenged LeBron and the rest of Miami's roster to keep the Heat ship together in order to make a run for a title. LeBron fired back with a challenge of his own, essentially telling Riley and the front office to prove their commitment to building a roster or else he will find a new home this summer.
The first step in Miami's sales pitch to LeBron will be in the draft. According to ESPN.com's Chad Ford, the object of the Heat's desire is Shabazz Napier.
The Miami Heat have started the process of courting LeBron James with an aggressive attempt to move up in Thursday's NBA draft, with their target being former UConn point guard Shabazz Napier, league sources said. …

Both James and the Heat are fans of Napier.

James tweeted during the NCAA title game in April: "No way u take a PG in the lottery before Napier."
Following the disappearance of Mario Chalmers in the NBA Finals, it's no secret the Heat are looking to upgrade the point guard position. Napier proved his ability to handle the big stage during Connecticut's run to a national title in March.
However, one rookie point guard doesn't seem like enough to convince James that the future is secure. It's a positive step, without question, but the real test will come when free agency begins and if Riley is able to recruit talent to South Beach.
If you want to talk sports, Follow @adamwells1985