Argentina captain Lionel Messi, Colombia star James Rodriguez and the symbol of Brazilian football, Neymar, have been wowing audiences across the world with their inspired World Cup performances. More than that, however, the trio provide a perfect example of how the No. 10 position in South American football has not become obsolete.
Rather, it has evolved to fit the rigours of the modern game.
He is born in a cradle of straw and a tin hut, and he comes to this world embracing the ball. He knows how to play as soon as he learns how to walk. The ball seeks him, it recognises him, it needs him. In the bosom of his foot, it rests and slumbers. He takes the shine off the ball and makes it talk, and in that two-person chat millions of mute figures converse.
The great Uruguayan author Eduardo Galeano wrote the words above in his seminal text on the South American obsession with football, Football in Sun and Shadow. In the quoted chapter, the writer refers to what he calls simply "the idol," without naming a specific position.
But anyone with the slightest knowledge of the game in South America knows that the idol is decked in only one shirt: that which carries the mystic No. 10.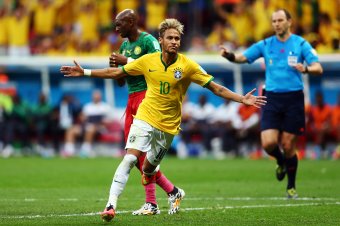 Clive Brunskill/Getty Images
The current World Cup has thrown up some fascinating clashes so far, along with a feast of creative, attacking football not seen at the international tournament for many years. But this is, in essence, a tournament that belongs to the South American continent, which is why it is perhaps fitting that three local idols are leading the way for their respective nations.
"The '10s' do not exist any more, it seems that now pure talent does not prevail," Enrique Rivers, Costa Rica legend from the 1980s, lamented, per Teletica.
It seems that the man who helped sink Italy in the 1984 Olympic Games has not been following what is happening in Brazil, Argentina and Colombia.
Between them, Messi, Rodriguez and Neymar are responsible for 11 goals in nine games through the group stage. The first two achieved the rare feat of scoring in all three first-round matches, while Neymar's only fruitless encounter was sandwiched between two doubles to slay Croatia and Cameroon.
UNA COSA DE LOCOSSS MESSIIII!!! GOLAZOOOOO GOLAZOOO GOLAZOOOO!! https://t.co/MFGDAJ8lmp

— Actual Fútbol (@actualfutbol) June 25, 2014
To that figure, one can add two assists by Rodriguez, giving him a hand in five of Colombia's goals so far. The two Argentina strikes that did not originate from Messi's boot, meanwhile, both came from a corner delivered by the Barcelona wizard himself.
Without Neymar and Messi's goals, both Argentina and Brazil risked a humiliating scrap to escape from kind first-round groups. La Pulga demonstrated his worth on Wednesday, scoring twice and providing the corner which led to the Albiceleste's third, decisive goal over Nigeria.
Often accused of shirking responsibility in national colours by commentators who should know far better, Messi has taken delight in ramming those words down his critics' throats, one glorious and ecstatically celebrated goal at a time.
Absolutely loving every moment of this World Cup. When I see stars like Messi shining, I get even more excited to see Neymar on Saturday.

— Seleção Brasileira (@BrazilStats) June 25, 2014
The Rosario native is the elder statesman of that deadly trio, having just turned 27. His colleagues in Brazil and Colombia, by comparison, are just 22—although James holds the distinction, unlike Leo, of winning an Argentine Primera Division title, with Banfield in 2009.
But the age difference is not important. They are part of a new generation, reinventing a position that appeared in danger of extinction not too long ago.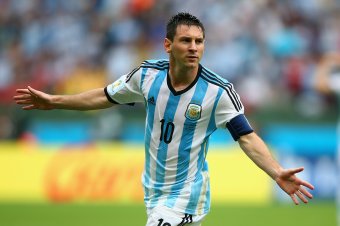 Ian Walton/Getty Images
The No. 10 jersey seemed to be the property of another era. A different football where players—if they had the talent, of course—had time to dwell on the ball, pivot and pick out their team-mates with apparent leisure. Ricardo Bochini, Pele, Zico, Carlos Valderrama, perhaps even Diego Maradona himself, at a push—how would those superstars have handled the high-octane pace of modern football, where even the best have little more than a split second to make their decisions?
Those now in possession of the fabled jersey represent an evolution of the position. No longer does the No. 10 take the ball with his back to the opposition goal, ready to ride the first challenge and open the game up. Neymar prefers to break into a sprint as the pass is arriving, meeting his target at full pace in the hope of pulling away one or two markers.
Messi may be trotting, but his first touch almost invariably takes play away from the defender, opening the field and leaving him on the way to goal. Of the three, meanwhile, Rodriguez is perhaps the closest to an orthodox enganche figure, but his acceleration, strength and late surges into the box also make him an extremely dangerous attacking option.
Valderrama was right: James Rodriguez is undoubtedly the star of this team and one of the players of the tournament.

— 101 Great Goals (@102greatgoals) June 24, 2014
To paraphrase Mark Twain, rumours of the No. 10's demise have been wildly exaggerated. South America's new generation of stars have adapted the position, making it more mobile and integrated than ever without losing that unpredictable magic that makes the playmaker his team's idol.
Messi, James and Neymar may not play the same football as their illustrious predecessors, but they look set to dominate the World Cup in much the same fashion.