Could Parma's Italian international Marco Parolo—a 29-year-old, 6'1", 181-pound central midfielder—be signed by Arsenal as Aaron Ramsey's backup?
To cover that hypothetical, this article grades Parolo's performance in Italy's 1-0 defeat to Uruguay at the 2014 FIFA World Cup and provides a scouting report on his season with Parma.
Parolo vs. Uruguay Grade: D
The decision from then-Italian national team manager Cesare Prandelli, who has since resigned, to sub out an injured Italian centre-forward Mario Balotelli for Parolo was a conservative and unimaginative tactical ploy.

FIFA.com
Balotelli taken off because he's been rubbish and was more likely to be sent off that do anything remotely productive.

— Ian Ladyman (@Ian_Ladyman_DM) June 24, 2014
Now being told Mario Balotelli had an injury. Italy have replaced him with a midfielder though. 0-0 suits them

— Ben Smith (@BenSmithBBC) June 24, 2014
Parolo tracked back covering 1,283 more metres than Balotelli, per FIFA.com, whose only notable moment was kneeing Uruguay left wing-back Alvaro Pereira.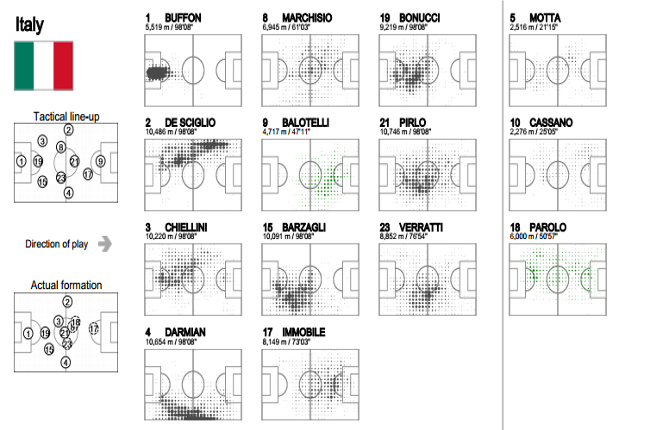 FIFA.com
VIDEO: Mario Balotelli picks up his 2nd yellow card of the group stage with this flying knee http://t.co/DDXTQgQNp1 pic.twitter.com/aLN5eVPrwP

— Bleacher Report (@BleacherReport) June 24, 2014
Balotelli and his strike partner Ciro Immobile were out of sync, therefore Parolo's box-to-box running would offer Italy a different attacking dimension.
Balotelli-Immobile not working for #ITA Hands up if you're surprised....

— Adam Digby (@Adz77) June 24, 2014
Though, instead of being Prandelli's trump card, Parolo had to shelve his late surging runs once Claudio Marchisio was sent off harshly.
Claudio Marchisio red card in #ITA v #URU - studs up http://t.co/sj9eVEDjDI

— Bleacher Report UK (@br_uk) June 24, 2014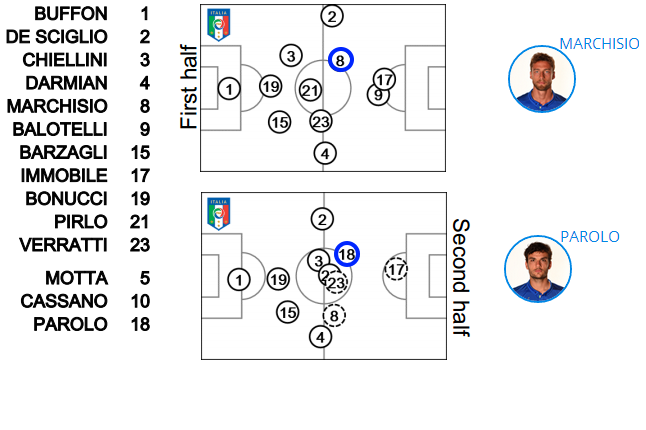 FIFA.com
Parolo was unable to express himself under the circumstances of Italy shutting up shop.
He ended up doing a job in midfield in a game remembered for Uruguay deep-lying forward Luis Suarez capitulating to his inner demons once again.
Giorgio Chiellini accuses Luis Suarez of bite! Now Diego Godin scores for #URU v #ITA Live: http://t.co/Nkrb4qWF6D http://t.co/jrKpkYNgmd

— Bleacher Report UK (@br_uk) June 24, 2014
Luis Suarez should be banned for entire World Cup. Embarrassment for the sport.

— Matteo Bonetti (@TheCalcioGuy) June 24, 2014
Parolo Parma Positives
Marco Luzzani/Getty Images
League Only

Aaron Ramsey

Marco

Parolo

Games
23
36
Goals
10
8
Shots Per Goal
5.0
10.3
Assists
8
6
Key Passes Per Game
1.4
1.2
Tackles Per Game
3.3
3.6
Fouls Per Game
1.2
1.9
Tackles Per Foul
2.9
1.9
Interceptions Per Game
1.0
1.6
Parolo possesses a smooth shooting motion like scoring a free-kick past AC Milan goalkeeper Gabriel.
Liverpool's Napoli loanee Pepe Reina had no chance in stopping Parolo's powerfully hit curled shot.
Parolo rocketed a shot past Hellas Verona goalkeeper Rafael.
Being an all-round midfielder, Parolo is a dual threat scoring and creating goals.
This was illustrated with a smart angled pass to Inter Milan's Parma loanee Ezequiel Schelotto and getting out wide to make an incisive pass to Parma deep-lying forward Antonio Cassano.
In addition, Parolo is an excellent defender, winning back possession 5.2 times per game.
Marco Parolo: Only 1 player made more tackles in Serie A last season than Parolo (131) #ita

— WhoScored.com (@WhoScored) June 24, 2014
Parolo Parma Negatives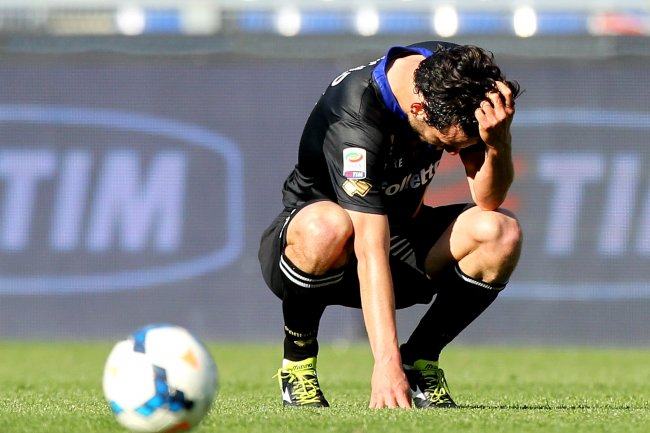 Paolo Bruno/Getty Images
Prior to last season, Parolo scored nine goals and registered three assists in his previous 104 Serie A games.
Has he peaked after his career-best season when he scored eight times and created six goals?
Could Parolo be another Francesco Lodi?
Dominating in midfield for Catania, Lodi earned a move to Genoa, but was a transfer bust.
Since returning to Catania, he has not recovered his 2011-12 to 2012-13 form.
Francesco Lodi is officially back with Catania after leaving Genoa after just six months at Marassi. http://t.co/pag6HktTCE

— footballitalia (@footballitalia) January 3, 2014
A big concern is Parolo's inability to consistently take the ball past opposing players.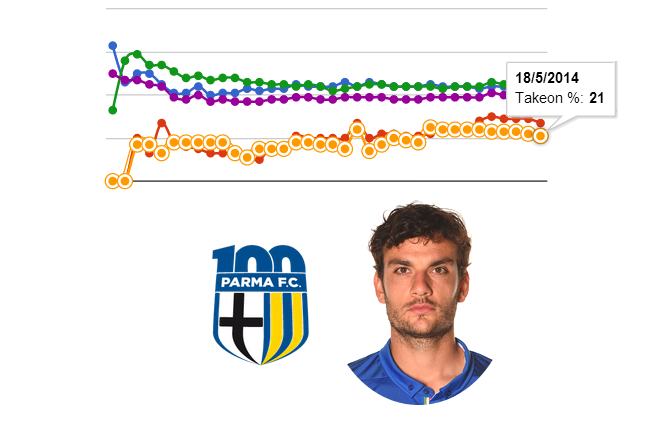 Squawka.com
Parolo averaged 0.3 dribbles per game and was unsuccessful 79 percent of the time he attempted a dribble, per Squawka.com.
It remains to be seen if he can transition his Serie A form to the Premier League, which is played at a higher tempo.
Bottom Line
Lazio are gunning for Parolo in the summer transfer window, per Football-Italia.
Parma have negotiated a €5/£4 million transfer with Lazio subject to Parolo agreeing personal terms, per David Amoyal at GianlucaDiMarzio.com.
Therefore, Arsenal manager Arsene Wenger needs to quickly decide if Parolo, who shoots, creates and tackles, can be a viable backup to Ramsey.
I'm honoured to have been voted @Arsenal's Player of the Season by the fans. Your support has been incredible the last year, particularly...

— Aaron Ramsey (@aaronramsey) June 4, 2014
...when I got injured, so thank you. I've been pleased with my form over the season, hopefully Wembley was just the start of things to come!

— Aaron Ramsey (@aaronramsey) June 4, 2014
Statistics via WhoScored.com