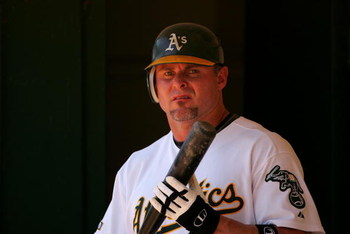 With the first half of baseball quickly coming to a close, the Oakland A's are sitting 9.5 games out of first due to their anemic offensive attack.
A's General Manager, Billy Beane, signed former MVP Jason Giambi, Orlando Cabrera, and Nomar Garciaparra, and traded for the NL Silver Slugger, Matt Holliday, last offseason. The signings were believed to turn Oakland into a darkhorse contender.
Those signings haven't changed a thing. The A's are still dead last in batting average, on-base percentage as well as slugging percentage. The A's own a .238 team batting average (14th in AL) and have scored only 325 runs (12th in AL).
There seems to be a power outage in Oakland.
And unless the A's can get consistent hitting from Giambi, Holliday, and Jack Cust, they won't be around in October. If the A's can somehow stick around long enough, they have a chance to heat up much like Holliday's 2007 Colorado Rockies did.
What's with Giambino?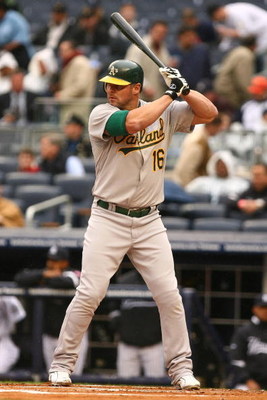 In 241 at-bats, Jason Giambi owns a .199 average and a .339 on-base percentage. While he's hit 11 homeruns this season, he's vastly different from his former MVP self.
Sore legs or not, Giambi can't be happy about his .199 average.
Last season, Giambi finished with 32 homeruns, 96 RBIs, and owned a .247 batting average along with a .373 on-base percentage. Giambi's .339 on-base percentage is the lowest of his 14-year career, and his .199 average is just laughable.
Billy Beane wanted Giambi for one reason and one reason only. So far, Giambi isn't getting on base the way the A's expected him to get on. Instead, he's striking out more and hitting less.
If Giambi can bring his batting average up to the .240's or .250's and start getting on base more, the A's can have a shot at getting out of the AL West cellar.
The King of K's: Jack Cust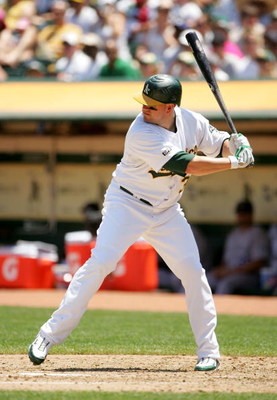 Though I'm a huge fan of the A's, I can't say I'm a huge fan of Jack Cust. Never have I seen a hitter who strikes out the way Jack Cust does. Cust is in his own league when it comes to striking out, it's almost an art form for him.
In 267 at-bats this season, Cust owns a .225 batting average and a .315 on-base percentage, which is even lower than Giambi's .339.
In his 267 at-bats, Cust has 14 homeruns, 81 strikeouts, and 35 walks. His 41 RBI lead the team, but other than that, he's been very disappointing.
Though he's not on pace to break 197 strikeouts (as he did last season), he hasn't been very impressive this season.
In his last 10 games, he's been K'd 16 times. If the A's have any shot at making a run in the second half, Cust needs to cut down on the K's, and get his average up to the .250s.
Will he stay or will he go?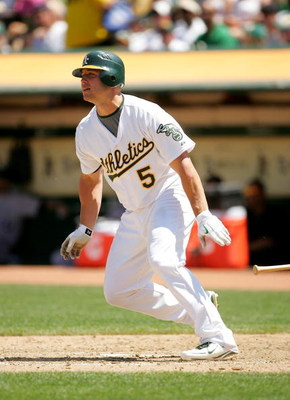 Will he be with the A's next half? Who knows? Billy Beane is very unpredictable; he might end up keeping Holliday for the remainder of the season.
But with his 280 at-bats with the A's this season, he's been extremely disappointing. He's currently hitting .275 and owns a .373 on-base percentage. Holliday has connected for 8 homeruns, which is way down from his days in Colorado.
According to several sources, the Cardinals are in the running for a Holliday trade. Though the asking price may prove too high, any deal is expected to include OF Ryan Ludwick.
Though his numbers are down, the A's are hoping Holliday can bounce back in the second half. If the A's can get production from Giambi, Cust, and Holliday, then they have a shot at making a run in the second half.
2nd Half Power Surge?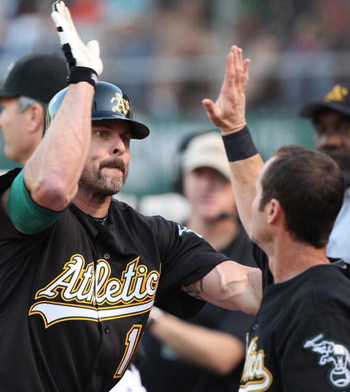 With a disappointing first half coming to a close, the A's look to improve their anemic offense.
If Giambi and Cust can hit consistently in the second half, the A's might have a chance to make some noise in the AL West.
With the Rangers and Angels improving each day, though, it might be extremely difficult to get out the hole they dug themselves in.
Keep Reading

Oakland Athletics: Like this team?