Following a gut-wrenching, last-second loss to Greece that eliminated Ivory Coast from the 2014 World Cup, head coach Sabri Lamouchi has made the decision to resign.
The 42-year-old, per the Agence France-Presse (via FIFA.com), announced the news after his team's defeat Tuesday night:
My contract comes to an end at this World Cup and there will be no epilogue and you can understand well as to why. It is logical as we did not do well at last year's Africa Cup of Nations or at the World Cup finals.

I am very disappointed and sad, and also for the players and the Ivorian people. However, my career carries on and there will be other defeats, though I would have liked this adventure to finish in a different fashion.
We were likely just a few seconds and one controversial call away from this story having a much different ending.
Ivory Coast only needed a draw Tuesday night to advance to the knockout stage for the first time in history, but a highly debated penalty call in the 92nd minute awarded Greece the game-winner and a spot in the round of 16.
It was a cruel way for Lamouchi's side to see elimination, but as Zonal Marking's Michael Cox and Fox Sports' Jamie Trecker noted, it was outplayed for much of the crucial fixture:
Thought Greece played that really well. Feel sorry for the Ivory Coast but it was foul, foul, foul in the second half from them

— Michael Cox (@Zonal_Marking) June 24, 2014
On the other hand, GRE hit woodwork three times, often carried the play and kept CIV stars very much under wraps

— FOX Soccer Trax (@FOXSoccerTrax) June 24, 2014
Unfortunately, that has been a constant theme for Ivory Coast, an extremely talented side that always seems to fail to live up to expectations in tournament play.
And Lamouchi's reign did nothing to quell that stereotype. Hired in May 2012, he coached the Elephants in two major tournaments—both of which resulted in frustrating performances.
In the 2013 Africa Cup of Nations, Ivory Coast—arguably the best team on the continent—bowed out against Nigeria in the quarterfinals. In Brazil, with a chance at redemption, it was unable to escape a straightforward World Cup group that featured Colombia, Greece and Japan. This marked its third group-stage exit in a row.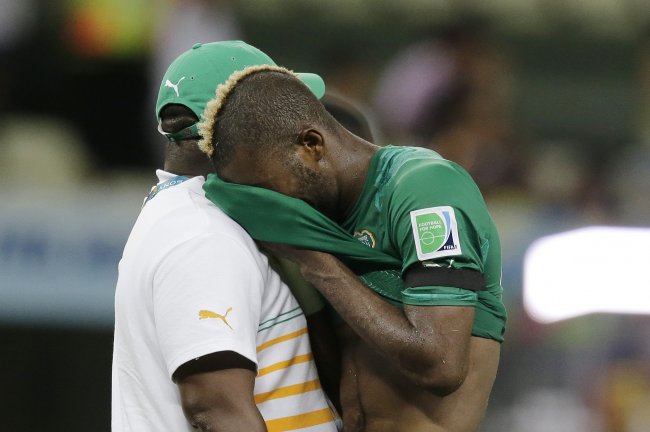 Bernat Armangue/Associated Press
Moreover, it was in fantastic position to advance on the last day of play but came through with a lackluster effort and gave up two goals to Greece, the most defensive-minded team in the tournament.
Fox Sports' Kyle McCarthy put it simply:
Disappointment again for #CIV. Another big spot. Another underwhelming display. But it's a cruel, cruel way to go out.

— Kyle McCarthy (@kylejmccarthy) June 24, 2014
All in all, it was a forgettable reign for Lamouchi in his first managerial position. At just 42 years old with World Cup experience, though, the Frenchman shouldn't have much trouble finding his next job.
As for Ivory Coast, it will now begin the search to find a leader capable of squeezing the most out of this team's immense talent.