The excruciating wait for the 2014 NBA draft is almost over, which means things are going to hit a fever pitch on the rumor mill.
As franchises desperately attempt to put themselves in a better position in what is one of the deepest drafts in recent memory, tidbits of info have a way of slipping out to the general public—both unexpectedly and with some motive in mind.
In some cases, these nuggets turn out to be true. That would explain why there is a frenzy each and every time the word "source" is uttered by anyone and why we're here today—to break down the latest buzz surrounding the proceedings that cannot get here soon enough.
Let's take a look.
No. 2 on the Move?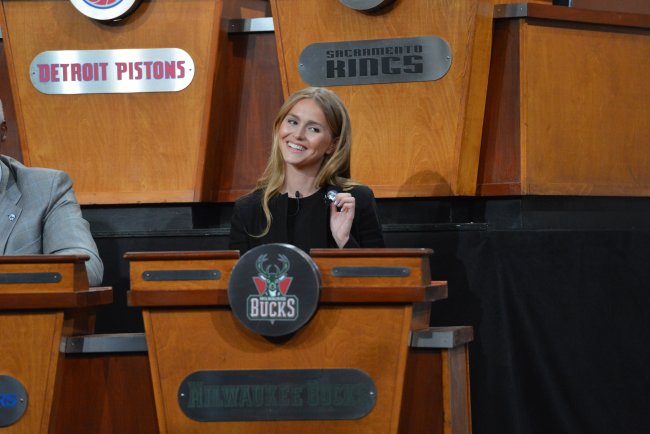 Jesse D. Garrabrant/Getty Images
While most of the attention at this juncture is leveled at the Cleveland Cavaliers and the top pick in the draft, the team just behind them is on the prowl for a deal as well.
Allegedly, of course.
Per Sean Deveney of Sporting News, plenty of pieces may be in play between now and when a team walks to the podium to announce the No. 2 overall pick:
While Milwaukee, which holds the No. 2 pick in the draft, as well as Nos. 31, 36 and 48 in the second round, remains engaged in trade talks, they are not actively seeking to trade power forward John Henson — though he is the guy who has drummed up the most interest, sources told Sporting News. They, will, however remain open to the idea if it nets a lottery pick.
General manager John Hammond has made it known the selection will not be easy at all to obtain, per the Bucks' Twitter account:
Hammond: It would take something very special (to trade the number two pick). #BucksDraft

— Milwaukee Bucks (@Bucks) June 24, 2014
It's not like the Bucks lack for draft picks, but after a miserable 2013 calendar year, Hammond and Co. might as well field offers for a top pick on the chance they get slipped a deal that can accelerate the rebuilding process.
On the flip side, keep an eye on the developments around John Henson.
The 23 year old is one of the most underrated bigs in the league at the moment (averages of 11.1 points and 7.1 rebounds per game last year) and might just secure yet another lottery pick for the team.
Denver and Dario Saric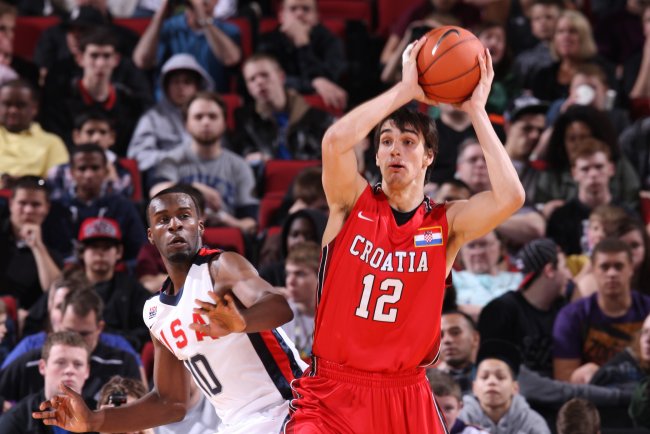 Sam Forencich/Getty Images
By some accounts, Denver is content with the state of their roster despite playing in the ultra-competitive Western Conference.
In turn, this may be what leads Dario Saric to town via the No. 11 overall pick...in a few years. Christopher Dempsey of The Denver Post hears those in power are not of the mind to bring on another immediate piece, which in turn leads to talk of Saric:
Nuggets execs are comfortable with the ability of the team they have coming back and believe it can be a playoff contender. A needed tweak here or there can be handled through free agency. They do not need a draftee to come in and play big minutes. They weren't going to necessarily need that anyway.

Saric's contract would give him an out after the 2015-16 season, and that would be perfect timing for the Nuggets.
Remember, Saric recently signed a deal overseas, which means he cannot play in the NBA for a few years, as noted by ESPN's Chad Ford:
Breaking: Dario Saric has agreed in principle to a three year deal with Anadolu Efes a source close to Saric told http://t.co/KQ6fwudeVT.

— Chad Ford (@chadfordinsider) June 23, 2014
That gives the Nuggets a buffer period to figure out if the current crop of players will be around for the long haul and keeps them on the court, rather than sacrificing their playing time to let Saric develop.
For now, Saric would get to develop overseas while the Nuggets get one heck of a future investment in return. We'll see if Denver likes the plan soon.
Pelicans on the Prowl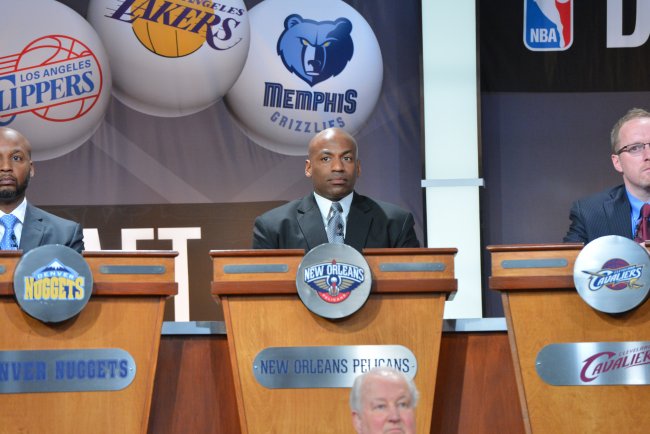 Jesse D. Garrabrant/Getty Images
For the first time in 12 years, the New Orleans Pelicans enter an NBA draft without a pick in either of the two rounds.
For now.
Head coach Monty Williams has stated his intention to get in the draft if possible, as recorded by John Reid of The Times-Picayune:
If there's an opportunity to get in the draft, we're going to look at it,'' Pelicans coach Monty Williams said. ''The one thing we don't want to do is be aggressive and put ourselves in a position to where we're hamstrung for awhile and can't make moves for the future.
But here is where things get juicy—Reid cites sources who say the Pelicans want to move into the first round, saying "According to league sources, the Pelicans are still having conversations with several teams about trying to trade into the first round to select a center or small forward, their two greatest need areas."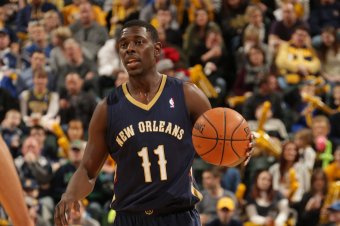 Ron Hoskins/Getty Images
Now we're cooking. Jrue Holiday is specifically mentioned, although even Reid concurs that the 24-year-old guard who posted averages of 14.3 points, 4.2 rebounds and 7.9 assists per game likely is not going anywhere.
Center is arguably the biggest need of all with names like Alexis Ajinca and Jeff Withey near the top of the depth chart, so it makes sense the Pelicans would try to nab a guy like Jusuf Nurkic in the first round.
So be careful on draft night, as any team that owns two picks may very well surrender one via trade during the course of their journey to the podium—if not sooner.