Uruguay's Luis Suarez played beautifully to end England's World Cup dreams on Thursday, but it was his dark side that came out against the Italians as his nation progressed to the last 16 with a 1-0 victory over Italy in Natal.
Suarez's double against England took his World Cup tally up to five goals in just seven appearances and made him a big threat to the Italians in the process, as OptaFranz revealed:
5 - @luis16suarez has scored 5 goals in 7 World Cup matches for #URU. Unerring. #ITAURU

— OptaFranz (@OptaFranz) June 24, 2014
However, he failed to get on the scoresheet and improve his tally despite playing against an Italy side that were a man lighter for much of the second half after Claudio Marchisio was sent off just before the hour mark.
In a disappointing first half of football, all Suarez contributed to the cause was a moment of humour following his reaction to an elbow from Andrea Pirlo, per ITV Football.
Luis Suarez looks deeply upset after Andrea Pirlo catches him with a flailing forearm – still #ITA 0-0 #URU pic.twitter.com/L1ZJXC4UFb

— ITV Football (@itvfootball) June 24, 2014
However, the Liverpool star's teeth were seemingly in full working order in the second half, as he appeared to bite Giorgio Chiellini's shoulder after the pair clashed in the penalty area. RTE Soccer caught the moment:
There has been an incident in the #ITA v #URU game involving Luis Suarez and Giorgio Chiellini: #rteworldcup pic.twitter.com/5dNaVidUEZ

— RTÉ Soccer (@RTEsoccer) June 24, 2014
Naturally, after such a ludicrous moment of madness, the Twitter world went berserk—including Gary Lineker, Michael Owen and Luke Donald:
Suarez has bitten Chiellini!!!

— Gary Lineker (@GaryLineker) June 24, 2014
I'm genuinely gutted. I love watching him play more than any other player but he obviously just can't control himself.

— michael owen (@themichaelowen) June 24, 2014
Let me guess "His shoulder got in the way of my teeth" #wow #Suarez #bitingagain

— Luke Donald (@LukeDonald) June 24, 2014
Just two minutes later, Uruguay were ahead thanks to Diego Godin's header (well, back) as SB Nation revealed:
#URU went up 1-0 on this goal and have the Round of 16 in their sights: http://t.co/z8v5zl3kFg https://t.co/ah2S20u8CK

— SB Nation (@SBNation) June 24, 2014
The skipper has been an inspiration for the South Americans' cause in Brazil, and it's only fitting that his goal sends them through to the last 16.
The defender has scored some incredibly important goals in recent times for Uruguay, and as WhoScored.com revealed, his form in front of goal has been superb:
Diego Godín: Has now scored 3 goals in his last 6 appearances for club and country #uru

— WhoScored.com (@WhoScored) June 24, 2014
Sports Illustrated's Grant Wahl also remarked on Godin's habit of scoring big goals, but Suarez's actions stole the limelight:
Another huge Diego Godín header goal off a set piece. Uncanny. (I'm still stunned on the Suárez thing.)

— Grant Wahl (@GrantWahl) June 24, 2014
With the referee not taking any action against Suarez, FIFA will likely come in and inflict a hefty ban on the Liverpool striker depending on their findings.
It would be lovely to say that the 27-year-old's actions were out of character, but we've unfortunately seen them all before.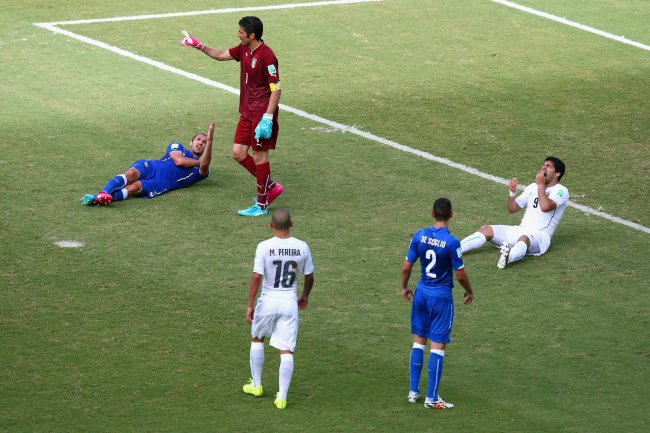 Julian Finney/Getty Images
Though Uruguay are through to the round of 16 to possibly face Colombia, they'll likely be without their star man, who showed the ugly side of his incredible all-around game once again.
The potential ban certainly won't end there, though, and international football could be without Suarez for some time—deservedly so, too, if the bite is proven.