The Los Angeles Lakers' whirlwind of an offseason is just getting underway.
After a historically dismal season in 2013, this team is looking to make waves in many departments over the summer. The team's head coaching search continues, the draft is only two days away and rumors of Los Angeles attempting to bring in some top-tier free agents are plentiful.
With all of the changes the Lakers are expected to undergo—be it on the roster or in the staff—the web is full of gossip surrounding the team.
Let's take a look at some of the juiciest Lakers rumors that have recently surfaced.
Lakers Coveting Kyle Lowry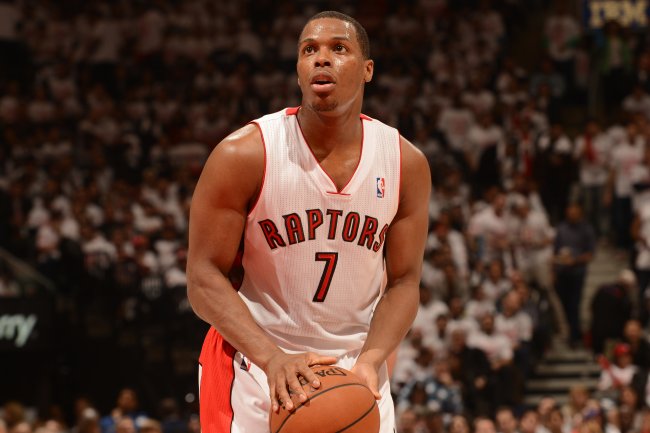 Ron Turenne/Getty Images
It's no surprise to hear Los Angeles is interested in a point guard. After all, that position remains a major team need, and many mock drafts have speculated the team will take a prospect such as Oklahoma State's Marcus Smart with the No. 7 pick in the draft to fill the void.
As it turns out, Los Angeles could be looking to acquire a veteran instead. According to a report from David Aldridge of NBA.com, "Raps have a decent shot at keeping Kyle Lowry, but there will be suitors—and the Lakers are at the top of the list."
Bringing in Lowry to form a duo with the electrifying Kobe Bryant simply seems unfair.
We all know what Bryant is capable of when healthy, and adding Lowry's averages of 17.9 points, 4.7 rebounds and 7.4 assists per game last season would be the icing on the cake.
Alex Kennedy of Basketball Insiders tweeted that Lowry would be happy staying in Toronto for next season:
With that said, I've also heard from people in Kyle Lowry's life that the PG is happy in Toronto and will seriously consider re-signing.

— Alex Kennedy (@AlexKennedyNBA) June 17, 2014
However, joining the Lakers must be at least slightly intriguing for the point guard.
Kobe Courting Melo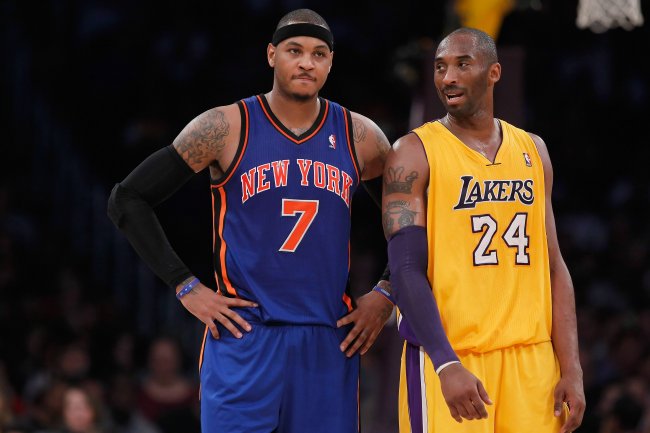 Jeff Gross/Getty Images
Could Bryant have begun the recruiting process for Carmelo Anthony already?
According to a tweet from ESPN's Chris Broussard, sources believe Bryant met with Anthony while he was in Paris:
Melo returning 2day from Paris. Flying 2 LA. Sources say Kobe, n Europe 2, met w/him but Kobe denied it. Said he'll meet w/Melo n future tho

— Chris Broussard (@Chris_Broussard) June 24, 2014
This seems like a bit of a long shot considering Eric Pincus of the Los Angeles Times recently reported Bryant was in Brazil for the World Cup. Regardless, it does seem as though Bryant is interested in bringing Anthony aboard.
At 30 years of age, the small forward proves year after year he has plenty left in the tank. Just last season, Anthony averaged 27.4 points, 8.1 rebounds and 3.1 assists per game while shooting 45.2 percent from the floor and 40.2 percent from downtown.
Adding that kind of scoring to the Lakers offense will get this team back on track in a hurry.
Coaching Search Winding Down?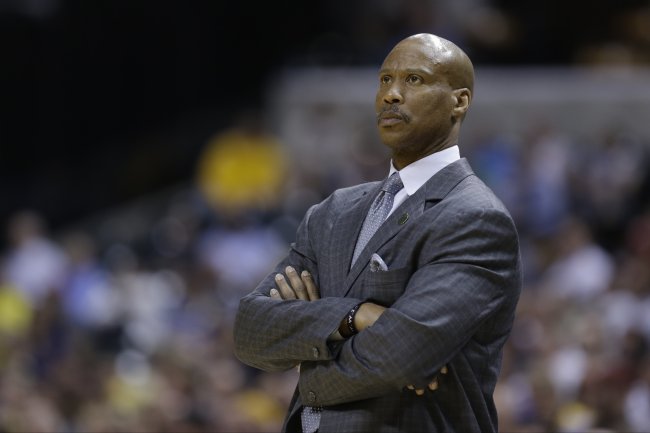 Michael Conroy/Associated Press
The Lakers appear to be entering the draft—and possibly the beginning of the free-agency period—without having named a head coach.
The search could be winding down though, according to a report from Ramona Shelburne of ESPN.com:
While the Lakers remain focused on Thursday's draft and the start of free agency July 1, sources tell ESPN.com that former star Byron Scott has emerged as the leading candidate for the head-coaching job after impressing in three interviews with the team.

Talks with the former Nets and Cavaliers coach have not progressed to the contract stage, as the Lakers continue to weigh whether to hold off on hiring a coach before they make their pitches to free agents.
Scott is no stranger to the Lakers organization, having played there during the team's great run in the late 1980s.
He hasn't been able to duplicate the same success as a coach; however, he did manage to reach the NBA Finals in two consecutive seasons with the New Jersey Nets.
Scott holds a career regular-season coaching record of 416-521, but has done well in the playoffs, amassing a career record of 33-24.