The game plan is working.
Nico Rosberg was never expected, and perhaps was never expecting, to defeat Lewis Hamilton, his Mercedes teammate, to the 2014 world championship on pace alone.
Who, after all—apart from Sebastian Vettel—can hold a candle to Hamilton in terms of absolute, unadulterated speed behind the wheel of a Formula One car?
No—Rosberg, rather than fighting fire with fire, had to sneak round the back. He had to go overground. He had to go underground.
Tactical nous, a pragmatic intellect and an interest in engineering would all be vital parts of Rosberg's armoury in his year-long fight with Hamilton.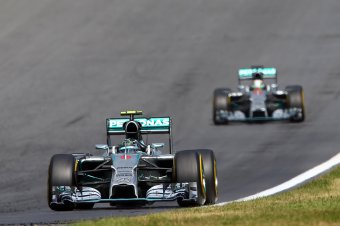 Mark Thompson/Getty Images
Following the Austrian Grand Prix, Rosberg now has a 29-point lead over his teammate in the drivers' standings.
And with three pole positions to his name already, his natural pace isn't too shabby either.
Ahead of the race weekend at the Red Bull Ring, Rosberg himself discussed the importance of a psychological advantage in the title race, explaining the importance of his return to the top step of the podium in last month's Monaco Grand Prix, which ended Hamilton's career-best four-race winning streak.
The German was quoted by BBC Sport as stating:
It was really important to bring that run to an end because psychology is a big part of sports.

If you have those results behind you, like I do now, it gives you that little bit extra, that little bit of an edge, so it does help.
Given the run of form of Hamilton and Rosberg in the two races since the grand prix on the French Riviera, the Monaco Grand Prix—and particularly the controversial events of that qualifying session—now appears to have been something of a psychological turning point for both Mercedes drivers.
For Rosberg, that pole position in Monaco—despite its unfortunate circumstances—represented the German not only stemming the flow of Hamilton's domination between the Malaysian and Spanish Grands Prix, but a regaining of his confidence.
His displeasure at being beaten by Hamilton in four consecutive races was ever clearer as each race weekend ticked by, but a front row start at Monaco, the circuit with the fewest overtaking opportunities on the entire F1 calendar, gave Rosberg the chance to beat his teammate in a truly head-to-head battle for the first time in 2014.
The comfort with which Rosberg dealt with the relentless charge of Hamilton, who was still angered by the events of the previous 24 hours, around the tight and twisty streets for around two-thirds of the Monaco Grand Prix only aided his resurgence.
The two-week gap which separated the Monte Carlo and Canadian races was a disadvantage for Hamilton, who would arguably have been more suited to responding immediately to the bitterness of the Monaco weekend with little time to reflect and reconsider.
As it turned out, however, Hamilton did reflect and reconsider, offering an olive branch to Rosberg via Twitter nine days prior to the next race at the Circuit Gilles Villeneuve.
We've been friends a long time&as friends we have our ups&downs. Today we spoke&we're cool, still friends #noproblem pic.twitter.com/xhZlf4qMv9

— Lewis Hamilton (@LewisHamilton) May 30, 2014
Did this hullabaloo distract or even soften Hamilton ahead of the Canadian Grand Prix?
Possibly, but the lock-up halfway around his qualifying lap was an uncharacteristic mistake by the 2008 world champion at a circuit where he usually thrives.
And although his retirement the following day was unfortunate, Rosberg's ability to manage a technical problem which Hamilton in the same car could not only backed theories that the German's methodical approach would ultimately allow him to triumph.
The Austrian Grand Prix, though, was anyone's race as far as the Mercedes drivers were concerned.
As a new circuit on the calendar, the key to the weekend sat with the driver who adapted quickest to the Red Bull Ring, and then use that to their advantage when it really mattered.
To Hamilton's credit, he seemed to have a strong grip of the circuit, with the official F1 website recording the British driver as faster than Rosberg in both Q1 and Q2.
Like Rosberg in qualifying for the Spanish Grand Prix, however, Hamilton could not carry his early advantage into Q3, running wide at Turn 8 on his first run—which led to the time being deleted—before spinning at Turn 2 on his last lap while trying to make amends.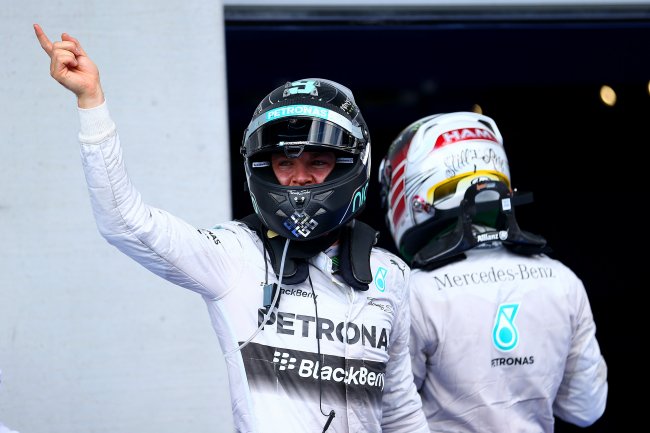 Mark Thompson/Getty Images
From that moment, the race weekend became a wasted opportunity, a damage limitation exercise instead of a chance to erode Rosberg's championship lead.
Although Hamilton battled through the pack on the first lap to eventually finish second to Rosberg, there is a worrying trend appearing in Hamilton's qualifying performances.
The 29-year-old's failure to utilise his first run in Q3 was shunned into the background in Monaco after Rosberg's infamous off-track excursion at the Mirabeau corner, but has since appeared to grow into a habit.
The psychological risks of this are clear, with Hamilton perhaps putting himself under too much pressure to record a strong initial baseline ahead of his final Q3 lap. And when he fails to achieve that banker lap, the pressure is only increased for his final effort as the clock ticks down and the inevitable mistakes occur.
Hamilton has recently lost the fluidity and effortlessness in his approach as well as his driving style—but credit must go to Rosberg for rattling his Mercedes partner.
That was an amazing weekend for us. I have to thank the team for a great car and a perfect strategy! @MercedesAMGF1 pic.twitter.com/4ytbC0UisR

— Nico Rosberg (@nico_rosberg) June 22, 2014
In addition to the psychological edge, Rosberg now has the largest numerical advantage that either Mercedes driver has enjoyed so far this season.
Rosberg's 29-point advantage is such that even if he were to retire from the next race at Silverstone with Hamilton winning on home soil, the German would still lead the drivers' championship—and that alone can carry its own psychological effects.
Although, with over half of the season remaining, it is far too early to claim that Rosberg already has one hand on the crown, he is arguably in a better position than even he could have hoped for at this stage of the campaign.
The game plan is working.