Mexico forward and superstar Javier "Chicharito" Hernandez may have been delegated as a substitute heading into the World Cup, but he made a world-class impact on Monday's 3-1 victory over Croatia.
Mexico needed a draw or victory against Croatia to ensure their advancement into the knockout stage, and it looked like a draw was in the cards when the match was tied 0-0 in the second half. But Chicharito and the rest of the Mexico attack broke the floodgates wide open down the stretch.
After an offensive flurry in the final portion of the match, Mexico prevailed in impressive fashion.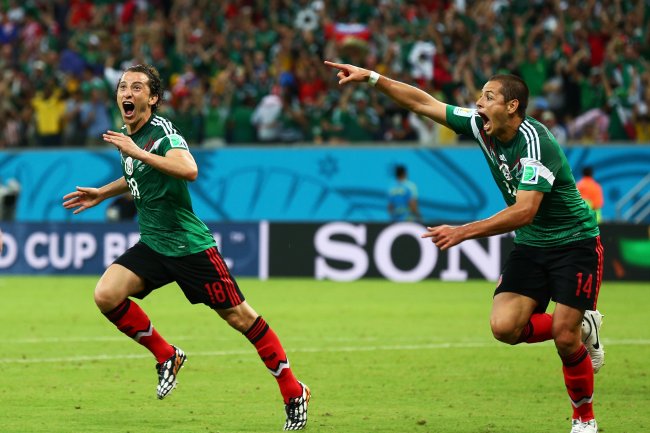 Robert Cianflone/Getty Images
Jeff Borzello of CBS Sports commented on how Chicharito didn't waste much time making his presence felt in the second half when he subbed in:
Chicharito completely changed the game when he came on.

— Jeff Borzello (@jeffborzello) June 23, 2014
He attacked down the middle of the field on a cross but was pushed from behind right in front of the net. It really should have been a penalty kick, which would have been monumental at that point in the scoreless battle. Yet Chicharito did not get the call.
Marcus Thompson of Bay Area News Group certainly enjoyed the Mexican star's reaction to the no call:
Chicharito looked at him after that foul like "OK. That's how you wanna play?" hahahaha

— Marcus Thompson (@ThompsonScribe) June 23, 2014
Finally, though, Mexico scored two quick goals. Chicharito then added the cherry on top with a beautiful header late in the contest. Squawka Football captured the goal, while Getty Images was there to highlight the emotion:
Classic Chicharito! Real poachers effort for Mexico vs. Croatia. https://t.co/6NSMB0XIik (Via @turkishgoal). #MEX

— Squawka Football (@Squawka) June 23, 2014
Let's make that 3 goals for #MEX in a span of about 10 mins. #Chicharito celebrates as #MEX leads 3-1 against #CRO. pic.twitter.com/8JnPRYFtsy

— Getty Images Sport (@GettySport) June 23, 2014
The excitement even got to New York Times best-selling author John Green:
CHICHARITO!!!!!!!!!!!

— John Green (@sportswithjohn) June 23, 2014
It was an especially important goal for Chicharito on a personal level after his recent struggles and his status as a substitute thus far in the World Cup. ESPN FC described exactly why that was:
If there's any doubt what this goal means to Chicharito: He ends an 11-match, 564-minute scoreless streak with #MEX pic.twitter.com/JUBYps5D1d

— ESPN FC (@ESPNFC) June 23, 2014
Of course, Dan Levy of Bleacher Report looked at it from another angle. This was likely the way Croatia fans saw the goal as well:
Even Chicharito scored. EVEN CHICHARITO. C'mon, Croats.

— Dan Levy (@DanLevyThinks) June 23, 2014
Soccer writer Juan Arango and Squawka Football put the goal in something of a historical perspective. Despite the recent struggles, Chicharito's young age and ability to shine on this stage should have Mexico fans excited:
Chicharito is now third all-time for #MEX in goals scored with 36, surpassing Luis Hernández and Carlos Hermosillo

— Juan Arango (@JuanG_Arango) June 23, 2014
Javier Hernandez has now scored 36 goals for #MEX. Still only 26! pic.twitter.com/dOvZcdiCmy

— Squawka Football (@Squawka) June 23, 2014
Of course, because Mexico won they will advance to the elimination rounds. They will take on Netherlands, who have looked absolutely dominant throughout the World Cup thus far. Paul Carr of ESPN noted that this is just business as usual for the Mexican team:
Most consecutive World Cups past the group stage (active streaks): Germany 15, Brazil 12, Mexico 6.

— Paul Carr (@PCarrESPN) June 23, 2014
In years past, it would be easy to look at the impending Mexico and Netherlands game and assume the European side will emerge victorious. However, CONCACAF has fared well in the 2014 World Cup, and Chicharito himself even suggested as much after Monday's game, via Tim Fontenault of The Daily Campus:
"CONCACAF is there. It's not an easy part of the world." Well said by Chicharito. I say things about qualifying, but I am pulling for #MEX.

— Tim Fontenault (@Tim_Fontenault) June 23, 2014
If Mexico can remain close or tied into the second half against Netherlands, Chicharito could have a similar impact as he did against Croatia on the offensive side. His athleticism, freshness and speed is difficult to deal with for the tired legs of the opposing defense in the second half of games, and that may be the case again against Netherlands.
It certainly was for Croatia.