Could Schalke's Cameroonian international Joel Matip—a 22-year-old, 6'5", 194-pound centre-back/central midfielder—be Arsenal's Thomas Vermaelen replacement?
To address that hypothetical, this article grades Matip vs. Brazil at the 2014 FIFA World Cup and provides a scouting report of his season for Schalke.
Matip vs. Brazil Grade: B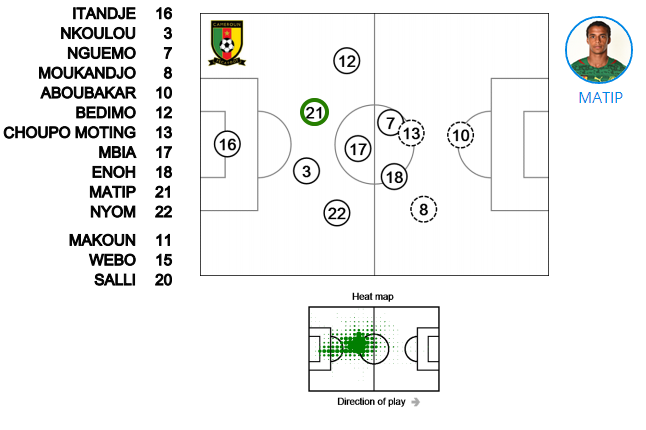 FIFA.com
Matip spent the game bailing out centre-back partner Nicolas N'Koulou during Cameroon's 4-1 defeat to Brazil.
FULL TIME: Cameroon 1 Brazil 4—The host nation top Group A.

— B/R Football (@br_football) June 23, 2014
N'Koulou struggled dealing with Brazilian centre-forward Fred, a player not rated by all-time Premier League top scorer Alan Shearer.
"He [Fred] doesn't move, he doesn't shoot and he's dragging the team down...but the fact is that Fred is not the answer for what they [Brazil] are doing now," Shearer said, per Fernando Duarte at ESPN FC. "I just don't understand why Brazil are still picking him."
The most joyful #WorldCup photo yet. @DavidLuiz_4 loves on Fred pic.twitter.com/5VyHxGcval

— Bleacher Report UK (@br_uk) June 23, 2014
While N'Koulou toiled, Matip won back the ball 10 times with five interceptions and five blocks, per Squawka.com.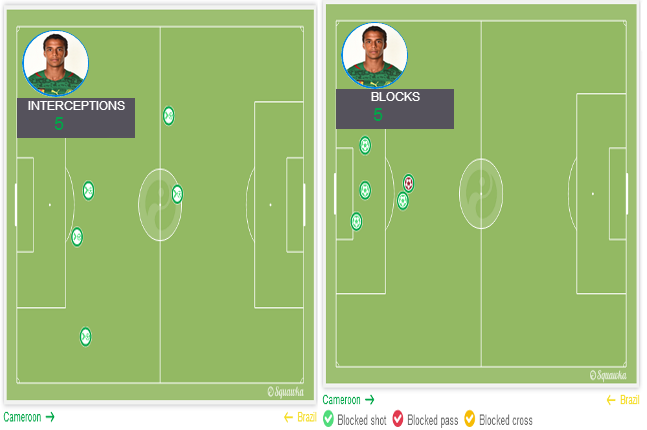 Squawka.com
Matip also poached a goal taking advantage of Brazilian centre-back David Luiz ball-watching.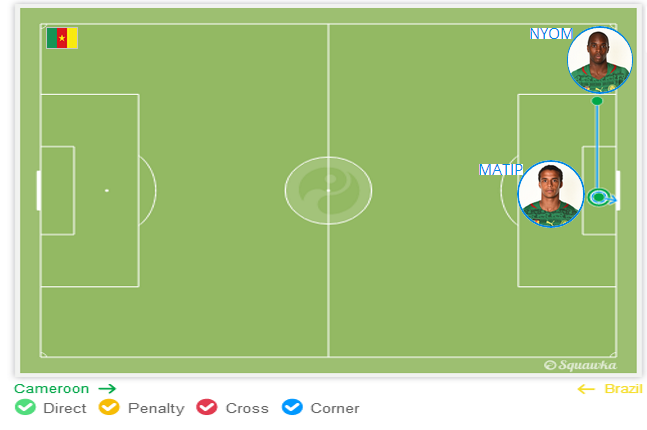 Squawka.com
Wow! Joel Matip's face says it all as he scores his first ever #CMR goal @s04 #WorldCupByBundesliga pic.twitter.com/f4aQx0ByGf

— Bundesliga (@Bundesliga_EN) June 23, 2014
Matip Schalke Positives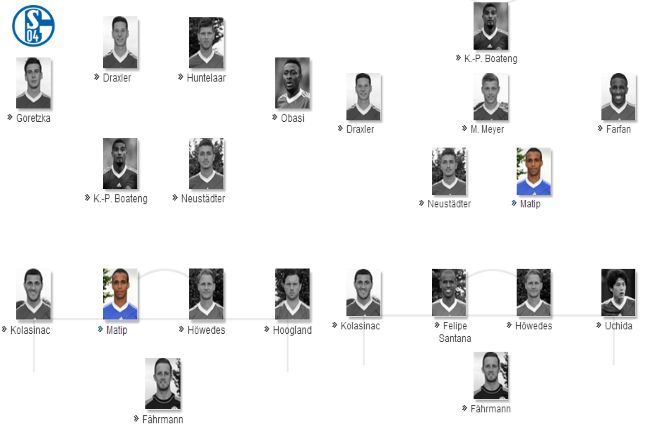 Kicker.de
Able to play at centre-back and in midfield, Matip can be a handy squad addition to Arsenal.
Matip works hard without the ball like combining with Schalke centre-back Benedikt Hoewedes to thwart Hoffenheim centre-forward Sven Schipplock.
| | | | | |
| --- | --- | --- | --- | --- |
| League Only | Joel Matip | Laurent Koscielny | Per Mertesacker | Thomas Vermaelen |
| Tackles Per Game | 2.4 | 1.7 | 1.2 | 1.0 |
| Fouls Per Game | 1.3 | 0.9 | 0.3 | 0.4 |
| Tackles Per Foul | 1.8 | 1.8 | 3.4 | 2.3 |
| Interceptions Per Game | 2.5 | 2.8 | 1.7 | 1.4 |
| Headers Won Per Game | 4.3 | 1.6 | 2.7 | 2.4 |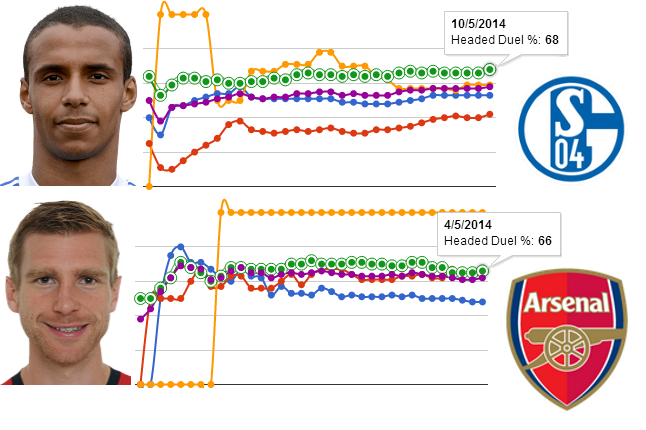 Squawka.com
Matip is a productive ball-winner, winning back possession 4.9 times per game while also being substantially more prolific in the air than Koscielny, Mertesacker and Vermaelen.
This is why Matip scored headed goals against Eintracht Frankfurt, Hoffenheim and Nurnberg.
12 - All 12 Bundesliga goals of Schalke's Joel Matip were scored from set play. Specialist.

— OptaFranz (@OptaFranz) May 10, 2014
Matip Schalke Negatives
Even though Matip started 94.7 percent of his combined Bundesliga/UEFA Champions League games at centre-back, his dubious defensive positioning is a reason to shift him back into midfield.
Bayern Munich left-winger Franck Ribery blindsided Matip to score.
Matip was two steps behind Borussia Dortmund right attacking midfielder Pierre-Emerick Aubameyang.
Bungling a clearance enabled Stuttgart centre-forward Cacau a clear sight on goal.
Forgetting to be on the near post would have been pointed out as a mistake by Matip if he did not get a reprieve via the crossbar stopping Nurnberg centre-back Per Nilsson's header.
Bottom Line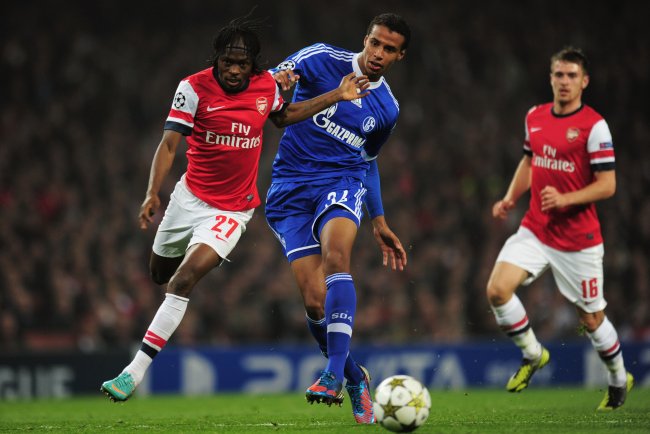 Shaun Botterill/Getty Images
Matip is still a work in progress as a centre-back, but he has excellent potential as a midfielder.
He is mobile, a solid tackler, cuts off passes and is superlative in the air. At 22 years of age, Matip has time to develop into an elite footballer either in defence or in midfield.
If Arsenal lose Vermaelen, per Sky Sports, manager Arsene Wenger should consider signing Matip in the summer transfer window.
3) Arsenal REJECT Man United's bid for Thomas Vermaelen. http://t.co/CoGX6Q3S0M

— Mirror Football (@MirrorFootball) June 23, 2014
Statistics via WhoScored.com.