No matter what certain Ohio residents think of LeBron James, he has always loved the Buckeye State.
Every offseason, the Miami Heat star and his family return to their home in Akron, Ohio, to spend the summer. It's a tradition—nothing new. However, with the looming possibility of James entering free agency in the near future, his annual return to his home state is causing a riot of speculation among NBA fans and experts.
To give you an idea of how frantic the rumor-mongering has become, an image posted to social media this week by James' wife Savannah has caused an all-out blitz of wild conjecturing on the Internet.
Savannah posted a picture of the state of Ohio to Instagram on Sunday night.
James' wife captioned the image, "Home sweet home!! The countdown is real! #330."
Naturally, the denizens of the Internet decided this picture was an official announcement that her husband intends to leave Miami for the Cleveland Cavaliers.
RUMOR | Lebron James might end up back in Cleveland with the Cavaliers.

— SneakHeat.com (@SneakHeat) June 23, 2014
LeBron James' wife posted a pic from Akron, Ohio saying "Home Sweet Home"...word is LeBron and Carmelo are going to Cleveland together...

— Ty Thompson (@Ty_Thompson9) June 23, 2014
While the thought of James using his wife's Instagram to announce such a move makes for great First Take fodder, our very own Ethan Skolnick reports that Savannah's picture had nothing to do with basketball.
I've been assured that the Instagram post from Savannah James had nothing to do with basketball. Just excited to spend summer in Akron.

— Ethan J. Skolnick (@EthanJSkolnick) June 23, 2014
I'm sorry, Cleveland rumor-mongers. There's nothing here to support the idea that James plans to come back.
Ira Winderman of the Sun-Sentinel reports James has just returned from a family vacation in the Bahamas with Ray Allen, James Jones and their respective families, but he remains tight-lipped concerning the possibility of free agency.
Winderman writes, "LeBron has a June 30 deadline to decide whether to opt out of his Heat contract and become a free agent on July 1. ... James addressed the media last week but declined to detail his immediate plans."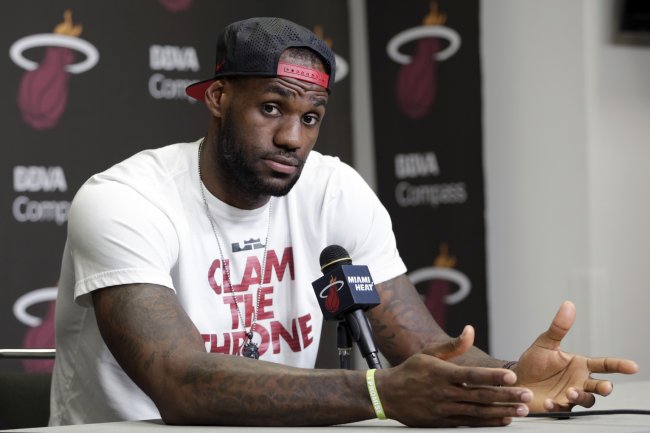 Alan Diaz/Associated Press
In other words, no one knows what James plans to do, and it's forcing people to draw extreme conclusions from shoddy evidence.
What we do know is that James will have to make a decision in the next week, and when he does, you can bet he won't be doing it via his wife's Instagram page.
We all know he needs a much bigger stage than social media for these things.
On the Twitters.