Milwaukee Bucks co-owner Marc Lasry isn't a man of mystery; he is a man of wholesale honesty.
Speaking to the Milwaukee Press Club Monday morning, Lasry tipped the Bucks' draft-night hand, per Charles F. Gardner of the Milwaukee Journal Sentinel:
Lasry is ruling out Bucks taking Embiid. "Our decision got a lot easier, mainly because Embiid got hurt."

— cfgardner (@cf_gardner) June 23, 2014
Lasry offered additional context on why the Bucks aren't prepared to draft Joel Embiid:
"It's hard to take Embiid," Lasry said. "We want somebody who is going to help us on Day 1."

— cfgardner (@cf_gardner) June 23, 2014
This is something we could have assumed for ourselves following Embiid's foot injury, but it's surprising to hear an NBA owner—or any NBA executive—be so candid this time of year.
Bare-faced honesty isn't customary so close to the draft. Now is the time for deflections, distractions, secrecy and, yes, outright lying. B/R's Jonathan Wasserman cited an example of this from just a year ago:
Keep in mind it was this time last year when it was leaked that Alex Len was new favorite to go No. 1 to Cavs. Lots of smoke final few days.

— Jonathan Wasserman (@NBADraftWass) June 23, 2014
What Lasry said was predictable. The fact that he said it, though, is unusual.
It's also a sign of how far Embiid's stock will fall.
Some would have called him a steal at No. 2 just days ago. He sat perched atop most mock drafts for months after showcasing a skill set similar to that of Hall of Famer Hakeem Olajuwon.
Red flags were already surrounding Embiid because of prior issues with his back and knee. The foot injury has only made things worse and provided more questions than answers about his basketball future, as noted by Alex Kennedy of Basketball Insiders:
Joel Embiid has now had injuries to his knee, back and foot in his brief four-year basketball career. That's going to scare a lot of teams.

— Alex Kennedy (@AlexKennedyNBA) June 19, 2014
Severity of his latest injury aside, this is a cut-and-dry case.
The Bucks want to draft someone who can play now. Embiid's recovery time doesn't fit that bill of immediacy, per Sports Illustrated's Chris Mannix and Yahoo Sports' Adrian Wojnarowski:
Several medical experts have described Embiid's type of injury to me as serious. Say navicular bone is the slowest healing in the body

— Chris Mannix (@ChrisMannixSI) June 19, 2014
Joel Embiid's recovery process is expected to cover 4-to-6 months, sources tell Yahoo Sports.

— Adrian Wojnarowski (@WojYahooNBA) June 20, 2014
Who will the Bucks turn their attention to with Embiid out of the picture? Well, that may be up to the Cleveland Cavaliers, who hold the No. 1 pick.
Andrew Wiggins and Jabari Parker are now the two favorites to go first overall with Embiid effectively out of the running. The Bucks will be left to take whomever the Cavs don't select, giving them the easiest decision of any team in the draft.
Unless they decide to throw a curveball.
Wasserman has the Bucks throwing us all for a whirl in his latest mock draft, as he believes the team will select Australian guard Dante Exum.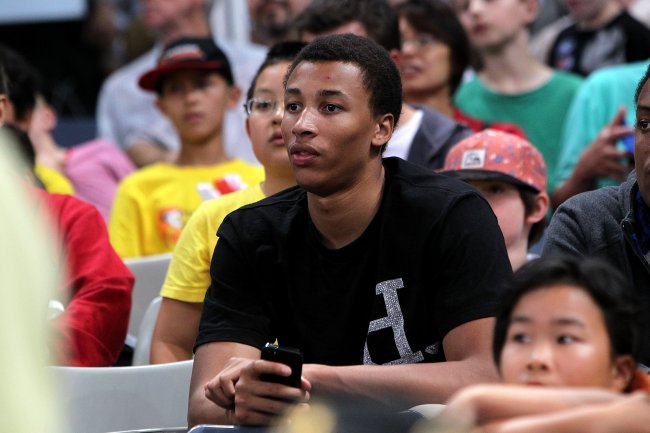 Graham Denholm/Getty Images
"Dante Exum isn't exactly the highest-profile prospect in the class, but he could be when we look back a few years from now," he writes. "And I continue to hear the Milwaukee Bucks are interested in finding out for themselves."
Who is better fit for the Bucks select at No. 2?
Drafting Exum would come as a shock with Brandon Knight and Nate Wolters already on the roster. But Exum is touted for his ability to play either guard position, so it's not that much of a stretch.
Then again, passing on Parker or Wiggins won't be easy, and there's no telling if Milwaukee has the guts to make a reach this high with one of those two players guaranteed to be on the board.
All we know for sure is that the Bucks have options at No. 2.
And Embiid is no longer one of them.