The NBA draft is Thursday, and while there is a brand of mystery associated with the selections, a lot of the intrigue is centered around potential trades.
A good number of teams are said to be considering moving up or down and teams without a first-round selection are trying to get one of the first 30 picks.
The draft class is viewed as a deep one, so there is increased value in first-round picks. Because of the perceived depth, there's potential that picks could be part of a few major deals.
Here's the latest information.
Knicks Want in to First Round and Bulls Want Melo. So...
Several teams want to acquire a first-round pick (Warriors, Blazers, Pelicans, Knicks), but teams are really valuing their firsts this year.

— Alex Kennedy (@AlexKennedyNBA) June 21, 2014
It's well documented that the Chicago Bulls and free agent Carmelo Anthony have mutual interest. If Melo chooses the Bulls from his many suitors, then a sign-and-trade deal seems to be at least possible.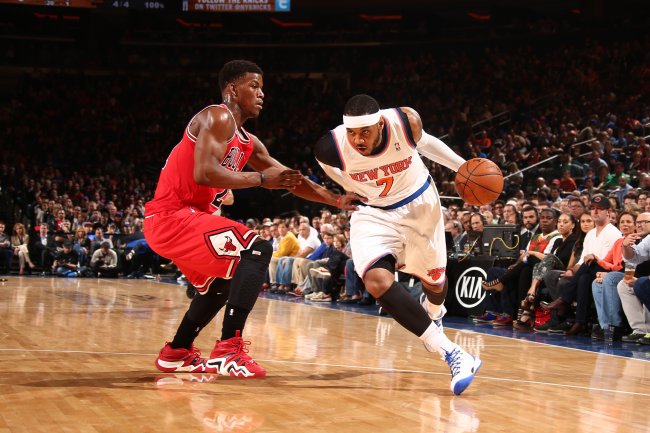 Nathaniel S. Butler/Getty Images
Here's why: The Bulls currently have both the 16th and 19th picks in the first round. The Knicks are devoid of a first-round pick as part of the trade that brought Melo to New York from Denver.
Per Marc Berman of the New York Post, the Knicks are also reportedly high on P.J. Hairston out of the D-League and North Carolina.
If the Bulls package one of those picks with Carlos Boozer, the teams could potentially come to some agreement that would land Melo in Chicago, and the Knicks would get something back out of the deal.
Boozer will be a free agent after the upcoming season. His $16.8 million salary will be coming off the books. Wouldn't this be a win-win situation for both teams if Melo chooses to leave town?
More Bulls Talk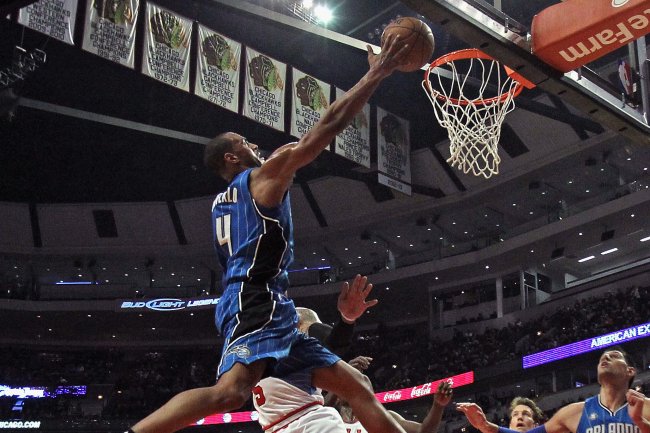 Jonathan Daniel/Getty Images
Perhaps it's a Plan B, maybe it's an idea to show Melo just how serious it is about winning, but Chicago is reportedly interested in dealing for the Orlando Magic's Arron Afflalo, per Adrian Wojnarowski of Yahoo Sports.
Wojnarowski writes:
"Chicago owns the 16th and 19th overall picks in the draft, and assuredly one of those selections would be included in a possible package with the Magic."
There's talk that chasing Afflalo could eliminate the Bulls from the Melo derby, but that all depends on how much of a pay cut Anthony is willing to take, and whether or not the Bulls are willing to go near the luxury tax threshold.
Chicago would need to do a good number of cost-cutting deals to get both players and maintain its core, but the potential lineup NBA Legion mentions is pretty darn impressive.
The Bulls lineup would be scary. Derrick Rose, Arron Afflalo, Carmelo Anthony, Taj Gibson and Joakim Noah. Jimmy Butler 6th man. WOW

— NBA Legion (@MySportsLegion) June 22, 2014
Lakers Possibly Shopping the No. 7 Pick
Marcus Smart would be an excellent selection for the Los Angeles Lakers at No. 7, but per Marc Stein of ESPN, the team is apparently interested in seeing what it can get for the pick.
Word is Lakers more likely than not to keep No. 7 but they ARE exploring what can be had for their pick (either solo or packaged w/SNash)

— Marc Stein (@ESPNSteinLine) June 21, 2014
Dumping Steve Nash could clear up room for the Lakers to make a significant run at a quality free agent like Anthony.
With Kobe Bryant saying he's 100 percent in the video below, the team might be looking to take advantage of one of their all-time great's final seasons:
The Lakers would be compromising a bit of their future by dealing a lottery selection, but depending on what the No. 7 pick can fetch, a move could make the team a contender next season.
Follow me on Twitter.