Washington Wizards' 2014 NBA Draft Big Board
June 22, 2014

Gary Dineen/Getty Images
When fans tune in to the NBA draft this week, they'll mainly be focused on the first round. That's when all the big names come off the board, and there's the greatest chance for big-time trades to go down.
Although the Washington Wizards, barring a trade, won't be making a pick in the first round this season—they traded away their first-round pick to the Phoenix Suns in exchange for Marcin Gortat last offseason—by the time their selection comes at the No. 46 overall spot, there's still opportunity for improvement on the roster.
After all, Danny Green of the San Antonio Spurs was the No. 46 overall selection in the 2009 draft, and Jeff Hornacek went at that spot to the Suns in the 1986 draft. That's not to say the Wizards will definitely find a player in the second round who can be immediately as productive as Green, but it's certainly not a worthless draft pick.
The Wizards can use this pick to build up their depth on the bench and take a player who can develop over the long run into a solid contributor to this team. Here are three players the Wizards should be looking at Thursday night when their pick comes up in the second round, put in order of which player would be the best option for Washington.
Some things that the Wizards should take into account when looking at these players are how well they fill a need for the team, how talented of a player they are and how much upside the player has, given that they won't be an immediate starter.

Kevin C. Cox/Getty Images
3. Jabari Brown, SG, Missouri
Last season, the Wizards had to mainly rely on Martell Webster to play double duty of being the backup small forward and shooting guard. Garrett Temple was used mainly for defensive purposes, and thankfully Bradley Beal and Trevor Ariza both stayed healthy for the majority of the season, so Webster was fine coming off the bench.
However, drafting Brown would give the Wizards a security blanket at shooting guard and a potential true backup to Beal. In his redshirt junior year at Missouri, Brown was named to the SEC All-Conference First Team and was the Tigers' primary scoring option.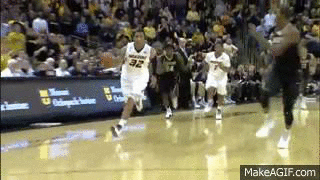 Original GIF
Brown averaged 21.6 points on 46.7 percent shooting per 40 minutes, mainly getting the job done from beyond the arc. He's a primary jump-shooter, who knocked down 41 percent of his three-point shots. He mainly creates his own shot, such as this one in the GIF below, but sometimes to a fault, averaging just 1.9 assists per game last season with the Tigers.
The low assist numbers worry Ben Standig of Comcast SportsNet, who wrote that he is "a tad infatuated" with his own offense.
Still, his catch-and-shoot ability would fit well in Washington's offensive game plan. The Wizards finished tied for fourth in the league in three-point shooting percentage, according to NBA stats, and most of the offense relies on John Wall driving to the basket and either kicking it out to a shooter on the wing or attempting a layup.
Brown wasn't asked to pass much at Missouri, and in Washington's offense, he wouldn't be handling the ball much at all. He's a perfect candidate to stand on the perimeter and knock down some shots when Beal or Ariza (if he's resigned) aren't on the floor.
At just 6'4" and 202 pounds, Brown is pretty undersized for an NBA player, which is keeping him in the mid-second round of the draft, but he'd be a safe pickup for the Wizards.
Kevin C. Cox/Getty Images
2. Patric Young, C, Florida
Young has the physical abilities to easily be a first-round selection. At 6'10" and 247 pounds, he's a little undersized to be a center, but he could easily play at the power forward spot.
Original GIF
He's a great rim protector, helping the Gators finish last season as the third best scoring defense in the country, and has great pure strength, shown in this clip on an offensive rebound.
Besides the physical ability, the biggest selling point for Young is his history of team success. Florida made the Final Four last season, and made the Elite Eight in Young's three other seasons, although he didn't really get involved until his sophomore year.
The Wizards have a need for depth in the frontcourt, potentially losing Marcin Gortat, Trevor Booker, Drew Gooden and Kevin Seraphin. Young's offensive skills are really lacking—he scored just four points in 20 minutes in Florida's Sweet 16 game against UCLA and seven in the third round against Pitt—but he can play at the rim, and he shot 54.1 percent in his senior year. Check out his full stats from all four years at Florida below.
Patric Young's stats per 40 minutes
Year
Pts
Reb
FG%
Blks
Stls
2010-11
7.7
8.4
55.6
1.9
1.3
2011-12
15.4
9.7
61.8
1.2
0.7
2012-13
15.2
9.5
58.6
2.1
1.4
2013-14
16.7
9.4
54.1
1.6
1.0
DraftExpress
With Nene already on the team and Gortat presumably returning, the Wizards wouldn't need Young to play away from the basket, allowing him to shine as a defensive stopper and a guy who can get tip-ins. They already shot 62.4 percent from inside five feet last season, according to NBA stats, and Young can be a bench player who doesn't need to worry about offense and play tough defensive minutes.
Although he's not as exciting of a player as Brown, Young fills more of a need for the Wizards and would fit nicely into head coach Randy Wittman's defense-first approach.
1. Thanasis Antetokounmpo, SF, Greece
The younger brother of the Milwaukee Bucks' Giannis Antetokounmpo, Thanasis will likely have to fall to the Wizards, but it's certainly a possibility for them. NBADraft.net has him going to the Denver Nuggets at No. 41 overall, just five spots ahead of the Wizards.
If he falls, Antetokounmpo is the best option for Washington at the No. 46 pick. He's a less refined basketball player than Young and Brown, but his athleticism and high upside are too great to pass up. The Wizards have already worked him out, showing that they are interested in having him on the roster.
Original GIF
With a 7-foot wingspan and 8'8.5" standing reach, Antetokounmpo is a freak athlete. He doesn't have much of a jump shot, but he more than makes up for it by driving to the basket and finishing at the rim, using his length to his advantage.
He spent last season in the Development League with the Delaware 87ers, averaging 16.4 points and 5.8 rebounds per 40 minutes.
It's no guarantee that Ariza will be back in Washington, and if they don't go with Brown, backup shooting guard will still be a position of need. If Ariza comes back, Webster could play primarily as the backup shooting guard, and last year's No. 3 overall pick Otto Porter Jr. and Antetokounmpo could play behind Ariza.
Like his brother, Antetokounmpo will need some time in this league to really develop, but already at 21, his athleticism and high motor allow him to play some inspired defense, and he could make one or two highlight plays every night because of his size.
Over time, he could develop more of a shot, but at this point in the draft, it's best for Washington to not worry about that, go for upside and try to develop Antetokounmpo into the next "Greek Freak."

Jim McIsaac/Getty Images
Other players to watch
James McAdoo, PF, North Carolina: McAdoo, like Young, would fill a need in the frontcourt, but he's not nearly as athletic as Young and is largely unproven as a player.
Johnny O'Bryant, PF/C, Louisiana State: His body type fits the mold of a power forward, but he averaged 4.3 turnovers per 40 minutes last season and isn't as physical on both ends of the floor as Young.
Semaj Christon, PG, Xavier: Although Andre Miller is still under contract for another season, Christon could sit for a year to eventually take over as backup. He's not a great shooter but has good speed and can slash like Wall, which would allow the offense to keep up its quick pace when Wall's not on the floor.
- All stats and player measurements from DraftExpress unless otherwise noted.