Could Evian Thonon Gaillard's Ghanaian international Jonathan Mensah—a 23-year-old, 6'2", 183-pound, defender—become a legitimate summer transfer window target for Manchester United?
To address that hypothetical, this article grades Mensah's performance against Germany at the 2014 FIFA World Cup and provides a scouting report on his season for Evian.
Mensah vs. Germany Grade: A
Starting as a left-sided centre-back alongside John Boye, Mensah was immense in dealing with German right-forward Mesut Ozil interchanging from the flanks to a central position.
Love the use of Mesut Ozil on the right, between the lines, to avoid pressing as an outlet. Super. #GER

— Sam Tighe (@stighefootball) June 21, 2014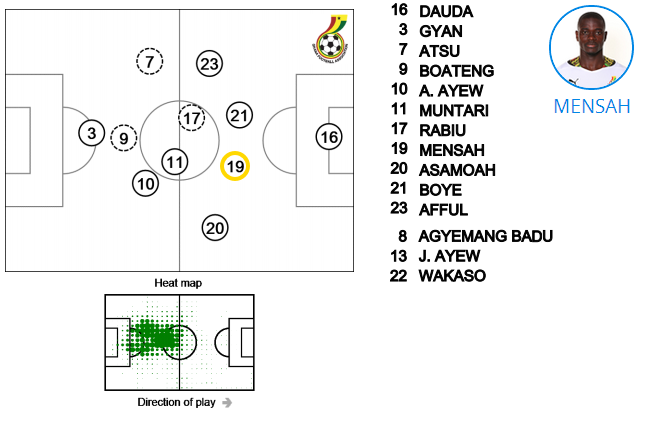 FIFA.com
Mensah made two tackles, cut off three passes and cleared the ball 11 times, per Squawka.com.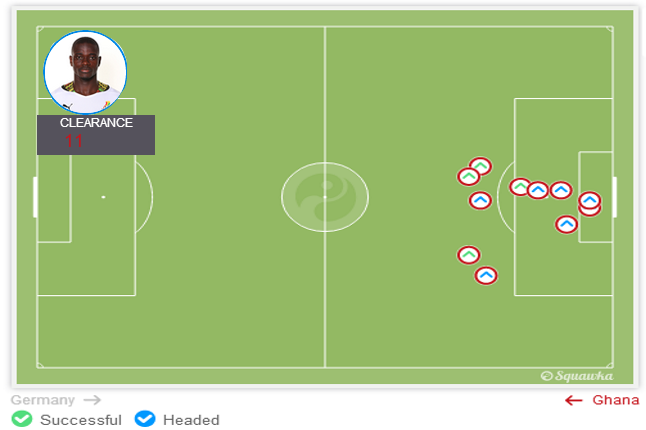 Squawka.com
Jonathan Mensah of Ghana in action during the #WorldCup 2014. http://t.co/d5AUK0jBym pic.twitter.com/emsnaUNa5r

— Field of Play (@fieldofplay) June 21, 2014
Mensah was an important factor in Ghana getting a crucial point in their 2-2 draw against Germany.
FT: #GER 2, #GHA 2. An exciting second half results in a draw that leaves Germany with 4 points and Ghana with one in Group G.

— B/R Football (@br_football) June 21, 2014
Furthermore, Mensah was a passing outlet from the back.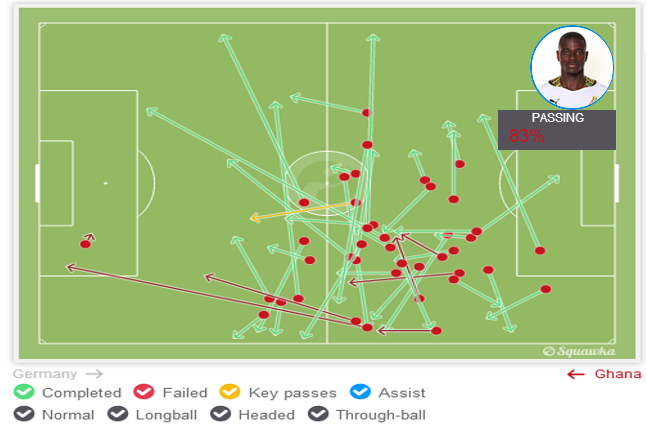 Squawka.com
The reason why Mensah did not receive an A+ grade was because Germany scored twice, and he was partially culpable when German substitute Miroslav Klose poached a goal.
Miroslav Klose - 1st touch, 15th World Cup goal, 1st = all-time #GERvsGHA Live goal poaching: http://t.co/eG6Xub9VOp https://t.co/vbIuZ8qLKG

— Bleacher Report UK (@br_uk) June 21, 2014
Mensah Evian Positives
Mensah is a tactically flexible defender, who can start at right-back, centre-back and left-back.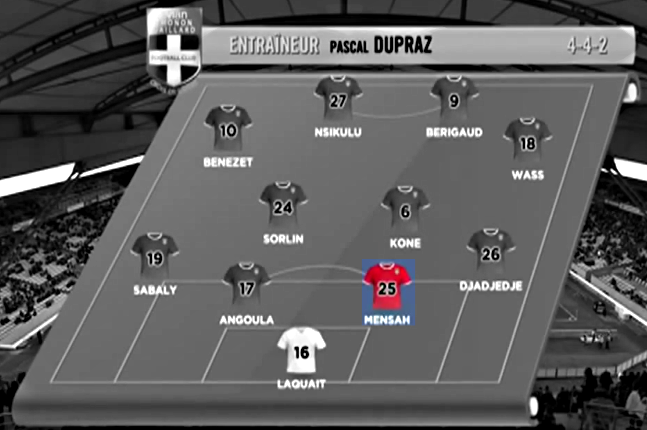 Ligue1.com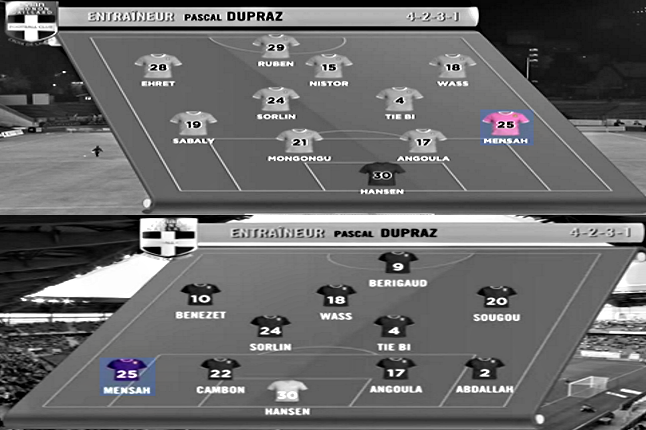 Ligue1.com
Averaging 0.7 fouls per game, Mensah is a conservative tackler and is safer compared to then-United (now Inter Milan) centre-back Nemanja Vidic, who averaged 1.3 fouls per game.
Mobile and rangy, Mensah has a spring in his step.
He is excellent in the air and can replicate Vidic's aerial prowess.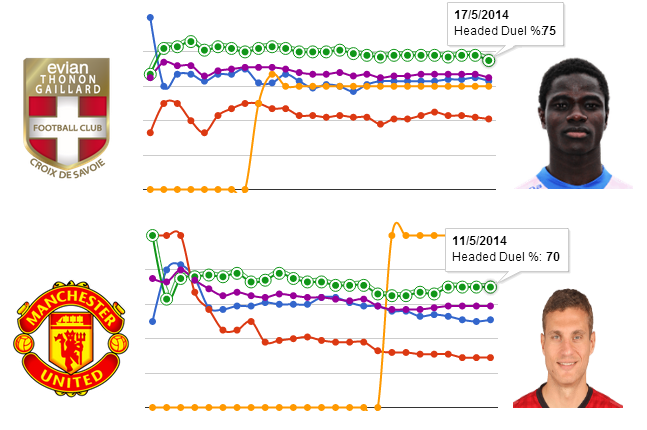 Squawka.com
Mensah covers the ground swiftly, and he is at his best intercepting and clearing the ball, like cutting off a cross zoned in at Rennes' on-loan Benfica striker, Nelson Oliveira.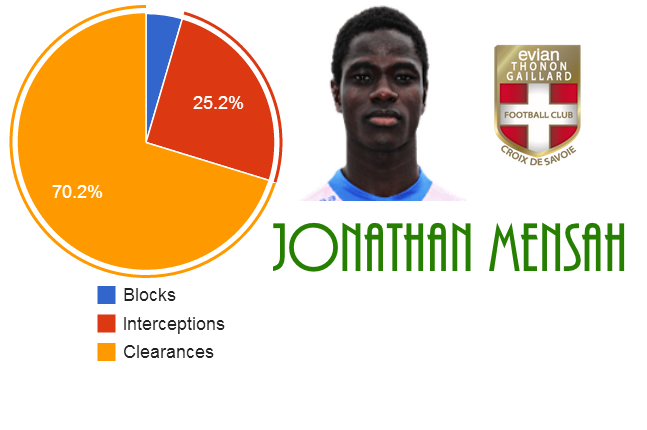 Squawka.com
Mensah Evian Negatives
There are elements of naivety in Mensah's game.
Upon muffing a clearance, Mensah inadvertently plays in Saint-Etienne right attacking midfielder Romain Hamouma.
Mensah miscues his header, which falls into the path of Nice substitute Alexy Bosetti.
After barging into Lyon centre-forward Bafetimbi Gomis, Mensah receives a yellow card from referee Tony Chapron, only to turn it into a red card for dissent.
Mensah needs to be more consistent if he has desires to play for a major European club.
Black Stars defender, Jonathan Mensah named in L'Equipe's worst team of the 2013/14 Ligue 1 season #CitiSports pic.twitter.com/dAdTCNsYUj

— 97.3 Citi FM (@Citi973) May 19, 2014
Bottom Line
There are shades of Chris Smalling in Mensah in that, while his potential is great, the regular misjudgements are a red flag.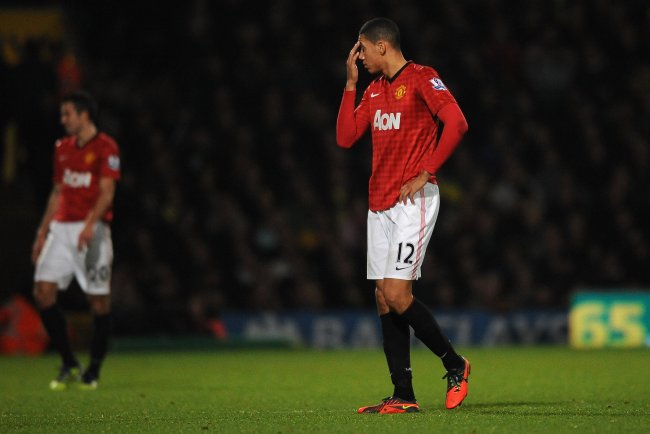 Christopher Lee/Getty Images
That said, Mensah's upside is high, and he has the quality to fill Vidic's void at United.
OFICIAL: Nemanja Vidic (Manchester United), nuevo futbolista del Inter de Milan. #SerieA [http://t.co/aBUq5Pbo6I] pic.twitter.com/ow2ZumlLD2

— Adrián Blanco (@ADRIAN_BLANCO4) March 5, 2014
Mensah was impressive against Germany, and he is a defender to watch out for. By the next World Cup, he could be a world-class defender.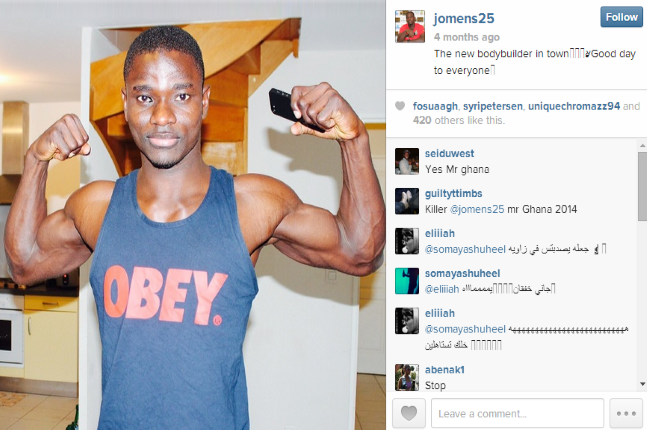 Instagram.com/jomens25
Statistics via WhoScored.com