The World Series of Fighting organization may be a relatively new addition to the mixed martial arts landscape, but it has picked up solid momentum in a short amount of time.
Since making its debut in November 2012, the Ray Sefo-led promotion has rolled out a steady string of events that have showcased a variety of talent from all corners of the ever-evolving roster.
In just 19 months of work, the Las Vegas-based organization has put a strong focus on bringing the best talent available under its promotional banner, which has served to keep a solid amount of buzz attached to its name.
WSOF's aggressive approach to the free-agency market has allowed the organization to land a collection of proven talent, as well as notable fighters who were either former champions or legitimate title contenders for their previous promotions. Those high-profile signings—in addition to a handful of talented prospects—have allowed WSOF to establish a solid roster in the brief span of its existence.
That said, in order to have proper divisional hierarchies in the weight classes, WSOF needed to institute titles in each division. While it has kept a measured pace in bringing championship belts to every weight class under the promotional banner, the process to establish champions got underway late in 2013 and took another step in that direction at WSOF 10.
Coming into Saturday night's fight card in Las Vegas, five of the eight divisions already had crowned champions, and it was finally the middleweight division's turn to establish a titleholder.
Former UFC veteran David Branch squared off with The Ultimate Fighter Season 7 alum Jesse Taylor in the main event at WSOF 10 with the opportunity to become the promotion's inaugural 185-pound champion hanging in the balance.
Both fighters carried a solid amount of momentum into the championship tilt on Saturday night, with Taylor finding success in his last seven showings and Branch having won five of his past six outings. With the middleweight title on the line, one of those streaks would come to an end, and it was Taylor's that disappeared in a flash.
Branch wasted no time getting the action to the canvas—and once there—immediately set about looking to advance his position. It didn't take him long to find what he was looking for, as he locked up a D'arce choke and submitted Taylor shortly after to become WSOF's first-ever middleweight champion.
While the fight at the top of the billing determined a divisional champion, the co-main event tilt between Georgi Karakhanyan and Rick Glenn saw a champion attempt to make the first successful defense of his title.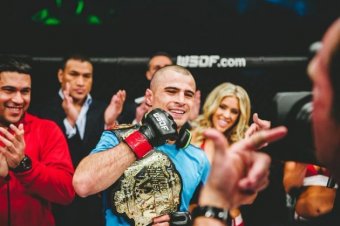 Photo courtesy of WSOF/Lucus Noonan
The talented Armenian striker became the first featherweight champion in WSOF history when he battered and then submitted highly touted prospect Lance Palmer at WSOF 7 last December. His win over the Team Alpha Male fighter added another strong chapter to Karakhanyan's already impressive winning streak.
The GFC-trained fighter came into his bout with Glenn carrying a nine-fight winning streak, but that run of fortune would come to an abrupt end on Saturday night.
After getting off to a good start, locking Glenn in a deep armbar, Karakhanyan was no match for the Duke Roufus-trained prospect.
Once Glenn broke up Karakhanyan's submission attempt, he set about peppering the champion with huge shots from the top position. While Karakhanyan survived the first round, he probably wishes he hadn't, because the amount of the punishment he received multiplied in the second round.
Things were going downhill in a hurry for him, and the chances of anything getting better were slim to none. With that in mind, he did not answer the bell to begin the third round, and a new featherweight champion was crowned.
Although the two bouts at the top of the billing carried the majority of the weight where name recognition was concerned at WSOF 10, plenty of face-punching action went down at The Hard Rock Hotel and Casino on Saturday night.
Let's take a look at the good, bad and strange from WSOF 10.
The Good
When David Branch signed with World Series of Fighting in 2012, he saw the potential to begin a definitive chapter in his career. Up until the point where he joined the Ray Sefo-led outfit, the North Carolina native's career had been in a holding pattern where genuine progress was difficult to come by.
Granted, he was landing some big fights on some solid platforms, but he wasn't able to find a place where he could have a future. That all changed when he joined WSOF in November 2012—and on Saturday night in Las Vegas—he solidified himself in the history books as well.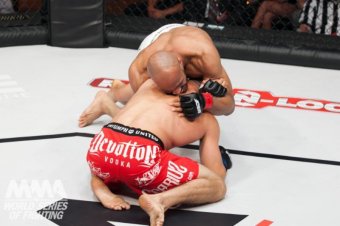 Photo courtesy of WSOF
The New York-based fighter made short work out of Taylor to become the first middleweight champion in the history of the promotion. He earned the opportunity to compete for inaugural championship gold by winning his first three showings out of the gates and was determined to carry that run all the way to champion status.
With Taylor's strength and wrestling skills, the bout was expected to be a grinding affair, but that's simply not how Branch was going to have things go down.
Rather than enduring a long, drawn-out affair, Branch put Taylor away in less than a full round of work as he submitted The Ultimate Fighter alum with a D'arce choke in the opening frame. It was an impressive submission finish and undoubtedly one of the best showings of Branch's career, as he took his place atop the WSOF's middleweight division.
Rick Glenn came to WSOF 10 to make the biggest statement of his young career, and it was a task he accomplished in brilliant fashion.
While champion Georgi Karakhanyan came into the co-main event tilt with the featherweight title and the oddsmakers on his side, the 25-year-old Roufusport fighter brought a few things of his own.
The biggest of which was a 12-fight unbeaten streak where he'd continued to progress his skill set and grow his confidence with each and every step, and he was determined to silence the buzz growing around the 145-pound titleholder.
Rick Glenn was about +350 most places when this fight started.

— Scott Harris (@ScottHarrisMMA) June 22, 2014
That said, things looked grim in that department when Karakhanyan locked on a tight armbar shortly into the opening round.
While Glenn was in dangerous waters, he kept calm and not only broke free of the submission attempt but also flipped the script to take top position on the ground. Once he established the advantage, he used his reach to blast the champion with ground-and-pound from outside of the guard and was landing clean on nearly everything he threw.
The champion was clearly rattled as the opening round came to an end—and when Glenn immediately returned to battering him at the start of the second—Karakhanyan's will began to visibly break.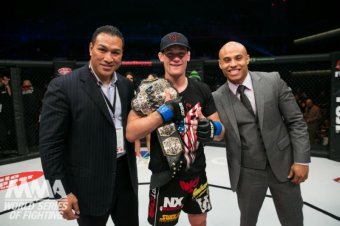 Photo courtesy of WSOF
While he didn't get trapped with his back to the canvas like he did in the first round, he wasn't much better off in the second, as he was pinned against the cage and eating a buffet of shots Glenn launched in his direction. The 27-year-old Armenian was able to make it out of the second round, but he wouldn't see the next round begin.
In between rounds he chose not to answer the bell, and Glenn became the new featherweight champion on the strength of an excellent showing in Las Vegas. This bout was only Glenn's third showing under the promotional banner, and his stunning display of skills and determination served to officially elevate him to legitimate status on the WSOF stage.
*** Coming into his bout against Adam Acquaviva at WSOF 10, Timur Valiev was already considered one of the most promising young talents on the roster...even if he hadn't yet officially competed for the organization.
The Dagestan-born fighter came into his promotional debut on a six-fight winning streak, and he validated the hype surrounding him on Saturday night, thoroughly dismantling Acquaviva en route to picking up the victory.
Timur Valiev fan club? Sign me up.

— John Morgan (@MMAjunkieJohn) June 22, 2014
The Jackson/Winkeljohn-trained fighter battered his opponent throughout the first two rounds before salting Acquaviva with a beautifully violent flying knee to end the fight in the third. The knockout was brutal and the perfect end to a maestro performance by the 26-year-old Russian.
With the lack of depth in the WSOF's bantamweight division, it will be interesting to see how the organization handles Valiev's progression. Yet, after his drubbing of Acquaviva on Saturday night, it is highly doubtful there will be a long list of fighters itching to face him inside the cage.
*** Another prospect who knows a thing or two about expectation is Lance Palmer. The Team Alpha Male fighter created a lot of hype by winning his first seven outings in the professional realm, and that buzz was recognized by WSOF as it gave The Party a championship opportunity in his promotional debut back in December.
The 26-year-old locked up with fellow contender Georgi Karakhanyan to determine the organization's inaugural featherweight champion. Unfortunately for Palmer, the scrappy striker was the better man that night and picked up the victory via submission in the fourth round.
The ability to bounce back strong from a setback is a crucial element in the development of a young fighter, and the former Ohio State University wrestling standout proved he was up to the challenge against Nick LoBosco at WSOF 10.
From the opening bell, Palmer was in the driver's seat, as he put LoBosco on his back with a powerful double-leg takedown. Once Palmer had top position, he poured on the offense, and LoBosco had very little to offer in terms of resistance. Palmer eventually locked up the match with a fight-ending rear-naked choke late in the opening round.
*** Krasimir "The Wrestler" Mladenov lived up to his nickname on Saturday night as he used his grappling talents to earn the unanimous-decision victory over Angel DeAnda. The Bulgarian powerhouse kept the pressure on throughout the 15-minute affair as he shot, snatched and power-bombed his way to victory at WSOF 10.
DAMMIT. Mladenov could TOTALLY have done a Death Valley Driver there!

— Bleacher Report MMA (@BR_MMA) June 22, 2014
*** After a successful run in the amateur ranks, Ashlee Evans-Smith decided to start her 2013 campaign as a professional. The 26-year-old's decision paid immediate dividends, as she cruised to victory in each of her first two showings, with her most recent win coming against controversial transgender fighter Fallon Fox back in October.
Evans-Smith wanted to keep things rolling in her WSOF debut, and that's what she accomplished by defeating Marciea Allen on the preliminary portion of the card.
While the first two rounds weren't necessarily action-packed, Evans-Smith remained patient as she continued to work toward putting Allen where she wanted her. That opportunity materialized early into the final frame, as Evans-Smith put Allen on her back and quickly moved into the crucifix position.
With her arms pinned, Allen couldn't defend herself, and the Orange County native rained down short elbows until the referee stepped in to stop the fight. With the victory, Evans-Smith not only made a strong promotional debut on Saturday night but also kept her undefeated record intact in the process.
*** Debuts always come with an added element of pressure, and A.J. Williams was making two "firsts" at WSOF 10.
Not only was he making his first showing under the WSOF banner, but his fight against Tanner Cowan was also his first in the professional ranks. While those circumstances could have proved overwhelming for Williams, Black Dynamite made a blistering first impression as he flushed Cowan shortly into the opening round.
Oh man. Williams just KILT Cowan with a head kick. Followed up with punches. It's over. Lord have mercy.

— Jeremy Botter (@jeremybotter) June 21, 2014
The Bad
The sport of mixed martial arts can be described in many ways, but "forgiving" isn't one of them. It is a rigorous realm where the opportunity to obtain glory is already a small window, but when said window begins to close, it can do so in rapid and brutal fashion.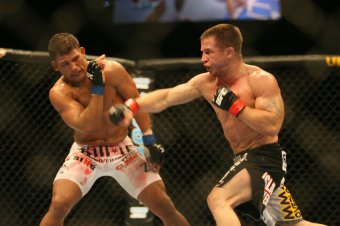 Tasos Katopodis/Getty Images
Five years ago, Tyson Griffin was considered one of the elite lightweight fighters on the planet. The Xtreme Couture fighter had been a staple of the 155-pound ranks for years and began his run under the UFC banner by winning seven of his first nine showings inside the Octagon.
Along the way he carved out his place in the upper tier of the lightweight fold—and in 2010—appeared to be poised to make a run at the 155-pound throne.
Yet, fortunes can change quickly inside the cage, and Griffin certainly fell victim to the shifting tides. Whereas he had only lost two bouts over his first three years with the organization, the next two years would see him drop four out of five outings, with three of those setbacks coming in consecutive fashion.
Looking to break out of his three-fight skid, he decided to drop down into the featherweight ranks. While he found victory in his debut in the weight class, his next showing would be his undoing with the UFC, as he not only failed to make the 146-pound weight limit but also came out on the business end of a first-round knockout at the dynamite hands of Bart Palaszewski at UFC 137.
Following his fourth loss in five fights, Griffin was released from the promotion and set about trying to get his career back on track. He picked up a victory over fellow UFC veteran Efrain Escudero on the regional scene, and that earned the Sacramento, California, native a call from the World Series of Fighting.
Griffin was hoping to start a new chapter with WSOF, as he squared off with Gesias Cavalcante in his promotional debut at World Series of Fighting 4 last August.
Unfortunately for Griffin, the Team Blackzilians fighter proved to be too much, as JZ earned the TKO victory in the third round. With the loss being his first setback on a new stage, it wasn't going to be enough to push Griffin out of the picture entirely, but it put a lot of emphasis on him finding victory in his next outing.
Photo courtesy of WSOF
The 30-year-old came into his bout with Luiz Firmino on Saturday night with a lot of pressure on his shoulders. Not only did he need a victory, but he also needed to do so in impressive fashion to silence the doubt that had steadily increased since his release from the UFC. Griffin needed to look reinvigorated inside the cage, and that just didn't happen at WSOF 10.
While he had moments where he put some solid shots on Firmino's chin piece, Griffin spent the majority of the 15-minute affair looking as if his legs were never truly under him. He was constantly off balance as he slung wild punches, and Firmino frequently took advantage of this by getting inside and easily putting Griffin on his back.
Whereas Griffin was once a formidable grappler by any standard, the former UFC fighter either couldn't figure out how or didn't have the energy to get Firmino off him. The end result was Griffin coming out on the losing end of a unanimous decision and getting handed his sixth loss in his last eight fights.
The fight was a rough look for Griffin, and the doubt that lingered prior to his fight on Saturday night will amplify in the aftermath of WSOF 10. Five years isn't a long stretch of time by most indicators, but inside the vortex of MMA, those five years can yield brutal results, and he has quickly become an example of just how unforgiving the sport can be.
The Strange
There are a handful of elements involved in determining whether or not an event is successful from a presentation standpoint.
The biggest of which is easily the quality of the fights on the card, and WSOF had done a solid job in that regard through the nine shows it had put on coming into Saturday night's stop in Las Vegas. Granted, not every card carried a ton of name value, but the majority of the fights inside the WSOF cage had been passable coming into WSOF 10.
That said, the men making the call from the commentator's table also play a huge role in how the show comes across, and that area hadn't been doing the promotion any favors throughout its first nine shows.
While Todd Harris and Bas Rutten are well-versed in calling the live action that takes place inside the cage, the duo has struggled in their WSOF role.
While the MMA legend's high-energy delivery has always been "hit or miss" with the MMA fanbase, El Guapo hasn't been able to find a groove over the course of the first nine events he's called for the organization. But while Rutten has been rough in the booth, he's been sparkling when compared to the job Harris has done thus far.
Considering the years Harris has under his belt calling fights, the former WEC commentator has come off nothing short of aloof during his time with WSOF. And with both men off their respective games, the play-by-play element of the organization's shows has been a big knock, while the action inside the cage has mostly been praised.
@TheSavageTruth To the extent that he still seems like it is literally the first time he's seeing an MMA fight every time he works, yes.

— Jordan Breen (@jordanbreen) June 22, 2014
That said, Saturday night's event was a different story. Harris and Rutten bucked their recent trend and called a solid show. Where head-scratching moments came in droves throughout their previous shows, the commentary duo stayed pretty much on point throughout the 11-fight card.
Rutten kept his zaniness in check, while Harris remained on task from start to finish, as the team behind the microphones gave their best offering to date at the WSOF table.
Nevertheless, not everyone in the MMA universe shared my opinion. While Harris and Rutten were better on Saturday night than they were during their previous efforts, things still aren't where they need to be for WSOF's presentation to match what is happening inside the cage.
A few installments back in this column, I decided to include a "Tweet of the Night" at the end every one of my "GBS" articles, and my motivation to do so came from two different places.
First, I wanted to highlight what I believed to be the brightest gem from what is typically a storm of 140-character entries on a fight night. I also believed it would be a fitting way to cap off a night of face-punching and liver-kicking and provide a proper closing point for the article as well.
Although TOTN is still a relatively new addition, I'm confident my reasons to include it have been validated.
The current schedule chaos from the major MMA promotions all but guarantees every weekend will be filled with caged ruckus in some form, which means the timelines of MMA Twitter will be pumping with electricity, commentary and a tasty brand of nuanced snark that can only come from the world of MMA media.
While previous winners of this honor did so by taking their perspectives outside of the proverbial box, on Saturday night, Bleacher Report MMA's own Jeremy Botter pushed things to the next level by creating a new verb that has the potential to grow legs.
During the heavyweight "sludge" fest between Derrick Mehman and David Huckaba, The Caveman employed an unpopular method of offense to obtain the victory.
While there are plenty of names for putting your opponent on the canvas and then simply holding him there (lay and pray, the wet blanket approach, etc.) Botter saw an opportunity to coin a new term, and midway through the second round, "Rosholting" was born.
The term pays a certain type of homage to Team Takedown's sibling duo of Jake and Jared Rosholt. The brothers Rosholt are notorious for using their grappling talents to put their opposition on the canvas but then not doing much once the fight hits the mat.
While referee stand-ups are common in a fight where one of the Rosholts is involved, they only provide short-term relief, as Rosholt will undoubtedly put things back exactly where they were before the pesky official got involved.
Mehman's approach to fighting Huckaba on Saturday night was a page taken straight out of the Rosholt playbook, and Botter felt obligated to bring his analysis to the masses.
Mehmen is Rosholting all over Huckaba here to close out the #WSOF10 preliminary card.

— Jeremy Botter (@jeremybotter) June 22, 2014
Duane Finley is a featured columnist for Bleacher Report.