For Germany, drawing with Ghana required calling on both an old hero and a new star.
Few games have been as entertaining as the 2-2 draw between the two countries. And few offered a more important moment than Miroslav Klose's second-half equaliser that made history in the process. As you might imagine, Twitter was buzzing after the match in reaction to both he and Mario Goetze—the goalscorers for the Germans.
But we start with Klose. ESPN FC passed along the moment:
WATCH Klose's record-equalling goal: http://t.co/TzSUXR74Jd

— ESPN FC (@ESPNFC) June 21, 2014
With that tally, he's now forever etched into the record books. From ESPN Stats & Info:
Miroslav Klose now has 15 career World Cup goals, tying Ronaldo for the most all-time. pic.twitter.com/10B39fhsVT

— ESPN Stats & Info (@ESPNStatsInfo) June 21, 2014
That wasn't the only history he made, via Paul Carr of ESPN:
Miroslav Klose is the third player to score at four World Cups, joining Pelé & Uwe Seeler.

— Paul Carr (@PCarrESPN) June 21, 2014
After the match he talked about the achievement, via Ryland James of the AFP:
Klose on equalling Ronaldo's record 15 gls "Doesn't matter whether I start or not: All games are important & 15 gls in 20 WC gms isn't bad"

— DFB_reporter (@rylandjames) June 21, 2014
And just in case any England fans out there weren't feeling despair after being eliminated from the World Cup yesterday, Richard Jolly of ESPN passed along this stat:
Miroslav Klose has scored 15 World Cup goals since 2002. England only have managed 17 in that time.

— Richard Jolly (@RichJolly) June 21, 2014
Sorry, England fans—you've had enough sorrow already without numbers like that being thrown in your face.
But let's focus on the magic of Klose. Because boy, does Klose know how to make an impact. And boy, does he know how to do so quickly. Consider the following, from OptaJean:
112 - Miroslav Klose scored with his first touch of the ball, 112 seconds after coming on as a sub. History. #GER

— OptaJean (@OptaJean) June 21, 2014
All of this from the man who started on the bench. Mike Wise of The Washington Post tried to imagine what it would be like to have such a dangerous option from the sidelines in a different sport:
How about bringing Klose off the bench. That's like hiding a healthy Kobe for the fourth quarter.

— Mike Wise (@MikeWiseguy) June 21, 2014
Sure, you try keeping Kobe off the court for three quarters.
Really, the only thing that wasn't impressive about Klose's huge goal was his celebration, as he didn't quite pull off his flip.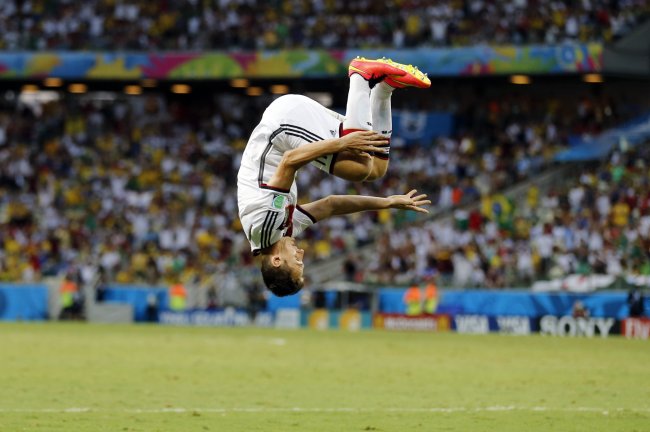 Frank Augstein/Associated Press
T.J. Quinn was a little flip himself when commenting on the celebration:
Really hope Klose works with Ozzie Smith on that flip before the next game.

— T.J. Quinn (@TJQuinnESPN) June 21, 2014
As you might imagine, folks were comparing the moments to others throughout the years. Squawka Football went the club football route:
One chance, one goal. Shades of Solskjaer in the 1999 Champions League final about Miroslav Klose's goal. #GER pic.twitter.com/LAp48e2dBR

— Squawka Football (@Squawka) June 21, 2014
Oliver Kay of The Times, meanwhile, kept it in the World Cup:
Some people suggesting Solskjaer in 1999, but that Klose goal was JUST like Rummenigge in 1986 World Cup final https://t.co/zQsqNRrTai

— Oliver Kay (@OliverKayTimes) June 21, 2014
Of course, there was another scorer for Germany, Mr. Goetze. His finish in the 51st minute opened the scoring for Germany, after he split the Ghanaian defense and ran under Thomas Mueller's inch-perfect pass into the box.
Bleacher Report UK passes along the goal:
He's only 5 ft 9 in but Mario Gotze has headed Germany ahead. #GERvsGHA - Live Now: http://t.co/eG6Xub9VOp https://t.co/gK2zd9GXFr

— Bleacher Report UK (@br_uk) June 21, 2014
Of course, it wasn't exactly the best of headers from Goetze, as Ben Smith of the BBC noted:
Fortunate to say the least. Gotze headed the ball into his knee and it rolled into the net

— Ben Smith (@BenSmithBBC) June 21, 2014
That brought out the jokes. The Men in Blazers (an absolute must-follow on Twitter if you weren't already) gave Goetze credit with more than just the goal:
Goal and Assist for Gotze. Head-Knee

— Men in Blazers (@MenInBlazers) June 21, 2014
And player-turned-pundit Gary Lineker had a little fun with Goetze's reputation as the next big thing for the Germans:
So good is Goetze that he scored with his eyes shut!

— Gary Lineker (@GaryLineker) June 21, 2014
So with the draw, Germany remains atop Group G with four points, but won't be able to clinch a place in the knockout phase until they play their final game against the United States. So yes, both Klose and Goetze will likely be called upon to offer big moments for their country before the group stage concludes.
And both have proven to be up to the task. Klose in historic fashion, Goetze as one of the brightest up-and-coming talents. A blast from the past, a glimpse of the future.
Both were exactly what Germany needed in the present.