The myth of Liverpool's and England's Steven Gerrard as a great central midfielder has been cruelly exposed at yet another World Cup.
The Liverpool legend has had another dreadful tournament and has contributed two of his worst-ever performances for the Three Lions. One would almost be shocked except for the fact that Gerrard has never delivered for England on the international stage when it mattered most.
Have England missed out on the best years of Gerrard?
One thing is for sure: England always learn a great many lessons at major tournaments and the World Cup in particular. The lessons this time around have been stark. Roy Hodgson has guided his country to elimination for the first time ever after just two matches. He has also seen them crash out of the group stages for the first time since Pele made his debut for Brazil all the way back in the Swedish World Cup of 1958.
It's fair to say that there will be a lot of grovelling apologies, talk of retirements and soul-searching between now and August when the new Premier League season starts.
Heading into the month-long tournament, all the pressure to perform was on Manchester United's Wayne Rooney. Much was made of Rooney's run without scoring at a World Cup, despite the fact he was only 20 in 2006 and was injured in 2010; on the other hand, nothing was made of any other player's lack of contribution at the highest level of the game.
Gerrard, as captain of Liverpool and England, should have come under the same kind of scrutiny but never did for some reason or another.
There are no two ways about it: As far as the Premier League is concerned, Gerrard will, always and rightly so, be regarded as one of the greats. The Liverpool legend has drove his team to countless victories and produced some scintillating performances during his 669 games, 17 years as a professional footballer and 27 years at Anfield.
In 2006, over 110,000 Liverpool fans voted him second, behind Kenny Dalglish, in a list of the top 100 players to shake the Kop, as per the club's official website.
He has been named in countless Premiership, PFA, UEFA and FIFA teams of the year and has the honor of being the only man to ever score in the League Cup final, the FA Cup final, the UEFA Cup final and the Champions League final.
The scene has been easily set: Gerrard is one of the greats of the modern game.
But he has never produced the same form for his country, and has never mastered the difficult art of being a true central midfielder.
Gerrard managed three more passes for England (their most) in 90 minutes than Verratti in 57. Via @StatsZone http://t.co/REEn5aTNs6

— Andy Murray (@Andy_MurrayFFT) June 14, 2014
When Gerrard was enjoying his best years for Liverpool, he was employed in the No. 10 role just behind the striker. There, he terrorized teams across Europe and in England. Using his superb fitness, desire, vision, creativity, goal-scoring ability and stamina, he was easily one of the best players on the planet in that particular position.
The problem with his performances at international level is that England have always had other players to play the No. 10 role but very little in central midfield. From the time he made his English debut in 2000, he has had to contend with the fact that England have been producing No. 10s but not one top-class central midfielder.
This selection headache forced Gerrard to play as a conventional central midfielder for his country. This is something he can easily do at a Premier League level where the standard of competition is, quite frankly, not great. On the international and European stages, however, he has always been best employed just behind the striker.
Arguably, Gerrard's best game for Liverpool last season was against Arsenal, rating 8.89 according to WhoScored.com. The Reds mauled the Gunners 5-1. To illustrate the gap between the two teams on the day, all one has to do is look at the fact that Brendan Rodgers introduced the ineffective and disappointing Iago Aspas to the fray as a late substitute.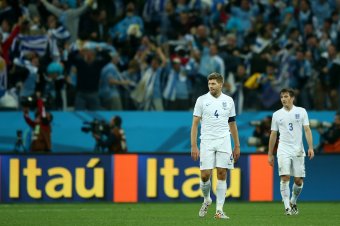 Richard Heathcote/Getty Images
In typical Premier League fashion, the game was helter-skelter and was played at a frantic pace. This is often seen as a badge of honor as far as promotion of the league is concerned. It does make for excitement, but it also makes for less technically gifted players.
Gerrard got on the ball against Arsenal 64 times with 79 percent passing accuracy according to WhoScored, and he also contributed two assists through two setpiece deliveries to Martin Skrtel. He also made 34 of 43 passes, as per FourFourTwo StatsZone.
This is a typical performance from Gerrard as a central midfielder. At international and at European level, however, he is often found wanting.
A quick comparison can be made with Andrea Pirlo.
#eng 1 #ita 2. #Pirlo is 35 and has been absolutely superb again. A master-class in the use of possession. Again. #WorldCup

— Henry Winter (@henrywinter) June 14, 2014
The 35-year-old Italian legend, surely playing in his last World Cup with the 34-year-old Gerrard, played well against England without setting the world alight.
Pirlo managed to get on the ball a staggering 117 times in a game where he rated only 7.02 (according to WhoScored). He also made 103 of 108 passes, as per FourFourTwo StatsZone.
In the same game, Gerrard made just 62 passes.
Pirlo and Gerrard are, of course, thoroughly different players but have grown up in the same era.
Gerrard is very much the best England can offer in central midfield, but he does not match to the likes of Pirlo and falls in shadow against the likes of Roy Keane and Patrick Vieira and Xavi Hernandez.
Grafik Steven Gerrard vs Andrea Pirlo - 2013/14 di Liga-nya. Captain Fantastic lebih unggul! [WhoScored] pic.twitter.com/SKh1MxJSiu

— Pride of Merseyside (@LFC_Squad) June 14, 2014
The main skill of a true central midfielder is in his positional sense to make himself available to receive the ball. Once in possession, he knows when to speed the game up and, most importantly, when to take the sting out of the game and slow it down. Central midfielders are always the fulcrum upon which the team turn and play without ego.
Pirlo and Gerrard have come up against each other in direct competition over the years with the Italian usually prevailing. The one major occasion where Gerrard came out on top was in the Champions League final in 2005.
The world is separated into two types of football fans: Those who have seen the Miracle in Istanbul and those who have yet to see it. The memory of Steven Gerrard lifting the Champions League trophy will live long in the memory of those lucky enough to have seen this incredible game.
What people forget, though, is that the game hinged on Gerrard being moved out of central midfield to just behind the striker at half-time.
During the interval, at 3-0 down, Rafael Benitez substituted Steve Finnan for Dietmar Hamann. The German was instantly placed into Gerrard's position in the middle as the Englishman was moved forward into the No. 10 role.
From there, Gerrard simply wreaked havoc and inspired his team to score three unanswered goals before eventually triumphing on penalties. Gerrard eventually finished the game at right-back as Benitez shut up shop in extra time.
For a player of such renown and distinction, being constantly played out of position for his country must be hard to take. Gerrard has played for the Three Lions 113 times, and while his positional and playing ability can be called into question, his drive and determination could never be.
The great John Giles, working for Irish broadcaster RTE as a World Cup analyst, described the difference between being a good midfielder and a great midfielder as someone who "would kill their granny."
What Giles was pointing out was that top-class central midfielders are not afraid to do the dirty work needed to perform at the highest level.
At no time during Gerrard's 17 years as a top professional could he be regarded as someone who would kill his granny.
Say what you want about the Liverpool captain, but the dark arts of the game, defensive work, tackling and doing the nitty gritty are not what his game is about.
Some may say the same of Pirlo. The Italian is not exactly who one would describe as a hardman of the game. However, he does the donkey work and makes those little passes and little interceptions and little defensive positional adjustments. When added up, they come to proverbial miles and ultimately goals and victories.
In the past, Gerrard's game was built on stamina, strength and desire. Now, as an older man, he has had to change his game slightly to respond to the shifting sands of time. As a top professional and playing in a less technical league, he can still contribute to a high degree.
At the highest levels of the game, he cannot contribute because he lacks the nous of a true central midfielder.
At the World Cup, the notion and myth of Gerrard as a top-class central midfielder was, once again, exposed, as it has been over the last 14 years with England.
Gerrard has had a tremendous season for Liverpool but in a completely different environment to the international stage.
The great shame to the end of Gerrard's career as an international footballer, which will ultimately come in the coming months, is that he never had the chance to shine for England in his best position.
He will always be remembered as the man who did it for his club, but who never did it for his country.