The 2014 NBA draft is just days away, but some of the top teams in the lottery have been talking about trading around for quite some time, and that's picking up as we enter the home stretch.
This year guarantees to have one of the deepest draft classes we've seen in quite some time, with a number of players capable of becoming All-Stars at the next level. But the stock for some of these players is changing by the day, and teams are adjusting accordingly.
Let's take a look at the latest rumors flying around the NBA entering the June 26 draft.
Celtics Looking to Trade up for Embiid
Cooper Neill/Getty Images
Potential top overall pick Joel Embiid is coming off the radars for many top teams after having foot surgery just days before the draft. But the news has caused one team to start exploring Embiid after the news has opened up the door of opportunity.
That team is the Boston Celtics, who are targeting the Kansas big man by potentially moving up a few picks to make sure it happens, per CSN New England's A. Sherrod Blakely:
Boston has kept 'all options' open leading up to the draft, including the possibility of moving up from their current No. 6 spot.

However, Embiid's injury gives them added incentive because this injury - which comes on the heels of a fractured back injury that shortened his lone season at Kansas - opens the door for them to acquire the player with the most upside in this year's draft.

This latest setback which will force him to miss all of summer league and puts the start to his NBA career on uncertain ground, raises more and more questions about the 7-footer's durability.
The Celtics have the No. 6 overall pick, making the prospect of adding Embiid nothing short of a pipe dream just a few short hours ago. He was destined for the top overall pick, and if not, the second or third pick was sure to see his name off the board.
Now, well, things have changed in an instant. ESPN's Chad Ford (subscription required) predicts Embiid to slide after he had the big man as his top player in the class before the news broke.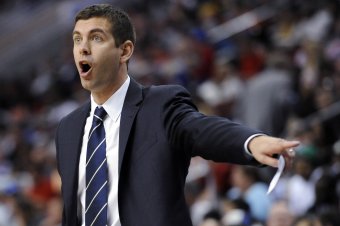 Michael Perez/Associated Press
The Celtics certainly need the help—they were in the bottom half in the league in rebounding last year. They already have young talent at the 4 spot with Jared Sullinger and even Kelly Olynyk, so adding a dominant presence in Embiid at the 5 would complete a young, formidable frontcourt.
Of course, the prospect of this would go out the window should the C's strike up a megadeal to get Kevin Love. But if they continue rebuilding for the future, moving up to get Embiid may end up paying off in the long run.
Lakers Targeting Sixers Youngsters in Lottery Trade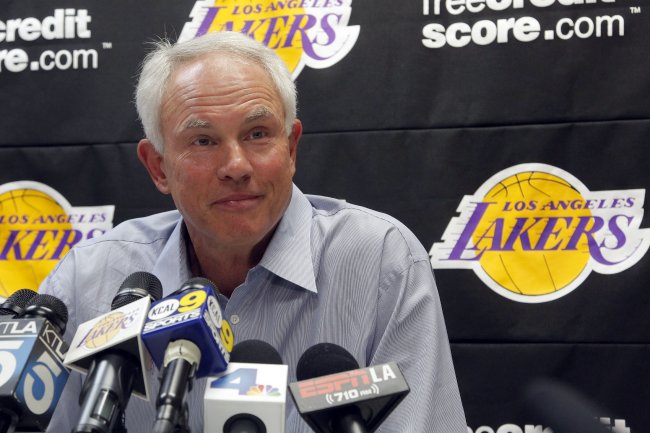 Nick Ut/Associated Press
The Los Angeles Lakers, rarely enough, are picking in the top 10—No. 7, to be exact—after their worst season in the franchise's history, allowing for the front office to target a young budding star just outside of the elite echelon in this year's draft.
Or maybe not.
Per Basketball Insiders' Steve Kyler, the Lakers have been talking about trading their pick to Philadelphia:
Hearing Lakers and 76ers have been talking about dealing involving the #7 heading to Philly. Unclear what comes back to LA

— Steve Kyler (@stevekylerNBA) June 20, 2014
While that move seemed unclear as to the Lakers' intentions, ESPN's Ryen Rusillo offered some clarity:
More Embiid fallout. Lakers could move Nash and #7 to Philly for MCW and T Young. 76ers would take Exum at #3.

— Russillo (@ryenarussillo) June 20, 2014
Whoa.
The Lakers figured to be aggressors in the offseason, with Kobe Bryant entering the twilight of his career and a roster that needs a serious face lift. Their biggest piece in doing so is the seventh pick, which L.A. initially hoped to add a player like Marcus Smart, Aaron Gordon or Noah Vonleh.
Should the Lakers trade No. 7 for Carter-Williams and Young?
Well, the Lakers seem to be planning on using it to make serious roster additions after all, but of the unconventional kind. It's hard to argue it wouldn't be a good one—Michael Carter-Williams won Rookie of the Year last season, and Thaddeus Young is one of the more versatile young frontcourt players in the league.
Not to mention, dumping the salary of Steve Nash would allow the Lakers more flexibility entering this sure-to-be-crazy free-agency cycle that could include LeBron James, Carmelo Anthony and more.
Carter-Williams and Young are both players with plenty of growth to do, but they're more ready to contribute right off the bat. If the Lakers are able to turn the seventh pick into two players of this potential, it will be a job well done for Mitch Kupchak and company.
Knicks Hoping to Trade into 1st Round for Hairston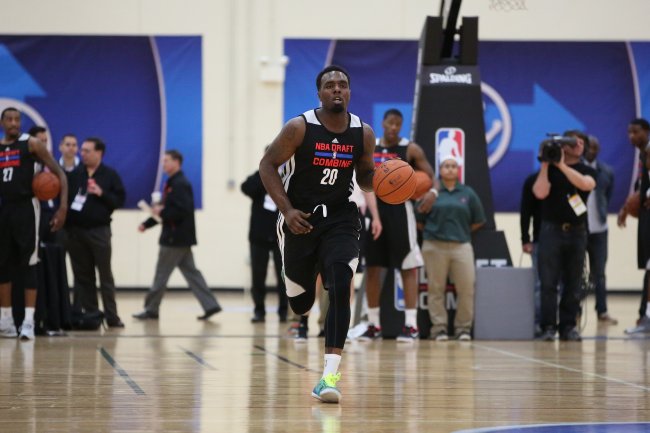 Gary Dineen/Getty Images
This year just isn't the year for the Knicks to be without a first-round pick. They're coming off a disappointing season, need to sell Anthony on the franchise's future and have to address a number of roster needs.
They seem to be reflecting that in their hopes of moving into the first round, per New York Post's Marc Berman, who reports that New York hopes to draft P.J. Hairston if they do so:
'The interest level is very, very high,' Hairston's agent, Juan Morrow, told The Post. 'You never know what Phil Jackson has up his sleeve.'

Morrow admitted even if the Knicks can't make a deal — and there are enough teams with multiple first-round picks looking to trade, such as the Thunder and Suns — it was an honor for Hairston. Jackson took control of much of the workout, which came before new coach Derek Fisher was hired.

'Any kid growing up watching Phil Jackson's teams, when he wants you to work out for him, you do it,' Morrow said.
As told by the Knicks bringing Hairston in for a workout despite not even owning a selection around when he's slated to come off the board, the interest level is indeed high. And it's not hard to see why.
Hairston excelled at North Carolina, but his biggest impact on the court has come in the NBA D-League, where he's averaged more than 20 points per game—including 22 points and six steals in his debut. He's long, athletic and could pose problems on both sides of the court for the Knicks' bench unit.
If Anthony is going to stay in New York, he's going to have to be pitched that serious improvements will be made. Adding a rookie might not be the biggest way to sway 'Melo, but it's a step in the right direction.
Follow Steven Cook on Twitter.