While it's not quite the same lead that Martin Kaymer had over the men's field last weekend, Michelle Wie has certainly distanced herself from the pack at Pinehurst.
Wie made a statement throughout the tournament, posting two consecutive two-under 68s at the course. Though she's never won a major during her still-young career, the 24-year-old is finally showing the ability many believed she would years ago.
The Hawaiian golfer spoke about her chances of winning the tournament following her second round, per the U.S. Open's account:
"I'll take pars all day out here, but birdies are good, too!" @themichellewie 2-under 68 (-4 total) #USWomensOpen pic.twitter.com/aNceV5i46K

— U.S. Open (USGA) (@usopengolf) June 20, 2014
"It's always been a big dream of mine to win a major, but I'm just staying in the present." @themichellewie #USWomensOpen

— U.S. Open (USGA) (@usopengolf) June 20, 2014
ESPNW also notes the great round for Wie at Pinehurst No. 2:
Strong Round 2 For Wie http://t.co/2QUREsolDZ

— espnwnews (@espnWnews) June 20, 2014
After Friday's action, several notable names were cut from the field after poor showings in North Carolina. One of those at the top of everyone's list was Lucy Li, the 11-year-old who became the youngest to qualify for a major tournament on the LPGA Tour.
But following an eight-over 78, Li is out of the tournament along with players like Cristie Kerr and Anna Nordqvist after missing the cut line.
With Day 2 of the U.S. Women's Open coming to a close, here's a look at the leaderboard and recap from Friday's action.
2014 U.S. Women's Open Round 2 Leaderboard

| | | |
| --- | --- | --- |
| Position | Player | Score |
| 1 | Michelle Wie | -4 |
| 2 | Lexi Thompson | -1 |
| T3 | Amy Yang | E |
| T3 | Minjee Lee | E |
| T3 | Stacy Lewis | E |
| 6 | Na Yeon Choi | +1 |
| T7 | Sakura Yokomine | +2 |
| T7 | Mariajo Uribe | +2 |
| T7 | Paula Creamer | +2 |
| T10 | Stephanie Meadow | +3 |
| T10 | Angela Stanford | +3 |
| T10 | Karrie Webb | +3 |
| T10 | So Yeon Ryu | +3 |
LPGAScoring.com
*Full leaderboard can be found at

LPGAScoring

.com by clicking here.
Day 2 Recap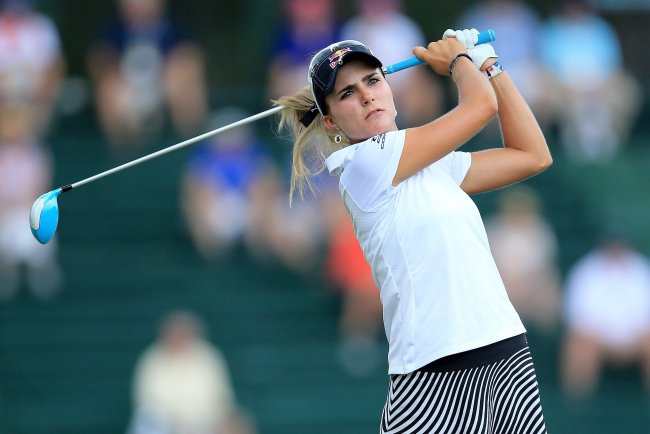 David Cannon/Getty Images
Thursday was an outstanding day on the course for Wie, and Friday was much the same.
The two-under she posted on Day 1 was matched on the second day with yet another 68. With the two subpar days, Wie is the only female on the tour to post consecutive scores below the 70 mark.
Wie's great run shouldn't come as a surprise to those who have kept up with the tour this season, as Justin Ray of the Golf Channel notes:
Michelle Wie leads the US Women's Open. Will be the 6th time she is inside top-5 after 36 holes in 2014. That didn't happen once in '13.

— Justin Ray (@JustinRayGC) June 20, 2014
After coming into the round with hopes of contending with Wie for the top spot, Day 1 leader Stacy Lewis struggled to find similar consistency. Lewis carded six bogeys on the day and finished at even par, dropping her into a tie for third place.
The U.S. Open notes the Day 1 leader's score:
Tough second round for @Stacy_Lewis, who carded a +3 for the day, Even for the championship, and is 4 off the lead. #USWomensOpen

— U.S. Open (USGA) (@usopengolf) June 20, 2014
Outside of Wie, the only other player through two rounds under par is Lexi Thompson. The fellow American started the day tied for eighth but climbed her way to second with a two-under 68 to tie with Wie for the round.
The LPGA's official account notes the two women will be paired up on Saturday to take on the course together:
Looks like it's going to be a "major" rematch tomorrow with @themichellewie & @Lexi in the final group. pic.twitter.com/FirsuaJkaw

— LPGA (@LPGA) June 20, 2014
While the 19-year-old will continue her run, the youngest player on the course was forced to bow out. After two rounds of eight-over at Pinehurst No. 2, Li failed to make the cut in her first try at a major.
Despite being done with the tournament, Li certainly had plenty of fun. Whether it was eating a Popsicle during her Round 1 press conference or declaring that she could beat her father at golf before the start of the tournament, Li made her mark on Pinehurst.
The 11-year-old spoke about her experience following Friday's action, per the LPGA:
#USWomensOpenQuote with Lucy Li. Lucy - we hope to see you one day on Tour. You rock! pic.twitter.com/wTvRQMFrGf

— LPGA (@LPGA) June 20, 2014
It wasn't all bad for the young golfer, though, as Joe Giglio of the News & Observer notes:
After a triple on 13, Lucy Li comes back birdie-par, she's plus-7 for the round with three holes to play

— Joe Giglio (@jwgiglio) June 20, 2014
That's a pretty good bounce back for a pro, nevermind a 5th-grader

— Joe Giglio (@jwgiglio) June 20, 2014
On the completely opposite end of the spectrum, one surprising player to make the cut was Juli Inkster. The 54-year-old is competing in her 35th U.S. Open at Pinehurst and posted a five-over on Friday to remain below the cut line and tied for 28th in the field at six over on the tournament.
Ron Sirak of Golf World notes the 54-year-old's Open might be her last:
And @JuliInkster who turns 54 Tuesday makes cut at Women's @usopengolf She says her 35th Open is her last but I got the over.

— Ron Sirak (@ronsirak) June 20, 2014
With Wie contending for her first major of her career and yet another young player paired up with her, the weekend should be an exciting one. Unlike the men's tourney that saw Kaymer take a huge lead into Saturday, the three-stroke lead for Wie doesn't appear as daunting.
Several other women are still in the mix, such as Lewis and Paula Creamer, either of whom could rise to the occasion in North Carolina. But following two dominant rounds for the young Wie, it might just be her time to shine on the big stage.
Follow @RCorySmith on Twitter.