Updates from Saturday, June 21
The FA reports that Wayne Rooney has come to his manager's defense:
"He's put enthusiasm in the team. There's no doubt Roy is the man to take us forward," said Rooney.

"He's changed the way we play over the last couple of years. You can see the progression. I feel we're getting better and this will help the younger players and help us become a better team."

[...]

The 28-year-old, who scored his first World Cup goal in the Uruguay defeat, said: "If you look at the Premier League over the last couple of years, the number of English players coming though is incredible.

"Ross Barkley, Luke Shaw and Raheem Sterling have had outstanding seasons and they've progressed so quickly, playing week in week out for their clubs and stepped up at international level.

"So we have to be excited about that and hopefully in the future there will be more like that in the national team."
Original Text
England may have crashed out of the 2014 World Cup at the very first hurdle, but the Football Association isn't planning on making manager Roy Hodgson the scapegoat.
Via Sky Sports News, chairman Greg Dyke confirmed the FA has no intentions of letting Hodgson go:
FA Chairman Greg Dyke tells Sky Sports News that Roy Hodgson will remain England manager until 2016

— Sky Sports News (@SkySportsNews) June 20, 2014
BBC's Dan Roan provided a quote from Dyke, who stated Hodgson still has the full support of the FA, despite his lack of success during the 2014 World Cup:
Greg Dyke: "We're supportive of Roy Hodgson, we've asked him to stay as manager."

— Dan Roan (@danroan) June 20, 2014
The Three Lions started the World Cup in bright fashion, displaying attractive and positive football in a 2-1 loss to the experienced Italians.
The team's 2-1 loss against Uruguay was very disappointing, however, as England failed to produce the chances necessary to overcome La Celeste.
Hodgson selected a number of young players and left out veteran stars like Ashley Cole when he decided on which players to bring to Brazil. It showed on the pitch.
While the likes of Raheem Sterling and Daniel Sturridge showed tremendous promise, three of the four goals England conceded were the result of mental lapses and individual errors.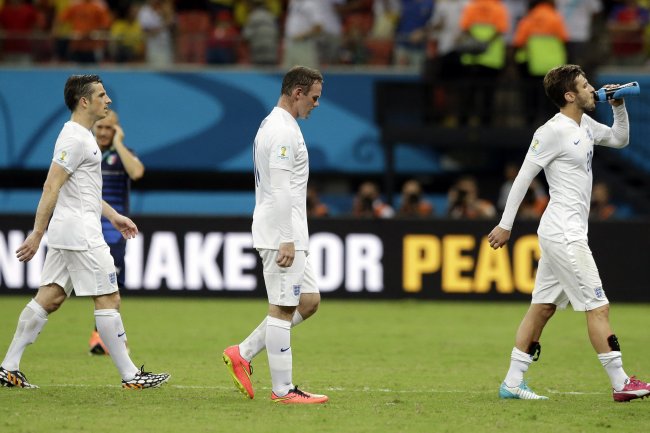 Matt Dunham/Associated Press
Leighton Baines started in Cole's left-back position, and he struggled tremendously against Italy's Antonio Candreva, who provided the assist for what proved to be the deciding goal in that fixture.
Whether Cole would have been more successful against Candreva is debatable, but his superior experience on the highest level is undeniable.
Sky Football's Matthew Stanger believes Hodgson's fate could be decided in the team's final World Cup match against Costa Rica, although he already seems to have made up his mind:
It seems odd that Hodgson's fate could depend on a potential dead rubber against Costa Rica. How would a win in that game change anything?

— Matthew Stanger (@MatthewStanger) June 20, 2014
The Daily Telegraph's Matt Law is already thinking about potential successors:
When talking about whether there is anyone to succeed Hodgson, Steve Bruce deserves to be part of the debate. Better qualified than Neville.

— Matt Law (@Matt_Law_DT) June 20, 2014
But despite the disappointing results, England's play against Italy was anything but poor, and with a young, talented squad, there is hope for the future. Hodgson deserves credit for introducing a number of these younger players, and the FA believes he should get the chance to finish what he started.
A loss against Costa Rica seems unacceptable at this point, even if England have been eliminated, and the pressure will be heavy on Hodgson to get a result, to avoid coming away empty-handed from the most important tournament in the world.
Talk of a potential sacking should at least be suspended until the tournament is effectively over for England, and it seems the FA feels the same way.